The GRR Women in Restructuring Survey 2023 is open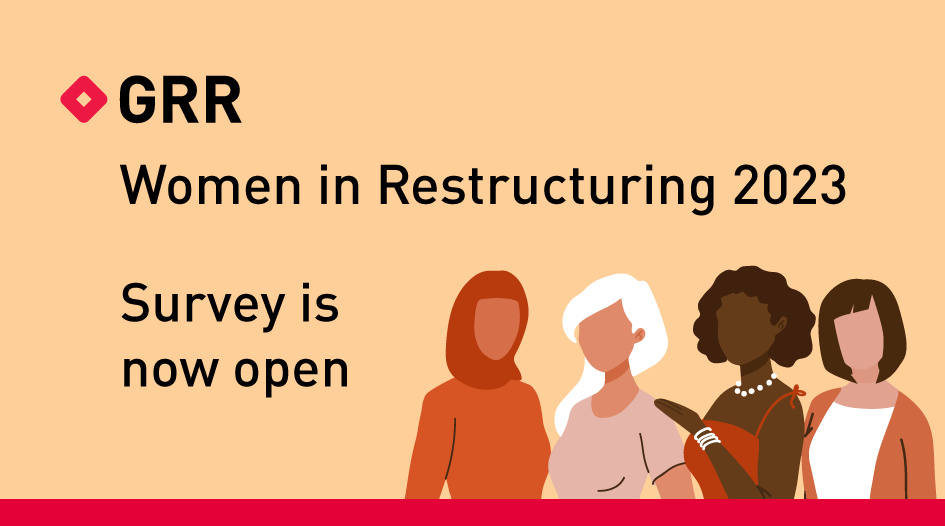 GRR's third Women in Restructuring survey is now open for submissions: a lot has happened since our last survey in 2019 and we want to know how global phenomena like covid-19 have affected workplace practices.  
The purpose of the Women in Restructuring survey is two-fold: to collect data on women's experiences in the restructuring and insolvency industry, and to recognise a number of women – past, present and future – who have broken ground in this often male-dominated field.
We are seeking to hear from women at all ages and stages of their restructuring and insolvency careers, whether they are lawyers, non-lawyer advisers, insolvency practitioners, academics, judges or in-house at clients.
The first part of the GRR Women in Restructuring survey for 2023 asks women to discuss their work, as well as their experiences of gender equality and diversity in the workplace.
For the first time in this edition, we also ask for information on how other aspects of women's identities might have affected their treatment at work, from ethnicity to class, nationality, sexuality or disability. We are particularly keen to hear from women from diverse cultural backgrounds and in jurisdictions outside the main restructuring hubs.
The second part invites those submitting to nominate who they think are the three most influential women in cross-border restructuring and insolvency around the world at different stages in their careers.
Those three most influential women will be celebrated at the next GRR Live: Women in Restructuring conference on Thursday 29 June.  
Submissions to the GRR Women in Restructuring 2023 survey must be received by close of business on Friday 10 March.
The 2019 survey
This will be GRR's third Women in Restructuring survey: the last one, published in 2019, featured 40 women discussing their experiences.
In 2019, a common theme from survey respondents was the challenge of balancing long and unpredictable hours in the restructuring industry with family life. A key solution suggested to address the issue was the introduction of flexible working, in terms of both hours and location.
However, the women who responded four years ago told us that flexible working must go hand in hand with a change in attitudes surrounding familial responsibilities, if it is going to effectively impact equality in the workplace. The overarching message was that women will never be equal until men are equal where caring responsibilities and the right to seek flexible working and parental leave, are shared.
One woman from our 2019 survey noted: "There is more lip service to gender equality but increasingly [the] focus on flexible working, etc, seems to be on women, which is counter-productive. The rise of women's networking groups seems to have bred a lot of resentment among men, often making them hostile to anything viewed as a woman's benefit (e.g. maternity leave, flexible working, fixed hours)".
Another respondent said that men are often discouraged from taking advantage of "women's" benefits. "I am aware that those fathers who have elected to take parental leave have been criticised for it and have in most cases been encouraged to take less than they initially asked for (with the result that they indeed took less leave than they actually wanted)," she said.
"Conversely, I was almost talked into taking the full year off on maternity leave. I do not understand these double standards."
In the intervening four years, the covid pandemic proved that it is perfectly possible to work flexibly in times of necessity, and it even fast-tracked access to the right technology to facilitate it.
But did it change attitudes and help redress the balance by encouraging both sexes to take equal responsibility for the home and care-giving duties?
Now that covid restrictions have largely ended around the world, is there still a prevailing attitude that you have to be at your desk to be noticed?
We look forward to finding out.