Sidley and Akin Gump advising as Travelex strikes restructuring deal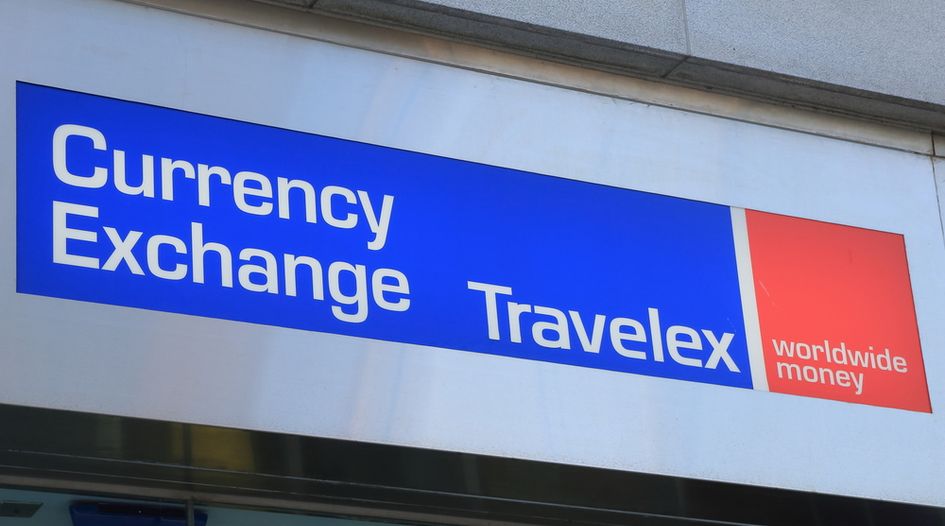 London-headquartered foreign exchange company Travelex has reached a restructuring agreement that will see its creditors take control and inject it with £84 million (US$105.22 million) in new liquidity.
On 7 July, Travelex said it had struck a deal with at least two-thirds of its senior secured noteholders and all its revolving credit facility (RCF) lenders to reduce its existing financial debt by 84% and allow it to emerge intact from the covid-19 pandemic.
The co-heads of Sidley Austin's restructuring group in London, Jifree Cader and Mark Knight, have been advising the company, with PwC providing financial advice.
Travelex's senior secured noteholders, led by an ad hoc group advised by Akin Gump partner Liz Osborne, will take full control of the company and provide £84 million of new money in the form of new senior secured notes. The ad hoc group has also committed to providing £15 million (US$18.85 million) of initial bridge funding, to be refinanced by the new senior secured notes.
The deal will see the full equitisation of the group's existing €360 million senior secured notes, and the full reinstatement of an existing £50 million RCF in the form of a reinstated term loan and about £10 million of reinstated guarantees.
The new senior secured notes will be underwritten by members of the ad hoc group, and will be available to all existing senior secured noteholders on a pro rata basis.
Participants will receive 100% of the equity in a new Travelex group holding company. The senior secured noteholders will receive warrants over 17.5% of the new company's equity and the bridge funding providers will receiver further warrants over 2.5% of the equity.
Noteholders that sign up to a lock-up agreement cementing the deal will also be entitled to a 0.5% incentive fee.
The group said it expects members of the ad hoc group to control over 50% of the equity in the new group.
The restructuring also contemplates splitting the existing Travelex group into two parts: new Travelex, which will be made up of its wholesale and outsourcing business and certain international retail businesses in South America, the Middle East, Africa and Asia; and "warehouse Travelex", which will principally comprise of Travelex's retail businesses in the UK, Europe and North America.
Travelex had initially put itself up for sale in April, but terminated the process last month after only receiving non-binding offers that were unacceptable to the RCF lenders and senior secured noteholders. 
PJT Partners has been providing financial advice to the ad hoc group throughout the negotiations, while Latham & Watkins partners Yen Sum and Helena Potts have been representing the RCF lenders, along with FTI Consulting.
Accounting scandals
The deal comes two weeks after the Democratic Republic of Congo's largest bank, Rawbank, won a US$60 million summary judgment against Travelex subsidiary, Travelex Banknotes Limited (TBL), after it breached a contract to supply banknotes.
Mr Justice Zacaroli of the England and Wales High Court ordered TBL to pay the judgment sum within 14 days, which expired on 7 July.
It is not clear whether TBL has paid the sum. Sidley Austin and counsel to Rawbank, Singhania & Co Solicitors partner Aamir Khan, did not respond to GRR's requests for comment.
Travelex has been struggling with its financial position due to the covid-19 pandemic and a cyber-attack earlier this year.
Its parent company, UAE-owned financial services holding company Finablr, has also been damaged by an accounting scandal. London-listed Finablr announced in an exchange filing on 12 March that it had "significant constraints" in its ability to access required liquidity, and five days later said it was planning for a potential insolvency appointment.
On 30 March, EY resigned as its auditors, citing concerns over recent events at the company and NMC Health – a UAE company founded by Finablr's owner, Bavaguthu Shetty.
NMC was placed into administration in England in April and secured Chapter 15 recognition in Delaware on 25 June, blocking two class actions launched by stockholders in California.
In May, English design consultancy Hiveworks won permission from the English courts to serve a winding-up petition on Finablr in Abu Dhabi, and last week another NMC-linked company appointed restructuring advisers in Abu Dhabi: investment group KBBO brought in Cleary Gottlieb and UAE firm Hadef & Partners, citing concerns about its exposure to NMC Health.
KBBO's chairman Khalifa Bin Butti Al Muhairi used to hold a substantial stake in NMC Health but resigned as its vice chairman in February, before the company announced a change in its majority share ownership.
A few days later, NMC Health revealed in an exchange filing that it had found evidence of fraud and had identified liabilities related to previously undisclosed facilities that had raised its debt pile to about US$6.6 billion.
Counsel to Travelex
Partners Jifree Cader and Mark Knight in London
Financial advisers to Travelex
Restructuring M&A partner Robert Moran in Birmingham and director Jeremy Sweetnam in London
Counsel to RCF lenders of Travelex
Partners Yen Sum and Helena Potts in London
Financial advisers to RCF lenders of Travelex
Counsel to an ad hoc group of noteholders of Travelex
Partner Liz Osborne in London
Financial advisers to an ad hoc group of noteholders of Travelex