KordaMentha promotes four in Sydney and Melbourne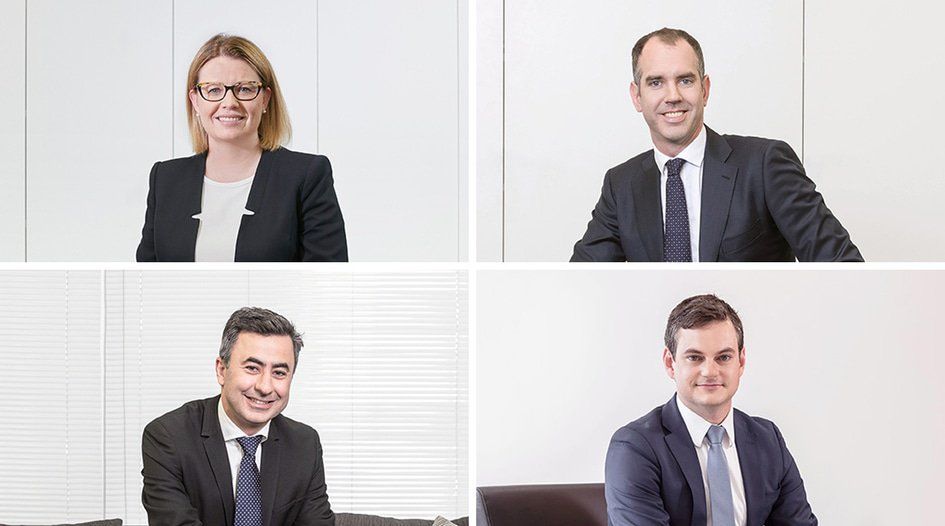 Asia-Pacific advisory firm KordaMentha has promoted four directors to its partnership in Sydney and Melbourne.
On 15 June the firm announced Kate Conneely, John Mouawad and Ryan Rabbitt in Sydney and Andrew Knight in Melbourne had all been promoted to partner in its restructuring advisory group.
Co-founder of KordaMentha Mark Korda tells GRR that each of the new partners has an important role to play as the firm navigates the covid-19 crisis.
"I have great confidence that, by building our leadership team with these very talented people, we will strengthen our services offered to our clients and support the long-term direction and success of the firm," he says.
Conneely joined KordaMentha in 2007 after graduating from University of Technology Sydney. In May this year, she was admitted as a registered liquidator by Australian Securities and Investments Commission (ASIC).
Over the past four years Conneely has been working on the administration and Deed of Company Arrangement (DOCA) for Australian mining and minerals company Arrium. The company filed for voluntary administration in April 2016, saddled with debts in excess of A$2.8 billion (US$2.2 billion) owed to local banking syndicates and a group of US bondholders.
Conneely says that her principal focus in the case included overseeing the restructuring of Arrium via a series of interrelated DOCAs and administering the successful sale of Arrium Group to international metals company Liberty House, which is owned by Indian-British businessman Sanjeev Gupta.
She is now leading a team of liquidators dealing with recovery actions brought by New York-based investor Anchorage Capital Master Offshore against Arrium's former chief financial officer (CFO) Robert Bakewell and other company officers for insolvent trading. Last year, the Supreme Court of New South Wales rejected Bakewell's appeal against being added to negligence proceedings brought by Anchorage against a number of former company executives.
Conneely tells GRR that making partner at KordaMentha is a great opportunity to shape the business for the future and says she looks forward to taking the lead on new projects.
Her colleague in Sydney, Mouawad, joined KordaMentha when the firm first opened its Sydney offices in 2004, after graduating from the University of New South Wales. His practice focuses on complex restructurings in the retail, financial services, property and construction industries, where he often takes lead roles.
Mouawad tells GRR that he wants to "play a big part" in KordaMentha's future growth by demonstrating the firm's expansive offering and restructuring expertise to clients.
He is currently part of the KordaMentha team advising Bain Capital in its takeover bid for Virgin Australia, after the airline fell victim to the covid-19 pandemic and filed for voluntary administration in April. Bain Capital and US investment firm Cyrus Capital Partners are the final two bidders in the sale process conducted by administrators from Deloitte, which is expected to be finalised by the end of this month.
Rabbitt started his career as an associate at Bear Stearns in London, before joining PwC as a manager focused on financial restructuring. After relocating to Sydney, he joined KordaMentha in 2011 and advises clients on financial restructuring and distressed M&As.
He recently worked on the recapitalisation and sale of Australian free-to-air television station Network Ten after KordaMentha was appointed voluntary administrator in 2017. Later that year the network was sold to its largest creditor, US media company CBS Corporation, which held unsecured claims of around A$800 million (US$550 million).
"The promotion is a recognition of commitment to the firm in addition to the delivery of a high level of client service," Rabbitt tells GRR. "On a personal note, the promotion is a satisfying reward for many years of hard work and dedication."
After starting his career at KordaMentha in 2004, Knight was initially tasked with overseeing employee entitlement distributions for former national carrier Ansett Australia, following the airline's entry into administration in 2001 and collapse into liquidation the following year.
Knight also worked alongside Rabbitt on the Network Ten administration and in 2012 he was part of the team advising the Australian arm of UK-owned fitness brand Fitness First in efforts to restructure A$900 million (US$617 million) of debts owed to its UK parent company.
Knight tells GRR that his promotion is a recognition of hard work and investment in the firm and that he will continue to take on new challenges and support existing partners at KordaMentha.
This story was edited on 6 July 2020 to provide a correction that the KordaMentha team is advising Bain Capital in Virgin Australia's administration.