INSOL Tokyo: Atkins' term extended as focus turns to 2030 plan's implementation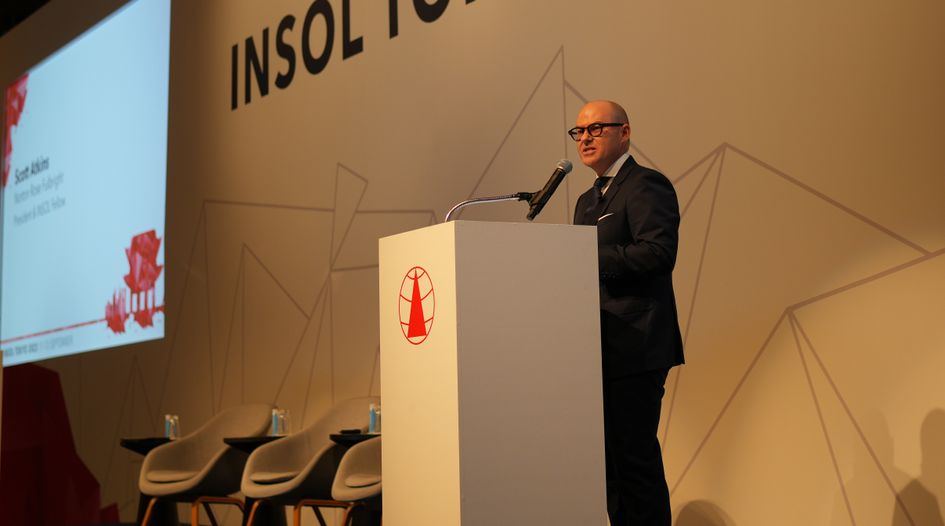 INSOL International's president Scott Atkins is extending his term to see through a strategic plan launched last year to reimagine the organisation to 2030. In his opening remarks at INSOL's first annual conference in Japan, he said the plan's implementation had "rapidly advanced", announcing two new regional advisory councils and a soon-to-be-launched ThinkTank.  
Addressing 750 delegates from 60 countries on 12 September, Atkins, the global chair and global co-head of restructuring at Norton Rose Fulbright in Sydney, thanked INSOL International's Board for resolving to extend his term until next May, when INSOL's next annual conference will take place in San Diego, California.
In a statement issued a few days before the Tokyo event, INSOL International said Atkin's tenure had been extended in "exceptional circumstances" to ensure continuity during an "important period" while its board completes a governance review and reaches an advanced stage in the implementation of the 2030 strategic plan.
Opening the Tokyo conference, Atkins reported that global membership of INSOL International had risen by 10% over the year since its 40th anniversary conference in London last June, with a 20% increase in African membership and a 50% increase in Latin America. Membership in the Middle East doubled, meanwhile, while membership in South Asia more than tripled.
He also announced a new member association, The Indian Institute of Insolvency Professionals of the Institute of Chartered Accountants of India, which he said was a "very welcome development" given that India recently overtook the UK as the fifth largest economy in the world.
"The level of economic activity in India, and the appetite for ongoing insolvency law reform, make India a critical region for INSOL to expand our membership and networks," Atkins said, adding that INSOL International was in advanced discussions with potentially new member associations in Indonesia, Myanmar and Saudi Arabia.
The president also revealed a brand new Latin America Advisory Council and a Middle East and North Africa Advisory Council, whose jobs it will be to accelerate INSOL's engagement across those regions. The LATAM Advisory council will oversee a Roundtable in Cartagena, Colombia next March, while the MENA Advisory Council will support INSOL International's inaugural Riyadh, Saudi Arabia Seminar in January, Atkins said.
He noted that those regions had already seen "impactful" events taking place over the last year before the Advisory Council's were launched: INSOL held a Roundtable in Rio de Janeiro in March and an inaugural MENA Region Seminar in Cairo in June, both in conjunction with the World Bank; and the 13th edition of its Africa Roundtable in Rwanda.
Highlighting INSOL's partnerships with UNCITRAL, the World Bank and the Asian Development Bank, Atkins said INSOL would also continue to "expand its role in contributing to global insolvency, finance and other regulatory standards".
He also revealed INSOL had just commenced discussions with UNIDROIT – an international institute for the unification of private international law – to forge an MOU, and that it has begun exploring opportunities with the OECD and the International Organization of Securities Commissions (IOSCO), the global standard-setter for the securities sector.
Atkins further noted that INSOL's relationship with the International Insolvency Institute (III) had "never been more valued and significant". He congratulated the Singapore Supreme Court's Justice Kannan Ramesh on his recent appointment as president of the III and welcomed him to Tokyo.  
In response to feedback from members, in January, INSOL also launched a landmark Future Leaders Program to provide networking opportunities exclusively to younger INSOL members with four to seven years' experience, Atkins said.
He explained the programme will give younger members the chance to engage with judges, law and policy makers and industry leaders and will also offer leadership and practice management training to help younger members take the next step in their careers.
Initially, the programme will be rolled in 15 locations across Asia, Africa, Latin America and offshore regions, with an aim to eventually expand it to 25 locations, he added.
The Future Leaders Program had already seen "great success" and generated a new community of "INSOL Champions" eager to drive further engagement and partnerships with the organisation in regions of strategic importance, Atkins said. "Our younger members are the future of INSOL, and they will ensure the long-term success and enduring relevance of our organisation."
The opening address for INSOL Tokyo also doubled as the launch of another "signature initiative" of the 2030 plan, the INSOL Think Tank. Atkins said the ThinkTank would be a "research powerhouse", developing an agenda for cross-border law and policy reform and also delivering research, market insights and open innovation directly to members through new learning and education opportunities.
"We will draw into this field, for the first time, leading global thinkers who will propose ideas and concepts that redefine and reshape what we do in the cross-border universe," Atkins promised.
Elsewhere, the president reported that the Asset Tracing and Recovery Special Interest Group he revealed at INSOL annual conference in London last year was currently developing a global practice guide to identify tracing and recovery tools for conventional and digital assets that can be used in restructuring and insolvency matters in different jurisdictions.
Atkins said the 2030 strategic plan's reforms had seen strong support so far and would help to ensure INSOL International's governance, operating and business models were "aligned with our vision to be the global association for professionals in the restructuring and insolvency ecosystem in every country across the world".
"I look forward to sharing the new [governance] structure with you before the end of 2023," he told the audience signifying more news to come before the end of the year.
INSOL International's conference is taking place between 11 and 13 September and is being co-chaired by Angelina Bopp, a managing director of Japanese bank Mitsubishi UFJ Financial Group, and Masahiko Chino, head of advisory and head of clients and markets for KPMG Japan.
Unfortunately, Chino was unable to join on the first day of the conference and sent his apologies as he was isolating with covid.
Among other things, the programme in Tokyo will cover the new lessons that are being learned a year on from the various crypto insolvencies around the world; the ongoing real estate crisis in China; and the role of ESG in, and the accelerating impact of artificial intelligence and digitisation on restructuring.
A week before INSOL Tokyo, the organisation released a new book on ESG in restructuring covering 31 jurisdictions, Atkins told delegates.
In the next 12 months, he also revealed, INSOL will be publishing new books on valuation issues in insolvency and distressed debt investing, and a feature publication on the insolvency regimes in the UAE and other Gulf Cooperation Council countries.