INSOL, London: Reimagining INSOL at 40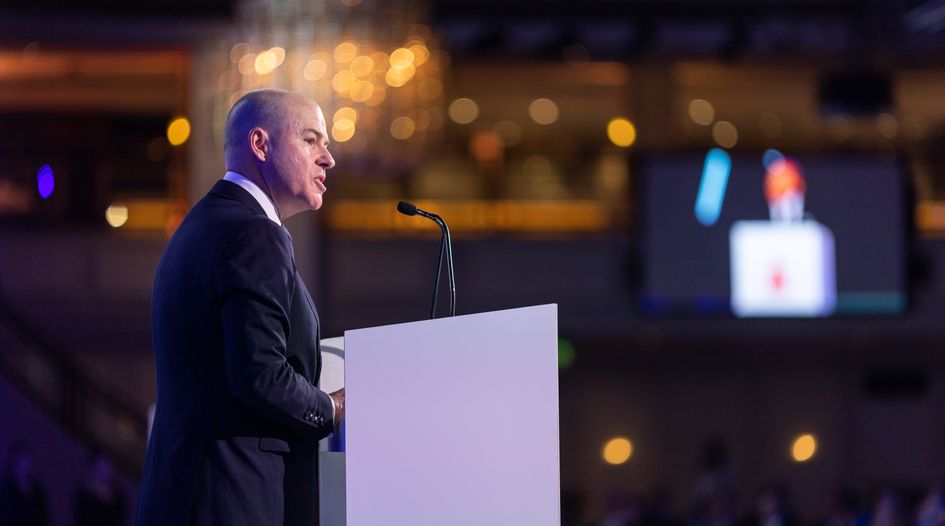 INSOL International is celebrating its 40th birthday by launching a strategic plan to reimagine itself through to 2030, its president Scott Atkins said, as he opened the organisation's first conference in three years with new initiatives to enhance engagement across Africa and China and set up focus groups on digital disruption and asset tracing.
Welcoming more than 900 restructuring and insolvency practitioners from 60 countries to London for the first INSOL conference since April 2019, Atkins, the head of risk advisory at Norton Rose Fulbright in Sydney, introduced four initiatives as part of a wide-ranging new strategy named "INSOL 2030: Global, regional, local communities shaping our industry".
Among them, he revealed the launch of a 14-member African Advisory Council to accelerate INSOL's engagement across the continent.
He also revealed INSOL is setting up two new special interest groups, an Asset Tracing and Recovery Colloquium (ATR) and INSOLTech, a new colloquium on emerging and disruptive digital and technological issues impacting restructuring and insolvency.
The ATR will focus on the intersection of fraud, forensics and insolvency, particularly on locating misappropriated physical and digital assets, Atkins explained, while INSOLTech is a joint enterprise between INSOL Academics, INSOL's Asia Hub launched in Singapore in 2019, and Singapore Management University's Global Restructuring Initiative, whose role is to promote research and cooperation between international academics, practitioners and policymakers.
INSOLTech has already held three webinars on cryptocurrencies, artificial intelligence, and smart contracts and decentralised finance, Atkins said, and it is hoped it will help shape future directions for law reform and policy development.
The fourth initiative will see two new member associations joining INSOL, the Xiamen Association of Bankruptcy Administrators – the first mainland Chinese members' association to join – and the Association of Turnaround and Insolvency Kenya, which Atkins said should boost the new African Advisory Council's work.
Atkins explained the INSOL board first launched a project to develop the 2030 strategy – "INSOL Reimagined" – at the start his presidency last autumn, by inviting all stakeholders to participate in a major consultation. "We have not been resting on our laurels since," he said.
Members were asked to identify regional trends impacting their profession, disruptive forces shaping the future of their work, and what INSOL needs to do by 2030 to stay current. The consultation also aimed to gauge how INSOL is viewed among the membership.
Around 53 INSOL leaders took part in interviews with the organisation's board and executive team as part of the consultation in late 2021, including the representatives of 16 existing member associations, 19 of INSOL's "Group of 36" (G36) supporting members, two colloquies and various others – including three former INSOL presidents.
After the interviews, 510 INSOL members from across the world responded to a global survey in January and February.
INSOL published the results of the INSOL Reimagined consultation online last week.
They showed that 20% of INSOL members ranked the organisation as their top membership association, with many being members of several. Around 45% wanted to increase their participation in INSOL over the coming years.
The results also showed that 78% of members are facing extreme, high or moderate disruption in their work, with covid-19 rated the biggest disrupter, and digital and technological changes, and local market changes coming third and fourth.
Survey respondents also highlighted climate change as a major issue and said INSOL had a significant role to play in decarbonisation, even suggesting that it should initiate a roadmap to support businesses in the decades looking forward, where insolvency professionals will have a role in the transformation or exit of sunset industries.
Geopolitical shifts, diversity and inclusion, political polarisation, global governance and ethics, and wellbeing also came out as key topics for INSOL to tackle in the run up to 2030.
Atkins said it was clear from the results that INSOL's purpose and vision – to be a "member-driven network that maximises economic value" for businesses through the expertise of its members, and to be "the global association" for restructuring and insolvency professionals operating in every country, influencing policy and practice, and sharing a global perspective – still resonate strongly.
But he said the survey had highlighted six "big shifts" that INSOL needed to make to achieve its purpose and vision over the next eight years.
First, he said, INSOL has to be more globally inclusive and diverse – to be "the meeting place" for everyone in restructuring and insolvency – and to broaden its reach to all legal systems and respond to the trend towards restructurings and out of court workouts.
The INSOL of the future will also need to expand on its "highly valued" technical education programmes, with programmes on leadership, practice management and how to respond to disruptive forces like emerging technologies, Atkins said.
It would also need to invest in research and market insights to underpin its advocacy, as it seeks to influence the systems and frameworks restructuring and insolvency practitioners operate in.
Finally, Atkins said, INSOL had to realise the potential of its network by enabling collaboration across its membership and the broader restructuring and insolvency ecosystem.
To realise these six shifts, the president explained, the INSOL 2030 strategy will be underpinned by four pillars: leading the community, building capability, leading the industry and leading the association.
He noted that as part of the "building capability" pillar, INSOL has plans establish its own think tank as an international institute for policy formulation, to channel the associations engagement with UNCITRAL, The World Bank, the Asian Development Bank and peer organisations like new partner, the International Association of Deposit Insurers. The think tank's aims, Atkins added, will include expansion in the roll out and adoption of the UNCITRAL Model Law on Cross-Border Insolvency.
New initiatives enhancing INSOL's capacity for advocacy would also help the association work with its members to respond to global issues like ESG and restructuring in a "fully digitised" economy, he said.
To achieve the INSOL 2030 strategy's "bold" ambitions, Atkins said the association needs ongoing support from members, including member associations, the G36 firms, those who have graduated from the INSOL Fellows course, and INSOL's partners, all of whom have opportunities to get involved. He encouraged delegates to approach him, the rest of the INSOL board or INSOL's team of staff about the strategy and how they might help.
Speaking to GRR ahead of the conference, INSOL's CEO Jason Baxter said the rise of nationalism, Brexit, covid and now the high inflationary environment over the last few years had shown that "anything can happen and you're never well prepared". He said the INSOL Reimagined strategic review was designed to look longer term at "what INSOL needs to do to remain relevant".
INSOL Reimagined follows the launch of the association's Toward 2021 strategy in Sydney in 2017.
In his opening speech at the London conference, Atkins said Toward 2021 had delivered "significant achievements", most importantly the establishment of INSOL's Asia Hub and its office in Singapore in 2019, a few months after the last INSOL conference was held in the city-state.
Baxter told GRR that INSOL's expansion into the Asia Pacific region had created a template that could potentially be replicated anywhere in the world. 
The Toward 2021 strategy also witnessed the creation of two new INSOL meetings – a Financiers Colloquium focusing on the contribution of investment and private equity funds to the restructuring and insolvency industry, and an Alternative Dispute Resolution Colloquium to acknowledge the growing role that arbitration and mediation are playing.
Atkins said the Toward 21 strategy had also helped INSOL increase the number of women members in the organisation by 12%, with INSOL's board approaching 40% women leaders. But he acknowledged there was "much more to do on the diversity front" and said it had never been a more prominent priority during INSOL's existence.
INSOL's London conference takes place between 26 and 28 June and is being co-chaired by Felicity Toube QC of South Square and RSM partner Graham Bushby.
To find out more about INSOL's new strategy, visit INSOL 2030.
You can also tell INSOL what you think about the strategy, or how you want to get involved.