INSOL International, Tokyo: Judges on restructuring without borders – protectionism vs universalism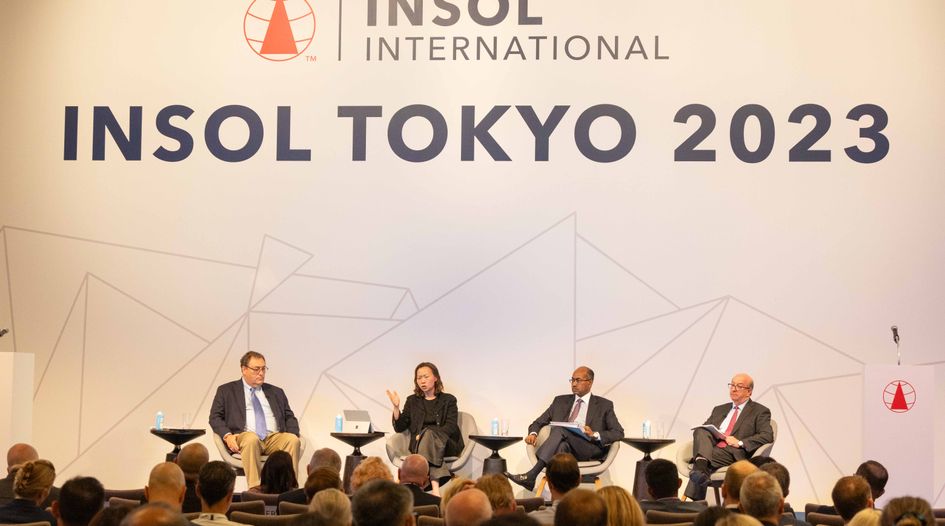 Where did the Gibbs rule come from? How have certain courts allowed parties to get around it? And what are the sticking points for obtaining recognition of foreign restructuring or insolvency judgments in jurisdictions like Hong Kong and the US? An illustrious panel of international judges gave attendees at INSOL's Tokyo conference their insights – and a brief history lesson.
Singapore International Commercial Court Judge Christopher Sontchi, the former chief bankruptcy judge for Delaware, moderated the panel on 13 September titled, "Restructuring without borders and the concepts of protectionism vs universalism – what do the Judges have to say?"
Comprised of Justice Nick Segal from the Grand Court of the Cayman Islands, Justice Kannan Ramesh from the Singapore High Court Appellate Division and Madam Justice Linda Chan from the Hong Kong High Court, the panel discussed recent cases in the judge's respective jurisdictions that had brought the rule in Gibbs back to the centre stage.
Judge Sontchi told attendees that if they wanted to seek enforcement or recognition of a foreign order compromising New York debt, it was vital to make sure the foreign proceedings were fair under US due process standards.
At the end of the panel, the judges gave their opinions on the hot topic of how a debtor's centre of main interests (COMI) should be assessed – on the basis of place of incorporation or on the location of assets and operations?
Judge Sontchi opined that place of incorporation should matter, while Justice Ramesh observed that place of incorporation was useful because it can be readily ascertained and is generally certain, though he noted that COMI can be moved.
Madam Justice Linda Chan said COMI is particularly relevant if a company that has obtained sanction of a scheme in Hong Kong seeks recognition in mainland China under the 2021 mutual cooperation arrangement because a crucial requirement is that the company has its COMI in Hong Kong.
Justice Segal said it was important to keep in mind COMI's juridical status: for jurisdictions that don't have a statutory regime that introduces COMI as a jurisdictional requirement, then, as Madam Justice Linda Chan said, it could be relevant in the context of common law assistance where the court has a broad discretion.
Gibbs
Asked to explain the rule in Gibbs, Justice Segal jokingly said he'd "heard the collective sigh", but told attendees he hoped to offer a few, possibly new perspectives.
The rule in Gibbs, he said, is that a discharge of any debt or liability under a foreign restructuring is effective in the Cayman Islands or in England if, and only if, the relevant foreign proceedings take place in the jurisdiction governing the debt.
Furthermore, the foreign discharge won't be recognised unless it amounts formally to an extinction of the underlying debt - a purported discharge that merely deals with and qualifies remedies isn't sufficient to engage the rule, he said.
He told attendees that Gibbs followed several earlier decisions that reveal the basis of the decision, with the underlying concern being to prevent a foreign expropriation of property. 
The judge explained that, in one such case that goes back to November 1800, Smith v Buchanan, the English court found that a deed of arrangement under the law of the US state of Maryland could not discharge an English-governed debt and did not stop creditors from pursuing the bankrupt in England.
Justice Segal quoted from the judgment by Lord Kenyon, who viewed contracts as constituted by, and as property sited in, the place of their governing law so that foreign law was irrelevant to and could not affect a contract created and existing under a different legal system. Lord Kenyon said that allowing a foreign law to affect a contract governed by a different legal system would be "like allowing a foreign law to govern the rights of domestic real estate".
"That's one perspective which I think isn't always fully understood or appreciated," Justice Segal said. "But I think the most important point to appreciate is that Gibbs is, as it's currently understood, part of the conflicts of law governing contracts – it is not a rule of bankruptcy law."
Gibbs is a choice of law rule that tells the court which law governs, and is to be applied in, deciding whether a debt discharge or variation under a foreign statute is to be treated as effective, the judge explained.
It follows and applies the traditional methodology of English private international law under which the court identifies the issue to be decided, and then assigns or links that issue to the area of law with which it is most closely related, such as contract, tort or unjust enrichment, he said. The choice of law rule applicable to that area of law is then applied to determine the outcome of the issue.
Gibbs focuses exclusively on one aspect in a foreign restructuring – the effect of the foreign restructuring or insolvency proceeding on liabilities, the judge continued. The issue in question, when the court is asked to give effect to and recognise a foreign restructuring, is whether the debt is to be treated as discharged by the foreign restructuring, and that leads to the proposition that the related area of law whose conflict of law rules are to be applied, is contract law, he said.
So while some may consider it to be anachronistic, Gibbs is applicable by virtue of general principles and the general methodology of private international law and not, as some as have claimed, the result of what might be unfairly called "cheap colonial condescension", Justice Segal concluded.
The judge warned the INSOL audience to be careful about "falling too rapidly into insolvency exceptionalism".
He said it was necessary to consider whether insolvency cases can justifiably be treated differently from other cases, so as to permit a refusal to apply, or a departure from, the general rules of private international law - a point that Lord Collins made in the UK Supreme Court in the English case of Rubin in 2012.
Even if it is accepted that the normal conflict of law rules need to be applied in cases of foreign restructurings or insolvencies, there are still grounds for criticising the result in Gibbs, the judge said.
For one, the court's approach could be criticised as involving a "category" mistake, he noted - that the true issue the court had to decide was an issue relating to bankruptcy law, not to contract law, so that the applicable choice of law rule should have been the law rule that governs recognition of foreign bankruptcy proceedings, not the contract law rule.
But there was a problem in adopting this approach, Justice Segal said. He explained that when applying the traditional approach of identifying the area of law most closely connected to the disputed issue, the common law only referred to categories such as contract law, property law and unjust enrichment, but never developed a separate category for foreign statutes and foreign bankruptcies.
Another criticism could be that the Gibbs approach gives inappropriate weight to party autonomy, Justice Segal said: it could be argued, that a foreign discharge's effect should not depend on rules based on consent, as a restructuring can be imposed without the need for consent, but rather on whether there's a proper and sufficient connection between the debtor and the restructuring jurisdiction.
The judge finally reasoned there were some clear benefits to the rule in Gibbs. It promotes certainty and predictability, he said, a benefit which should not be underestimated. He pointed to the fact the UK Government's recent publication on whether to adopt the UNCITRAL Model Law on the Recognition and Enforcement of Insolvency-Related Judgments recorded that careful consideration needed to be given before Gibbs should be abandoned.
Justice Segal also said it was important to remember that the practical results of Gibbs were not as damaging as they were sometimes made out to be. Parallel proceedings could often be organised and conducted smoothly with minimal additional expense, as the Cayman and Hong Kong courts had shown, where the process was streamlined and efficient.
Cross-border restructurings in a world without pure universalism always involve complications, he added, but from his own experience there was almost always a pragmatic solution available.
Singapore
Justice Ramesh explained Singapore had moved away from Gibbs as a result of his 2016 judgment in Chinese fishery group Pacific Andes' restructuring.
At the time, the judge had to decide whether Bermuda-registered, Singapore-listed Pacific Andes had standing to pursue a scheme under Section 210 of the Companies Act to restructure Hong Kong and English-law governed debts, after a creditor opposed its application.
"In essence, the argument was that I shouldn't exercise jurisdiction," he said. The judge explained the opposing creditor in the Pacific Andes case did not argue the court lacked subject matter jurisdiction, merely that it should not exercise it.
Explaining his thinking process, Justice Ramesh said the opposing creditor's arguments "struck me as odd and intuitively incorrect" because the debtor had its COMI in Singapore and was listed on the local stock exchange.
The judge said it was also "intuitively incorrect" to say he shouldn't exercise his jurisdiction because in his view there was undoubtedly a collective process before him – Pacific Andes' restructuring.
Ultimately, when confronted with an argument based on a rule of private international law of "some antiquity", the judge declined to follow Gibbs.
Private international law considerations that might pervade a bilateral choice of law by the parties did not come into play in a multi-party adjustment of debt in a collective process that, among other things, provided for a non-consensual discharge by cramming down holdouts, Justice Ramesh said.
He explained that, once the bridge of whether there was subject matter jurisdiction was crossed, private international law considerations gave way.
When choosing the choice of law provision, parties do not contemplate how and on what terms liability will be adjusted and discharged, the judge added – in fact their expectation is that the debt will be paid and the choice of law would apply to any action to enforce the debt.
He noted that a restructuring, being a collective process, sits outside the terms of a contract, and said it is difficult to reconcile why Gibbs should apply to a restructuring done in a collective process such as judicial management, administration or liquidation.
Justice Ramesh finally made the point that Gibbs had effectively turned what was a choice of law argument into a choice of jurisdiction argument, and if applied without qualification, could have the operative effect of an exclusive jurisdiction clause. That would not be consistent with either private law principles or forum non conveniens.
The judge said he was persuaded in his thinking by the scholarship of the late University College London professor Ian Fletcher and Des Voeux Chambers barrister Look-Chan Ho. Fletcher said it should be recognised that parties have entertained the possibility one of them could enter insolvency proceedings in a jurisdiction where the debtor has an established connection, even if their contract is governed by English law. He argued they should have a reasonable expectation, therefore, that the discharge under the applicable law will take effect.
Hong Kong
Madam Justice Chan said transnational restructurings were very common Hong Kong given the "peculiar feature" that the majority of companies listed on the Hong Kong stock exchange are incorporated in offshore jurisdictions such as Bermuda, the BVI and Cayman Islands. 
Such companies, which often have their business located elsewhere, will have Hong Kong law-governed debt and a substantial portion of New York or other law-governed debt, she said.
The factors the Hong Kong court considers when looking at whether to sanction a scheme for such transnational companies are whether there is jurisdiction and if there is any "useful purpose" for the Hong Kong court to sanction it.
The judge explained that the jurisdictional issue came down to whether the particular foreign company had a sufficient connection with Hong Kong, which for a listed company was not difficult to show because the stock exchange requires the company to have at least established a principal place of business and have a certain percent of its management there.
Meanwhile, she explained that the "useful purpose" consideration was based on the conventional principle that the court would not act in vain. Madam Justice Chan said the useful purpose consideration was not normally a stumbling block because the companies that come before the Hong Kong court are commercial entities that ordinarily have sufficient creditors in the jurisdiction.
The Hong Kong judge told attendees that Mr Justice Harris' 2020 Rare Earth judgment, in which he said schemes purporting to compromise US law-governed debt in offshore jurisdictions would not be effective in Hong Kong because of Gibbs, reminded practitioners it was more prudent to seek sanction of a Hong Kong scheme when seeking to discharge Hong Kong law-governed debt.
United States
Lastly, Judge Sontchi said that US courts will recognise a foreign court's order if the foreign proceedings are fair and comport with due process, even if the order's specific relief is not available in the US.
He pointed to New York Judge Martin Glenn's 2018 judgment recognising an English scheme of arrangement for London-based satellite operator Avanti Communications, in which he explained the US courts would recognise proceedings and enforce a foreign order based on comity and not whether the US court would, for example, grant the third-party releases in the scheme.
In recognising Metcalfe Mansfield Alternative Investments' Canadian CCAA proceedings in 2010, Judge Glenn also held that a US bankruptcy court is not required to make an independent determination about the propriety of a foreign court's individual acts, even if they are contrary to US public policy.
He later clarified that status in his Modern Land judgment, where he disagreed with Mr Justice Harris' Rare Earth ruling. Judge Sontchi said Modern Land was the first time the US bankruptcy courts had specifically laid out that a foreign order discharging New York law-governed debt would be recognised if the proceedings comported with broadly-accepted due process principles.
"It's going to be very important if you're seeking recognition and enforcement of a foreign order compromising New York debt that your procedures in your foreign court are fair under US due process standards," Judge Sontchi told attendees.
But Judge Sontchi ultimately noted that "every bankruptcy judge in America stands alone" and even if those standards might be true in Judge Glenn's court, he doesn't have the ability to bind other colleagues on his own bench, let alone the world.
Justice Ramesh noted that Judge Glenn's approach to public policy as regards to recognition was similar to the public policy exception to enforcement of arbitral awards under the Model Law on International Commercial Arbitration. He said that there was already extensive jurisprudence in arbitration matters standing for the proposition that the public exception should be narrowly construed.
The judge said there should be no reason why a same approach based on due process consideration should not apply to recognising and enforcing under the UNCITRAL Model Law on Cross-Border Insolvency.
"It's interesting and I'm looking forward to see how it plays out in the US because I think people are going to be testing the boundaries of these principles in connection with recognition, proceedings, enforcement of orders and whether you can get relief recognised in the US you couldn't get in the first instance in the US," Judge Sontchi said.