GRR 40 under 40 2022: nominations now open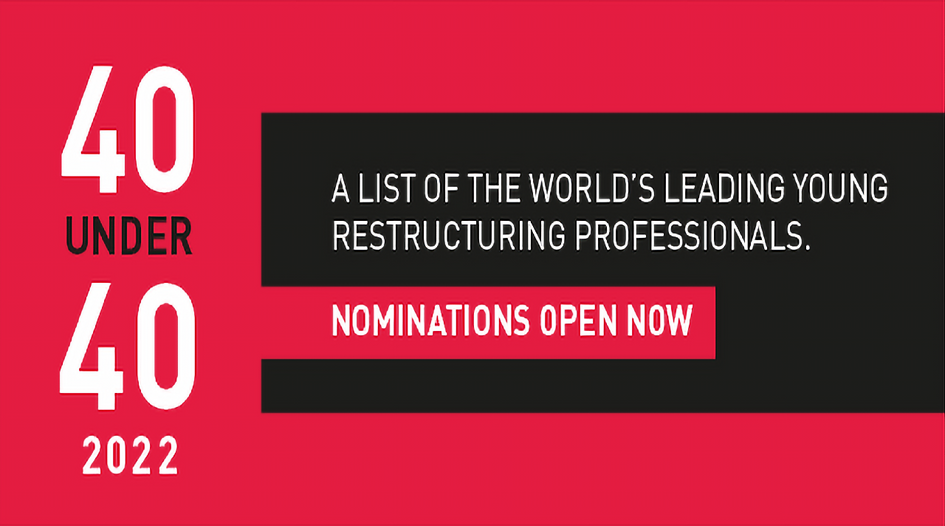 GRR wants to identify the next generation of rising stars within the cross-border restructuring community, and is inviting nominations for talented young individuals around the world to have a chance to be featured in the 2022 edition of our 40 under 40 survey.
Previously published in 2016, GRR's 40 under 40 is a list of the crème de la crème of younger restructuring specialists.
To be eligible, nominees must have demonstrable experience within the cross-border restructuring sphere and be under the age of 40 on 1 April 2022.  
The 40 under 40 is open to all restructuring specialists, whether they are on the legal side, non-legal advisory side, academics, judges, insolvency practitioners, lenders or investors.
We are looking for candidates from a variety of jurisdictions, and diverse cultural and professional backgrounds.
How to nominate someone
If you are reading this you are welcome to nominate up-and-coming restructuring specialists who you think deserve a place on the 40 under 40 list by filling out this short survey.
You cannot nominate yourself and you can only nominate individuals outside of your organisation. Nominations for yourself or for individuals at the same organisation as you will be automatically disqualified.
You can submit as many nominations as you want by filling in the survey multiple times.
Your nomination will briefly have to explain why the individual nominated is a cut above the rest and deserves to be listed, as well as give details of their date of birth (where known), position, contact information and how you know each other.
The deadline for nominations is Monday 31 January 2022.
How will we choose the final list?
Once we have gathered a long list of potential 40 under 40 nominees, the individuals on that list will be sent some questions so that we can obtain more information on their experience and credentials.
A top 40 will then be selected based on nominations received, the information they have provided to us, and our own specialist knowledge and research. 
Those who are selected for the 40 under 40 2022 will have their personal profile and a short interview featured in the survey, which is due to be published in March.
So please go ahead and nominate the next generation of rising stars in cross-border restructuring and insolvency!
For further information about the survey or questions about nominations, please write to: [email protected].