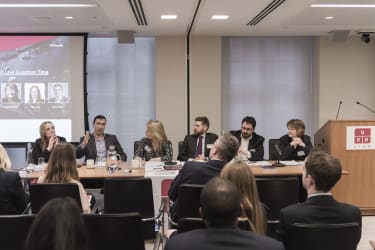 Rita Lowe, Ben Larkin, Susan Moore, Graham Lane, Adam Plainer and Chris Laverty.
Looming questions about struggling retail companies, the use of company voluntary arrangements to help restructure them, and the accountability of the insolvency professionals at the helm dominated discussion at this year's GRR Live London.
The 22 March event's second expert panel, chaired by Stephenson Harwood partner Susan Moore and Willkie Farr & Gallagher partner Graham Lane, kicked off at Stephenson Harwood's London office with a session on "the year of the CVA" and the fitness of company voluntary arrangements to help struggling retailers in the UK.
"Anyone who opens a newspaper knows that the High Street is pretty much on the verge of collapse," began Adam Plainer, head of restructuring at Weil Gotshal & Manges in London.
Plainer said while CVAs were the best way to right-size a property portfolio, their use to cram down landlords on high-profile cases risked giving the "very flexible, very good tools" a bad name.
"What we're finding is that the landlords are all voting for these CVAs because what other choice have they got?" he said. A "robust financing package" should be attached to the CVA so voting creditors knew the business could continue, Plainer added.
"They are a great tool to deal with landlord issues, but they have to be part of a larger operational restructuring."
Rita Lowe, head of banking and finance at CMS, pointed out that unhappy landlords had the choice to claim unfair prejudice or material irregularity. "By and large, all these schemes are entitling the landlord, if they don't like the scheme, to take the property back so nobody is binding them into that," she said.
She said CVAs were used for sophisticated groups of creditors such as landlords, but were not useful for "wider restructurings involving a multitude of different creditors".
And Grant Thornton managing director Chris Laverty said CVAs were never an end in themselves, since retail and casual dining businesses were dependent on customers with changing tastes, "which goes directly to the sustainability of the business model".
Lowe added that online shopping had changed the marketplace fundamentally, and it was too soon to see if the restructurings of restaurant chains like Prezzo and Jamie's Italian would succeed. CVAs, she said, were a way to try to preserve value while avoiding the "nuclear button" of administration.
Jones Day partner Ben Larkin said it went to the "fundamental UK issue" of whether insolvency tools were meant ultimately to preserve a company and its owners, or to preserve value and jobs.
Carillion and Chapter 11
Asked if the US's Chapter 11 could have saved insolvent construction company Carillion when it collapsed in January, Larkin called the tool "incredibly fair and incredibly expensive" compared to the UK's equivalent options.
The US had 50 states with the same legal system, and its people bought into the "enormous" legal fees incurred by Chapter 11 on the understanding everyone would get their day in court.
"You've committees for everybody, and everybody can challenge everything," he said. "And again, fundamentally, in the States you've got entirely different capital markets. It's far easier to raise money off capital market share. You've unencumbered assets, you can get the DIP financing. So to say we need Chapter 11 is kind of crazy unless you change our entire financing structure."
Larkin continued the UK had "potentially sacrificed some of that transparency for functionality".
"Our schemes and our administrations are incredibly efficient at actually preserving business value and what they can be is very, very harsh at cutting off shareholder or mezzanine lender value," he said.
"So what they are is instruments for transferring ownership or changing economic structures in quite a harsh manner, whereas in Chapter 11 it's much more difficult to do that."
Lowe called the Carillion case "highly unusual and completely extreme". While Chapter 11 had the benefit of debtor-in-possession financing and the ipso facto clause, which prevented terminating a company's contracts because of its insolvency, Lowe said using it on a case like Carillion would throw the baby out with the bathwater.
"We would be ripping up our whole contractual freedoms and certainty and security," she said, adding that the UK also did not have the infrastructure to adopt the US system of "huge expense and huge access to court".
Plainer added Chapter 11s were good restructuring tools, "but they do not always succeed".
"You're wrestling with two things here: [either] businesses should always get a second chance, or some businesses should just fail," he said.
Plainer said the "hammer" or threat of administration could be better than Chapter 11 for preventing cases like Carillion, while administration could resolve insolvencies quickly and efficiently.
"I think the Australian system, where they've taken the best parts of what we have here and what they have in America, is one that we should perhaps look at, more than only looking to the United States for assistance," he said.
The question is how to fill the gap, whether through "special administration", like that used for vital infrastructure companies, or by attaching a moratorium provision to the UK CVA.
Lowe said a special administration regime should be reserved for situations where no other company could provide the services. "But where do you draw the line then, if you're operating in the private sector and the public sector?" She said there was a "huge difference" between operations such as hospital construction and those less critical to the overall economy.
Laverty said while special administrations were rare, the banking crisis had shown the need to ensure the economy could survive shakes to critical service providers.
Pre-packs
Another tool growing in popularity was the pre-pack insolvency, where a company agrees to sell its assets to a buyer before administrators are appointed. Pre-packs made up just 2% of insolvencies in 2017, but have attracted criticism when directors sold insolvent assets without creditors having a say.
Just 23 cases were sent to independent regulator the Pre-Pack Pool for assessment in 2017, according to the group's recent annual report, since submitting was not compulsory.
Laverty told GRR Live insolvency practitioners were looking at pre-packs more favourably and had tightened regulation to prevent abuse. "I am a fan of prepacks, for the right asset class, for the right business", she said, adding they were good for staunching the loss of jobs and value. "But I would absolutely say take it with a warning, there have been a number of cons that have played out in the market in relation to pre-packs, and that's very unfortunate," she said.
Lowe said the Pre-Pack Pool, and the UK government's 2015 Graham Review which prompted its creation, had not had much of an impact given submissions were voluntary.
"I personally would prefer to see a conflict administrator appointed in those sorts of circumstances," she said. "Because I think if you had a conflict administrator, the conflict administrator could be there with no pre-existing involvement with the company, merely to look at what the administrator had done in the CO process, and to look at any investigations post that."
Larkin said the idea of an independent administrator was a good one, and the tool could be useful for start-up businesses.
Disruption
"We've seen disruption in all sorts of sectors – look at Uber," the session's co-chair Susan Moore said. "There's a fair amount of disruption in our world as well and it comes in through various guises – whether that's innovation, AI, alternative platforms for lending, or other different ways of doing business."
These disruptions include crypto-currencies and peer-to-peer lending, where people borrow and lend money through online platforms instead of banks.
Laverty said many peer-to-peers had wound down or suspended activity, but not gone into formal appointment. "I think that's very telling in relation to this type of service provider in the market," she said. One service had trouble finding the right opportunities for investors, while two others "possibly overdid in relation to finding those and lending their own money".
Laverty said some well-known UK market players had done "extremely well", but other start-up lenders would fail to find their niche. "They're very new in their life cycle," she said. "I think they're here to stay in a way, but only the ones that are going to match in the right way will float to the top and keep going."
Cryptocurrencies, on the other hand, raise questions of how to value digital assets in restructurings.
"I don't know if there's anything behind it," Plainer said of the crypto trend. "There's a wave there and what will kill it will not be the insolvency industry, it will be regulation that'll kill it stone dead."
Plainer likened the enthusiasm for Bitcoin, and the uncertainty around how it worked, to Enron and the sub-prime mortgage crisis. "No one understood what the hell it was about," he said. "And I happen to have a problem with something that I find really smart people can't necessarily get their arms around."
Larkin agreed many people did not understand the subprime collapse, "but it was possible at the intellectual level to regulate and pass laws at least". But he said that as a lawyer, the idea of assets being completely untraceable was "terrifying".
Accountability
Discussion then turned to accountability of the insolvency profession, in response to comments from Parliamentary Work and Pensions Committee chairman Frank Field at the time of the Carillion collapse.
Field had said financial advisors PwC had the incentive to "milk" Carillion dry before re-emerging as butcher, "packaging out joints of the fallen beast to be flogged off" in insolvency, before being "handsomely rewarded by the taxpayer".
Plainer said the committees, which were set up to scrutinise situations and recommend changes to the law, were sometimes "used to take the mickey out of people". He said insolvency practitioners' actions were coming under more scrutiny, and their comments could be reported almost instantly online.
"I think we're just now in a world where we've got to think very hard about the mandates we take on," he said. "Because a lot of it is driven by fear of losing out on a job, fear of losing out on the next fee."
Plainer said insolvency professionals could be criticised in the collapses of historic, high-profile companies, with the resulting job losses and bad press, though they or the company directors were not necessarily at fault.
"You go in and you try your hardest and for many reasons, not because the directors have done anything wrong or anybody has done anything wrong, the whole thing collapses, and 20,000-30,000 people lose their jobs," he said. "Is it even worth [taking the mandate] in the first place?
"I mean I would argue, of course, that's what we do, but this permeates everything we do as professionals."
Lowe said people had likened the Select Committee hearings of insolvency practitioners to "stoning or public flogging". "I actually think it's important to have accountability," she said.
Lowe agreed the criticism had been "Daily Mail-esque" but said accountability was important. "There's lots of focus on fees when people have lost a lot of money, and I agree with that," she said. "We as a community have got to learn to deal with this better".
"Going forward as professionals we have to find a way to deal with this, which makes us seem less defensive, trying to educate as to what the issues are," she said.
Bank of America assistant legal counsel and director Matt Bowman said the committees could oversimplify the realities of an insolvency practitioner's work. "Yes, complicated financial restructuring, there are lots of fees," he said. "What we should be doing is trying to educate people as to what it actually means and what's being done."
He highlighted "this obsession with people" and the fees consultants earn. "I think one of the differences between Britain and the US is that people who earn a lot of money in the US are viewed as being successful, not people who have done that at the expense of other people. That's philosophically a different way of thinking, and we've got to try and reset that."Larkin said while the Select Committee's approach was "pretty inane", the publicity was making the profession better.
"What it's making you realise all the time is actually everybody could be looking at this, and therefore every time I do something I've got to make sure it's absolutely not only the right thing, but seen to be the right thing," he said.
On 20 March, the UK Insolvency Service launched a consultation to ensure "the highest standards of behaviour in those who lead and control companies in, or approaching, insolvency". The government proposed reversing inappropriate asset stripping, disqualifying directors who were found to have recklessly sold a struggling company, greater powers to investigate directors of dissolved companies, and strengthening the role of shareholders to steward companies.
GRR's panel was sceptical.
Larkin spoke against government "buzzwords" and measures failing to address "the fundamental points of our lending culture". "If you don't sort debt finance out, if you don't sort out a mechanism to actually see something through its crucial phase, you're just not going to get anywhere," he said.
Plainer said the proposed measures were anti-business, while Laverty called them reactionary.
The panel said existing laws should be tested and changed where necessary before new legislation was introduced. Introducing more regulation for pre-insolvency actions could hurt the overall restructurings when time was short, Laverty said.
"One of the things that they're consulting on is whether the Insolvency Service should be pursuing directors of dissolved companies. But you don't have to get the company reinstated on the register to do that," Lowe said. "If the company has been dissolved with outstanding debts, or there are allegations against the directors, I'm thinking they can't actually manage or police what they've already got by bringing all this other stuff into the net."
Plainer had different ideas for reform. "Why should you get away with dissolving a company when you know there's creditors? There should be an automatic penalty – two year ban."
From the audience, Smith & Williamson insolvency practitioner Adam Stephens called out the Insolvency Service's "absurdly low number of disqualifications", saying the agency should police the field better, but acknowledging its lack of funding. "We have an entrepreneurial culture that encourages anybody to set up an enterprise. I think that's great – but it's incumbent upon the Insolvency Service to police it better."
Larkin tried to be positive. "I think actually in our world, 99% of us do it properly. And in a way, whatever happens at select committee, and whatever happens in the Daily Mail, you've got to lobby the politicians properly to make sure they don't go and make a really stupid change to the law. I think we're reasonably effective at that – everything else is kind of noise, as long as we do our job properly."