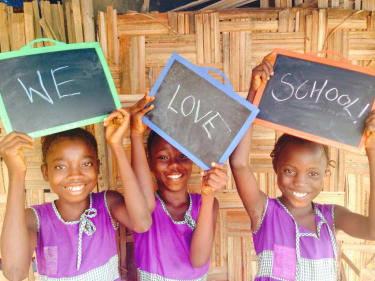 Profits from the GRR Awards go to the Swawou Layout School in Sierra Leone (Credit: Swawou Layout Community Primary School for Girls)
GRR is delighted to reveal the winner of our 2018 Lifetime achievement award: a barrister who has had a role in a catalogue of the past 45 years' major cross-border restructuring and insolvency matters, touching common law jurisdictions and beyond.
With credits on cases including BCCI, Maxwell Group Newspapers and Parmalat, Michael Crystal QC's CV reads like a "what's what" of cross-border restructuring and insolvency matters. He is admitted to the bar in eight common law jurisdictions, is an international fellow of the American College of Bankruptcy and a former member of the board of directors of the International Insolvency Institute (III).
Crystal's contribution to the development of the cross-border restructuring and insolvency sector will be honoured at the GRR awards on 26 June in London's Banking Hall, where he will pick up the special lifetime achievement trophy after an introduction by long-time colleague and fellow South Square barrister, Mark Phillips QC.
"When he started practice, bankruptcy was perceived to be an unglamorous end of the legal world. Fashionable barristers and solicitors would not get involved," Phillips tells GRR ahead of the awards. He says Crystal made the insolvency world what it is today, and helped insolvency reach its current status as an area of practice.
"Michael was at the forefront of developing solutions to cross-border insolvency problems where none had existed before. For example, before BCCI, in which he acted for the liquidators, cross-border pooling had never been attempted. Michael pulled it off."
Just a couple of weeks ago, Crystal and Phillips together completed a 129-day trial in AHAB v Saad in the Cayman Islands, where they were acting for Grant Thornton as joint liquidators of Saad Investments Company (SICL).
In a mammoth judgment of more than 1,300 pages handed down on 31 May, the Cayman court dismissed fraud claims worth more than US$9 billion brought by Saudi Arabian conglomerate Ahmad Hamad Al-Gosaibi & Brothers (AHAB) against SICL and eight other defendants represented by Grant Thornton, also rejecting counter-claims worth US$7 billion.
Earlier this year, before the Saad judgment was handed down, Phillips referred to the lengthy trial in a LinkedIn post sharing a photo of himself and Crystal at a dinner at Middle Temple to celebrate Crystal's 70th birthday. "Thirty-two years ago Michael took a chance on me and has been a brilliant mentor and colleague throughout my career," Phillips wrote. "You cannot bottle experience and insights like Michael's and as a fellow advocate they were invaluable to me. Wishing Michael many more years, and still hoping to emulate him."
The presentation of the lifetime achievement award will be the climax of the GRR Awards 2018. The black-tie event will begin with drinks and dinner, before the winners in eight other categories are revealed, alongside the GRR 30 – the top 30 firms in the GRR 100 2018, which is our annual guide to cross-border insolvency and restructuring law firms.
Shortlists for all of the other eight categories – most important recognition decision, innovation in cross-border restructuring and insolvency, cross-border cooperation in a specific restructuring or insolvency matter, most improved jurisdiction, most significant insolvency or restructuring-related litigation, large law firm that impressed, small or regional law firm that impressed; and advisory firm that impressed– have been released over the last few days.
All profits from the GRR Awards will go to the Swawou Layout Community Primary School for Girls in Sierra Leone. The school is part of a project established in 2008 by GRR's parent company, Law Business Research, to offer free primary education to girls from disadvantaged homes in Kenema, a town in eastern Sierra Leone.
Lifetime achievement award winner: Michael Crystal QC
A graduate of Queen Mary, University of London in 1969, Crystal went on to complete a BCL at Magdalen College at the University of Oxford in 1971.
He was first admitted to the bar in the UK in 1970, and has since gone on to gain bar admissions in the Bahamas, Bermuda, the Cayman Islands, Gibraltar, Hong Kong, the Isle of Man and the British Virgin Islands.
He was appointed Queen's Counsel in 1984; was elected master of the bench at Middle Temple in 1993; and was chosen as the inn's autumn reader – a senior barrister who gives a series of lectures on a particular topic – in 2012.
Crystal also became a Deputy Judge of the Chancery Division of the England & Wales High Court in 1995.
As well as acting for Maxwell Group, the liquidators of Luxembourg-registered bank BCCI and the Cayman liquidators of dairy multinational Parmalat, Crystal had roles in the Eurotunnel case, the administration of UK retail chain Woolworths and the liquidations of major Icelandic banks in the aftermath of the 2008 global financial crisis. He also appeared for the Primeo Fund, an indirect victim of the Madoff Ponzi fraud, in its disputes with another victim and direct investor into the fraud, Herald, whose shares Primeo had subscribed to.
Early in his career, Crystal appeared in the 1979 case In Re Emmadart, which set the important precedent that directors could not present a winding-up petition without an ordinary resolution of the company's shareholders, unless its articles of association provided them with specific authority.
Other interesting cases Crystal has worked on include the family feud of Swiss aristocrat and industrialist Baron Hans Heinrich Thyssen-Bornemisza with his eldest son, whom he accused of defaulting on payments to him from the family trust. Crystal represented the Baron and his wife in the dispute, which took place in a specially built Bermuda court at the turn of the millennium.
In total, Crystal's publicly reported cases alone are understood to run to over 100.
Outside of his practice as a barrister, he has held a number of important roles including as visiting professor to the law department of University College London in 2002. He was also chairman of the UK's Banking Appeal Tribunal from 1993 to 1998, at the same time taking part in the UK's Insolvency Rules Advisory Committee.
Further, Crystal was appointed to the UK Football Association's Premier League Panel for Insolvency Matters in 2004.
In 2017, he received an outstanding contribution award from the III, an institution he was invited to join in 2005.
To book a place and see Crystal, a pioneer of cross-border insolvency, pick up his lifetime achievement award, as well as the winners of our eight other categories and the GRR 30, please visit the GRR Awards 2018 event website.