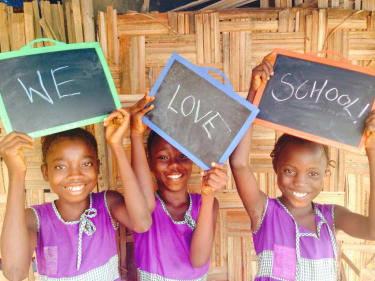 Profits from the GRR Awards go to the Swawou Layout School in Sierra Leone
Swawou Layout Community Primary School for Girls
Here are the final nominees for large law firm, small and regional law firm and advisory firm that impressed GRR over the last year.
The three winning firms will be announced at the GRR Awards 2018 on 26 June in London's Banking Hall. Kicking off with drinks and dinner, the black tie ceremony will see awards presented in nine categories in total.
In addition, GRR will be revealing the 30 firms that came top of the GRR 100 2018, our annual guide to approved cross-border insolvency and restructuring law firms that is unveiled to the wider public the morning after the awards.
Five shortlists of nominees have already been revealed for most important recognition decision, innovation in cross-border restructuring and insolvency, cross-border cooperation in a specific restructuring or insolvency matter, most improved jurisdiction and most significant insolvency or restructuring-related litigation.
We are now delighted to share below the nominees for large law firm that impressed, small or regional law firm that impressed and advisory firm that impressed. In the comings days we will also be revealing the recipient of a very special lifetime achievement award that will be presented on the night.
Profits from the GRR Awards ceremony will go to the Swawou Layout Community Primary School for Girls in Sierra Leone. The school is part of a project established in 2008 by GRR's parent company, Law Business Research, to offer free primary education to girls from disadvantaged homes in the town of Kenema, eastern Sierra Leone.
For more details of the GRR Awards 2018 and to book a place on a table, please visit our event website.
Large law firm that impressed
Linklaters – Advising Lehman Brothers Europe's joint liquidators PwC, Linklaters won an English court's sanction for an "ingenious" scheme to use the 2006 Companies Act to distribute money to a shareholder, the same day the court granted applications to kick off the settlement of claims in the Lehman Waterfall III litigation. Linklaters also advised French geoscience firm CGG in its Paris safeguard proceedings and its Chapter 15 recognition in New York: the Paris Commercial Court approved the cross-border restructuring, reducing the company's debt by more than US$2 billion. The firm has further been acting in Spain's biggest restructuring, for energy conglomerate Abengoa. The US$9 billion restructuring has been a landmark case under Spain's homologacion procedure and has been recognised under Chapter 15 in Delaware.
Freshfields Bruckhaus Deringer – Freshfields' successes in 2017 included the restructuring of German clothing retailer Jack Wolfskin, which it helped with a €255 million debt-for-equity swap that gave first-lien lenders a majority stake in a new holding company. In early 2018, the firm joined its Magic Circle stablemates on the Carillion insolvency, where it is representing the UK Insolvency Service. The UK public services contractor filed for compulsory liquidation on 15 January with debts of £1.5 billion. Freshfields' work for struggling airline Monarch has also gained notice – it first helped the airline in a 2014 restructuring after its acquisition by Greyball Capital, then in 2016 again, and then advised Monarch's liquidators KPMG when the airline filed for insolvency in October 2017, going on to win an important victory in the English courts that allowed the airline to sell its valuable take-off and landing slots to others.
Kirkland & Ellis – The firm's most impressive matters have included Seadrill, for whom it is debtor's counsel, in its US$20 billion restructuring, which the firm saw through to a successful Chapter 11 exit in April after a September 2017 filing. It also represented Toys "R" Us in US Chapter 11 and Canadian Companies Creditors Arrangement Act (CCAA) proceedings, and a company voluntary arrangement (CVA) in the UK; and advised global communications company Avaya in its US$6 billion Chapter 11 case, helping it through a successful mediation and global settlement that reduced its funded debt by more than US$3 billion. Again on the debtors' side, Kirkland advised Singapore-based semiconductor business Global A&T Electronics on a restructuring support agreement that cut half its US$1.127 billion funded debt after a pre-pack Chapter 11. It also acted on CGG, advising an ad hoc committee of senior lenders.
Orrick Herrington & Sutcliffe – Orrick worked for the joint provisional liquidators of drill ship operator Ocean Rig in its US$3.7 billion restructuring, which included a Chapter 15 recognition in New York and Cayman Islands schemes of arrangement. The firm also advised Toyota in airbag maker Takata's high-profile restructuring following a global faulty product recall, and also counselled Seadrill Partners' conflicts committee through amendments to secured facilities that insulated it from the restructuring of its parent company. Finally, Orrick advised DNCA, one of CGG's biggest shareholders, on the latter's restructuring.
Slaughter and May – The firm impressed us this year by grabbing GRR headlines when Carillion named it as counsel as it went into liquidation, amid a torrent of political and media attention. Also in the UK, the firm acted for energy exploration company Premier Oil on the reorganisation of its US$3.8 billion capital structure, and was sole legal adviser to Tata Steel on the restructuring of the US$13 billion British Steel Pension Scheme. It also advised Seadrill on its restructuring plan and directories firm hibu on a pair of schemes of arrangement.
White & Case – White & Case has a role on some of the highest-profile matters GRR has covered over the past year – and also on some of the most contested ones. It is advising the foreign representative of the International Bank of Azerbaijan in English proceedings that stand a chance of undoing the common law Gibbs rule, as the client seeks to enforce an extended moratorium preventing English law-governed debt holders from bringing claims in the UK. The firm is advising Asian commodities trader Noble Group in its attempts to push through a centre of main interests (COMI) shift and restructuring plan, in the teeth of opposition from an indirect shareholder that has blasted the plan as unduly generous to management at shareholders' expense. It was Brazilian telecoms group Oi's international counsel as it pushed through a judicial reorganisation plan against ongoing shareholder protests, in a case that's estimated to be the largest restructuring in Latin American history. It is also acting for meatpacking company JBS, as it restructures to stem risks arising from the payment of a US$3.2 billion leniency fine following a bribery investigation. On the sovereign debt side, White & Case is advising Mozambique, which has been in default of its bonds since the start of 2017, in negotiations with creditors.
Sidley Austin – Sidley is international counsel to the joint provisional liquidators of Ocean Rig in its US$3.8 billion Cayman Islands debt restructuring. It's also acting for marine cargo company Sea Containers and affiliates in their Chapter 11, and for Canadian paper company Catalyst on a Chapter 15 case in Delaware. On the creditor-side, it is acting for Bank of America in Pacific Andes's Chapter 11 proceedings, while in Takata's Chapter 11 it is advising auto manufacturer Honda North America.
Clifford Chance – The magic circle firm continues to act as counsel to bondholders of Spanish renewables conglomerate Abengoa in its €8.9 billion homologacion proceedings. It's also played a dual role in the Carillion insolvency – first as counsel to the company's senior lenders in its UK winding-up proceedings, and then itself acquiring Carillion's Newcastle-based legal services unit. In Paris, the firm represented CGG's court-appointed trustee: the company's safeguard plan received recognition in New York in December 2017 – one of only a few times where a US court has been asked to recognise a French safeguard process. Clifford Chance is further advising French bank BNP Paribas in English proceedings over a US$650 million sukuk – or Islamic bond – issued by Saudi Arabian company Golden Belt, which the bank had arranged. Another banking client is Deutsche Bank, one of the supporting lenders in commodities group Noble's restructuring, while on the insurance side, Clifford Chance is advising Swiss Re International as a payment guarantor in Brazilian energy company Odebrecht Óleo e Gás's debt restructuring.
Jones Day – The firm supplied the Austrian insolvency administrator and international counsel for Oi Brasil Holdings Coöperatief, one of two Oi financing companies that are among its largest creditors. Another debtor client is plastics maker M&G Chemicals in its US$1.5 billion Chapter 11 process. Jones Day is also representing bondholders of Puerto Rico in litigation against the US government over losses allegedly caused by a federally appointed oversight board; and a consortium of banks led by Banco Santander in engineering group Isolux Corsan's €2 billion restructuring.
Skadden Arps Slate Meagher & Flom – Skadden led renewables group SunEdison out of bankruptcy in a US$8.2 billion restructuring plan described as a "remarkable feat" by the SDNY Bankruptcy Court, considering the "wars and skirmishes" that took place before an eventual mediated global settlement. It advised Toshiba on the US$4.6 billion sale of its troubled subsidiary Westinghouse, and Takata's buyer, Key Safety Systems, in the beleaguered car manufacturing group's Chapter 11 sale. Skadden further successfully defended the former directors of Republic Airways from securities and common law fraud claims, and is acting for the Chapter 11 trustee of a Singaporean branch of China Fisheries Group, which won the green light to begin selling the group's Peruvian fishing business in August 2017. In Nortel, it has been acting for the conflicts administrator of the group's French arm NNSA.
Small or regional law firm that impressed
Maples and Calder – This offshore firm is counsel to Ocean Rig in its US$3.7 billion restructuring. In implementing four interrelated schemes of arrangement of the group, Maples and Calder achieved the first successful pre-appointment COMI shift to the Cayman Islands, and the first Cayman court sanction of a scheme for a foreign group. The firm is also advising provisional liquidators in the restructuring of Cayman-registered China Fishery Group, and drove through a US$2.5 billion restructuring deal for oil driller Vantage Drilling and its former subsidiary Offshore Group Investments.
Walkers – The firm's representation of Saad Investments liquidators Grant Thornton has ensured its constant busyness for the better part of a decade in one of the most fiendishly complex, high value and well-litigated insolvencies of recent times. It has also acted for the liquidator of BVI-registered gold mining company Taurus Gold, which remarkably returned from insolvency to solvency in 2017. Other liquidators represented are those of ship operator Sea Trucks and Mongolian Mining Corporation, the latter of which saw its scheme sanctioned by Cayman and Hong Kong courts in April 2017.
Ogier – Like Maples and Calder, Ogier also acted on the precedent-setting Ocean Rig, for the company's joint provisional liquidators, organising a novel court-to-court communication protocol between US and Cayman proceedings. In Guernsey, the firm won the Royal Court's blessing for the conversion of property company Maplecross's solvent liquidation to a compulsory liquidation, affording it extra protection from EU sanctions against Libya. The firm is also appearing in Madoff-connected case Fairfield Sentry as counsel to Barclays Bank, and advised HSBC as administrative agent and collateral agent for the senior lenders in a major asset finance deal during the restructuring of helicopter group CHC. Ogier is also advising Toys "R" Us on BVI law.
Thornton Grout Finnigan – Canadian firm Thornton Grout Finnigan represented UK pension claimants in the long-running Nortel bankruptcy litigation – the only party to get its wish when, after an unprecedented US-Canadian joint trial, both courts agreed to a pro-rata distribution of the company's US$7.3 billion liquidation proceeds. The pension scheme trustee recently said it had made better than expected returns in the Nortel matter after a 2016 settlement was reached on the pro-rata decisions. The firm's expertise was boosted with the hire of the Canadian judge who oversaw Nortel, Frank Newbould QC, in mid-2017. Alongside Blake Cassels & Graydon, Thornton Grout Finnigan acted for US Steel Corporation in the restructuring of its Canadian subsidiary. With Willkie Farr & Gallagher, it also helped US-Canadian debt collector Square Two reach an agreement with its unsecured creditors' committee, leaving it free to win approval of a pre-packed Chapter 11 case that saw Canada's first ever pre-filing stay of proceedings.
Barbosa Müssnich Aragão – Brazilian telecoms company Oi retained Barbosa Müssnich Aragão as its counsel for a US$20 billion restructuring, which is the biggest yet in Brazilian history. It won creditor approval for a restructuring plan in December after a 15-hour meeting with more than 1,000 attendees in a 22,000-square metre convention hall. A Rio court approved the plan in January, but Oi is now defending it in challenges from shareholders in arbitration and court appeals.
Togut Segal & Segal – For a small US firm, Togut Segal & Segal has a surprising number of major ticket instructions. Just this this year it acted alongside Skadden for SunEdison, which emerged from Chapter 11 in December, having gone in with liabilities of more than US$16 billion – a "remarkable" feat according to the SDNY judge overseeing the case. Togut Segal & Segal also acted for Toshiba Nuclear Energy Holdings UK in the restructuring of nuclear supplier Westinghouse, whose foreign subsidiaries the client owns. The firm further acted for Bermudian oil shipping services company Toisa and several subsidiaries as they entered Chapter 11 over US$1 billion in debt, and for global telecoms company Avaya in its New York Chapter 11 proceedings, which were completed in December bringing about a US$3 billion reduction in its debt load.
Richards Layton & Finger – This Delaware firm does not shy away from difficult cases – it is counsel to the DIP term agent in US firearms manufacturer Remington's Chapter 11 case, and in The Weinstein Company's Chapter 11 proceedings. It also represented TK holdings, the US unit of airbag manufacturer Takata, which went into Chapter 11 after a global recall of potentially defective airbag inflators and an avalanche of litigation. The firm is also Delaware counsel to Canadian gold miner Crystallex, which entered CCAA proceedings in 2011 and obtained DIP funding to bring an arbitration against Venezuela that led to a US$1.39 billion arbitral award in 2016. The two sides reached a settlement on how Venezuela would pay the award last year – but it remains unclear how much money has changed hands so far.
Yulchon – This Korean firm has been a pioneer for out-of-court restructurings in its home jurisdiction, and has brought new processes to the Korean restructuring scene, beginning with the 2014 debt-for-equity swap of trading company STX Corporation's publicly listed bonds. It acted with Cleary Gottlieb Steen & Hamilton in 2016 on one of Korea's biggest rescues for Hyundai Merchant Marine – the success of which only grew in stature when fellow shipping company Hanjin went into liquidation the following year, despite a debt-to-equity ratio almost half HMM's. Recently, Yulchon achieved Korea's first M&A deal through a stalking-horse bidder, and advised Daewoo Shipbuilding & Marine Engineering in a bond restructuring ordered as a condition of a US$2.6 billion state bank bailout, agreeing a debt-for-equity swap with the national pension service.
Drew & Napier – Drew & Napier has ridden at the crest of a wave as Singapore's own profile has risen in recent years, and the metaphor extends to the nature of its work, which includes a great deal of shipping and offshore marine cases. It is acting for ING as secured lender and PwC as global receivers to Danish marine bunker company OW Bunker Group; for local bank UOB in the restructuring of California's Seacastle; in Ezra Group, where it is acting for the board of directors of the debtor's ultimate holding company; for LNG shipper Humpuss Intermoda Transportasi, which it is helping to resist US$110 million in claims from the liquidators of its former Singapore subsidiary; and it is representing Cargill as a creditor of Indian shipping group Mercator over debts around US$189 million. The firm is also acting on the US$1.1 billion restructuring of Glory Wealth Shipping, representing the company's shareholders. Away from shipping, Drew & Napier has been instructed by the Chinese industrial fishing company Pacific Andes Resources Development to help its wider group reduce a US$2.5 billion debt load.
Thommessen – The Norwegian firm represented Bermudian drilling company Seadrill, alongside Slaughter & May as international counsel and Conyers Dill & Perman as Bermudian counsel, providing Norwegian law advice on the company's pre-pack plan, which was approved by a Texas court in April. The firm has consistently won our sister publication Who's Who Legal's "Norway Law Firm of the Year" for the last eight years.
Advisory firm that impressed
KPMG – KPMG is involved in many of the big UK high street and casual dining restructurings of the last year, most recently that of Italian chain Carluccio's, where it has provided the CVA supervisor. It was also appointed administrator for American Apparel's UK stores, as well as provisional liquidator in Ireland and bankruptcy trustee over two Canadian debtors. In the long-running Lehman Brothers matters, KPMG partners have been liquidators of three of the bank's Asian entities. The advisory firm is also special administrator of broker MF Global UK, and provided the joint administrators for Monarch Travel Group when it collapsed leaving passengers stranded all over the world earlier this year. Other big appointments have included being financial advisor to Key Safety Systems in airbag maker Takata's Chapter 11 case, provisional administrator over the Dublin branch of New Zealand insurance firm CBL, and administrator of Australian uranium miner Paladin Energy. KPMG is also the liquidator of Peak Hotels, a Hong Kong hospitality chain with main proceedings in the BVI and other proceedings in England. In Singapore's offshore sector, it is judicial manager to Swiber Offshore Construction in its Singapore proceedings, and with PwC it is liquidator of OW Bunker Middle East DMCC.
EY – Last year's winner is still a strong contender in 2018. New instructions for EY's global team have come from Singaporean water treatment company Hyflux, which is reorganising around US$375 million in debt. The Canadian courts have also named the firm Carillion Canada's court-appointed monitor. In Bermuda, EY is providing the joint provisional liquidators for offshore driller Seadrill's restructuring: a technical provisional liquidation intended to implement the company's Chapter 11 reorganisation, which concluded in April with the recognition of a reorganisation plan. The firm has also continued to handle the tricky and long-running Nortel matter as its Canadian monitor and as administrator of the group's 19 European, Middle East and Africa arms. The latter appointment was recently extended to January 2019 – the cut-off date chosen due to post-Brexit uncertainties. Meanwhile, EY's Canadian practice has continued to be busy in a brace of other matters where it is monitor – for Canadian mining company Crystallex, for two companies in the Essar Steel restructuring, and for US Steel Canada.
AlixPartners – AlixPartners undertook a large number of high-profile restructurings over the past year, including some that were systemically important, not just economically but politically. Those included Agrokor, the high-profile restructuring of a major Croatian conglomerate that saw Croatia's government pass a special restrucuring law. The firm is providing Agrokor's administrator. AlixPartners is also advising South African retail group Steinhoff, and acted on the novel Ocean Rig case in the Cayman Islands as the group's joint provisional liquidators. It is providing beleaguered US nuclear supplier Westinghouse with restructuring advice as it goes through Chapter 11 proceedings, and fielded the CRO in the recent refinancing process for UK outsourcer Interserve. Finally, it advised Houston jewellery retailer Charming Charlie through its bankruptcy proceedings, which ended in April after just over four months.
Kalo – A new entrant on the restructuring scene carved out of AlixPartners' Caribbean team, Kalo was only a month old at the time of the first GRR awards, but has already shot to prominence in time for the second. Two Kalo partners are acting as joint liquidators of Cayman-registered oil and gas explorer CAMAC Group, for which they have filed Chapter 15 proceedings in pursuit of an investigation into suspicious transactions. The firm also won another joint provisional liquidator appointment for Scottish Re's Cayman subsidiary, and another for World Financial Group, a BVI holding company. Managing director Eleanor Fisher worked on Ocean Rig alongside AlixPartners managing director Simon Appell in London. As joint liquidator of insolvent Cayman investment company DD Growth Premium 2X Fund, Fisher also persuaded the UK Privy Council that US$23 million in payments amounted to an illegal return of capital. BVI managing director Paul Pretlove was recognised in Hong Kong as a joint liquidator of BVI company Supreme Tycoon, in a decision that itself has been nominated for the "Most important recognition" award. Moreover, Primeo, another company being liquidated by Kalo in the Caymans, won an appeal upholding its contractual rights in a dispute with another liquidated fund in the fallout of the Madoff Ponzi fraud.
Alvarez & Marsal – India's National Company Law Tribunal appointed the firm's Satish Kumar Gupta as interim resolution professional over Essar Steel India. Alvarez & Marsal played a role on Seadrill too as a restructuring advisor. Fashion brand Nine West appointed managing director Ralph Schipani as its interim CEO in April as it entered Chapter 11 with US$900 million in debt, while managing director Brian Fox is chief restructuring officer for guitar maker Gibson, which recently won approval for an innovative DIP financing structure. Continuing work includes acting for Italian plastics company M&G Chemicals, for whom the firm has provided a chief restructuring officer. In the Ontario courts, Alvarez & Marsal provided the information officer for Payless Holdings, a holding company for the shoe brand.
Grant Thornton – Grant Thornton partners have been acting as official liquidators of Saad Investments Company (SICL) and eight other entities in international litigation arising from the collapse of Saudi family conglomerate Ahmad Hamad Al-Gosaibi & Brothers. The advisory firm is also monitor to the Canadian arm of Toys "R" US, which the company has managed to sell to Toronto investor Fairfax as it liquidates in the UK and US. In the BVI, Grant Thornton is liquidator of the estate of Alberto Chang Rajii, the alleged perpetrator of Chile's largest-ever Ponzi scheme. The firm is assisting Chilean liquidator Carlos Parada Abate collect property in the territory, located on Moskito Island. Partners in London and the BVI have also been acting as joint receivers and later liquidators of four companies related to a Guernsey trust associated with property mogul Robert Tchenguiz that had borrowed substantially from Icelandic bank Kaupthing. In Gibraltar, Grant Thornton partner Freddie White is provisional liquidator of the Enterprise Insurance company, whose collapse is being investigated amid suspected fraud, unauthorised trading or failure to meet regulatory requirements.
Moorfields – London partners Arron Kendall and Simon Thomas were appointed administrators to Toys "R" Us UK and are now overseeing its liquidation after attempts to sell the company as a going concern failed. The same partners are also administrators of the UK arm of upmarket women's clothing brand Basler, whose German parent is being liquidated, and they were appointed over three Jersey-registered subsidiaries of London's Frogmore property group, whose COMI was found to be in the UK since they were special purpose vehicles created to invest in English shopping centres.
PwC – Partners from PwC are the long-time administrators of Lehman Brothers International Europe (LBIE) – the former bank's principal European trading arm – and recently sought Chapter 15 recognition of an English scheme of arrangement that should finally bring an end to litigation over a surplus in LBIE's estate. The Big Four firm is also providing the joint administrators and joint special administrators to UK-based stockbroker Beaufort Securities and its sister entity, both being investigated by US authorities for fraud. PwC partners are also liquidators to Gibraltar-headquartered company Ratio; financial advisers to the UK pension scheme trustee for Nortel; administrators to UK drinks retailer Convivality; special managers in the liquidation of Carillion; and Cayman-appointed joint provisional liquidators to Hong Kong recycled materials company Cecep Costin New Materials. Michael Stinson in the Isle of Man was also appointed provisional liquidator to a struck-off Manx company LG Properties to help it receive English property for creditors, then wind it up – and he acted as replacement liquidator of Manx-registered fund Eco Resources when creditors asked for a replacement more willing to consider their restructuring proposals.
Houlihan Lokey – As adviser to an ad hoc group of supporting creditors, Houlihan Lokey is taking a leading role in the restructuring of Asian commodities trader Noble Group. It was also co-adviser with Alvarez & Marsal to the Norwegian oil multinational Seadrill, which had its Chapter 11 plan approved by a Texas court in April. It is further reported to be advising bondholders of Steinhoff in its restructuring; advised an ad hoc group of supporting creditors in the restructuring of Ocean Rig; and also provided advice to Spanish engineering group Isolux Corsán in its Madrid homologation proceedings. Also in Spain, the firm is advising bondholders of Abengoa, while in France it was financial counsel to an ad hoc creditors' committee of the French directories group SoLocal. Brandon Gale of Houlihan Lokey in Singapore was named a thought leader in Who's Who Legal: Restructuring & Insolvency 2018.
PJT Partners – Senior secured noteholders of guitar-maker Gibson have recently tapped this firm for advice in the company's Chapter 11 process, as has Asian commodities trader Noble Group. Creditors to the South African retail conglomerate Steinhoff are also understood to be using it. Westinghouse used PJT Partners for financial advice on its Chapter 11 restructuring, while German clothing retailer Jack Wolfskin used it as counsel for its €255 million debt-for-equity swap.
Moelis & Company – Like PJT Partners, Moelis is advising Noble Group on its restructuring. It has also been providing counsel to investment bank Guggenheim Securities in the restructuring of Texas jewellery and accessories retailer Charming Charlie; is co-counsel with AlixPartners to Steinhoff in its restructuring; and was hired by Singapore-headquartered microchip tester Global A&T Electronics and 12 affiliates as they pursued a Chapter 11 restructuring. In Brazil, Moelis has been advising telecoms company Oi's international bondholder committee.