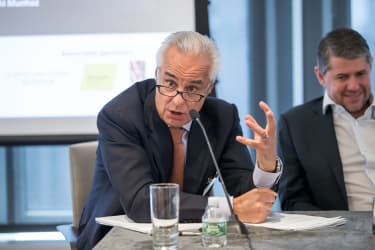 Stocche Forbes partner Domingos Fernando Refinetti.
Christopher Lazzaro
Brazilian restructuring lawyers have called for better debtor-in-possession (DIP) financing provisions and more ways to protect restructuring plans from challenges in Brazil, as US colleagues showed confidence they would get there.
On Monday, panellists at the GRR Live – Latin Lawyer restructuring conference in New York said the lack of DIP financing provisions and of an "equitable mootness" doctrine to finalise restructuring plans, were stopping efficient workouts in Brazil. The lawyers said differences with the US's established DIP finance culture highlighted the need for similar measures in Latin America.
JP Morgan managing director and head of restructuring Dan Pombo drew envious looks from the panel, gathered at Paul Hastings' Park Avenue headquarters, as he described raising US$2.3 billion in new DIP finance in "a little over a month" for bankrupt retailer Toys "R" Us. Pombo said the confidence in the US's DIP system came from its speed, the threat of a "priming lien", and super-priority administrative claims.
"From the time that a company files for bankruptcy we typically have a committed financing in place that is approved within 48 hours," he said. "And then on a final basis it's approved within 30 to 45 days. So very quick action to approve the DIP financing with a court order that is not appealable."
DIP lenders in the US also get a "priming lien", which put them ahead of secured creditors in line to be repaid. Such "priming" was rare, but Pombo said the threat of it made secured creditors more willing to provide financing. Super-priority administrative claims, meanwhile, ensure the DIP lender is paid before all other administrative claims and require it to be paid back at full value for the company to emerge from bankruptcy.
"If it does go south, if they should default, the protections are very clear that the DIP lenders can just take their collateral and liquidate it," he said. Specialist firms could give precise liquidation values, making lenders more comfortable, while there was also "very little ability" to appeal a bankruptcy court's final order.
Brazil's Bankruptcy Law
But if these factors made DIP finance easier in the US, their absence had the opposite effect in Brazil. Eduardo Secchi Munhoz, head of E Munhoz Advogados in Sao Paolo and counsel to construction company Grupo OAS, said things were very different in his country.
"It's impossible to get a DIP in Brazil in 48 hours," he said. Brazilian companies tended to file for bankruptcy late, and their assets were not usually free of liens.
The second problem, Munhoz said, was the lack of a mootness doctrine. The court's order approving a DIP loan could be appealed, and investors could lose their collateral months or years after the case. Faced with this kind of risk, "almost all the potential investors go away".
"We need in Brazil something similar to the mootness doctrine to make decisions non-appealable to make sure that later, the potential appeal cannot invalidate the collateral for investors," he said.
Brazil already has the concept of super-priority claims. But there are so many claims, some of which are not subject to the bankruptcy proceeding, that it is often not clear who comes first, Munhoz said.
A proposed new bankruptcy law in Brazil would make DIP financing more difficult, he added. "If the law is approved it will be completely impossible," he said. "The DIP [loan] will have to be approved by a creditors meeting, so it will take one year."
Munhoz said it was not clear when the government would consider the new law.
Culture
Besides the legal difficulty, there are also cultural reasons for the difficulty in finding finance for distressed companies, speakers said.
Stocche Forbes partner Domingos Fernando Refinetti explained that in Brazilian culture, acts that represented a failure in conducting business, such as filing for insolvency, are considered shameful. Most big companies are family owned and it is difficult for company leaders to admit failures leading to insolvency. "We still have underlying problems in Brazil which will make DIP financing, exit financing very difficult," he said.
Refinetti added there is often almost nothing left to restructure if a company files late, and in Brazil you cannot ask a shareholder to give up control of the company. "We do not see insolvency as an element that could help to clean the market," Refinetti said. "In Brazil, the tendency is always to have things in agony. There is a long agony that lasts 10, 20, 30 years. You are not able to clean the market to make things work again."
He added that Brazilian companies are also obliged to provide social benefits the government does not, so it is difficult to view them as purely commercial concerns. The Stocche Forbes partner also had doubts Brazil's specialised courts were prepared to handle complex bankruptcies and was concerned about interference by tax authorities seeking to make tax credits untouchable in bankruptcy proceedings.
Moreover, Refinetti said there was also suspicion in Brazil about lending to an insolvent company. "Breakup" fees, such as those incurred in the OAS restructuring transaction, and the idea of "loan to own" were difficult concepts for Brazilian businesses, while lack of transparency and unequal access to information also added to the suspicion.
"Lots of things related to a free market and rewarding people taking risks are not exactly accepted in Brazil," he said. Fixing the problem would not come from the proposed new law: "that should start with us, with the way we handle those things".
Panel chair Joel Luis Thomaz Bastos, partner at Thomaz Bastos Waisberg Kurzweil in São Paulo, admitted Brazil's lawyers did not trust the provisions of its bankruptcy law. However, the panel was told the US had encountered these problems itself in the past.
The US experience
Paul Hastings partner Leslie Plaskon said the same stigma against filing for bankruptcy existed in the US in the 1990s, but that had changed "because people made a lot of money".
"Banks figured out that the DIP loan was one of the safest loans to make because of all the certainty about getting paid back," she said.
Plaskon noted that while most US bankruptcy filings happen in New York or Delaware, states are consistent in their approach to the law. Lenders other than banks are also providing DIP loans, making more money available for innovation. "The market's become so efficient and so predictable in the US that in the last five, 10 years, there's been a rapid evolution of what we see in terms of financing," she said. "The efficiency of the market is really driving a lot of the legal change."
Pombo added that the "blue chip names" such as General Motors in the US and many airlines had gone in and out of bankruptcy, which lessened its stigma for others.
Nathaniel Wendling, a partner at São Paulo financial advisory firm G5 Evercore, said it would be unusual in Brazil for a bank to lead the DIP finance like that seen in Toys "R" Us because of the prohibitively high cost. He said the issues around uncertainty, timing and regulatory risk all led to higher costs for DIP financing. However, these issues were widely known and their solutions could be found with the right efforts.
"I think we can be humble enough to look around and learn from these experiences," Wendling noted. "The law is relatively new, but it's had ample opportunity to teach all of us what needs to be done to change, respecting the cultural differences."
Progress
Munhoz noted that progress had been made in Brazil in the past 13 years. Important cross-border insolvency cases had made the market more sophisticated, and Brazil's specialised courts could use the existing law to work out solutions and evolve case law.
"It's true, the culture is completely different, but I have no doubt that the Brazilian environment now is much more similar to the US market than it was in the past," he said.
The Brazilian bankruptcy law has a provision similar in theme to equitable mootness, and the answer could lie in its interpretation. "Maybe we'll see São Paulo courts deciding a case using this kind of concept – that would be something very important to improve the situation," he said. "We're going slow, but I think we will get there."
Plaskon said the key was to have a balance of power between the debtor and its creditors. She said the system of checks and balances had evolved in the US, and would evolve in Brazil.
But the country's judicial culture was still a problem, Bastos said. One could not tell a Brazil judge it was creditors who had the last word in a restructuring. "The final word comes from the creditors," he said. "It's a deal between the debtor and the majority of the creditors. [If] you tell that to a judge, he will laugh in your face."
From the audience, assistant general counsel at the Overseas Private Investment Corporation Suzanne Perry asked to what extent there were "multiple Brazils" across its different states.
Munhoz said there were big differences between the sophisticated courts of São Paulo and the less developed courts in the countryside, with São Paulo the preferred choice for credible restructuring. "Obviously the reality in São Paulo, in Rio, is completely different from other courts and jurisdictions," he said. "But I'm not saying there are no good courts in other parts of Brazil."
Refinetti said the high number of appeals referred to the Superior Court of Justice in Brazil meant there could be different opinions and rulings about the same issues, while Bastos added that judges would "put themselves ahead of the court".
New business
Rodrigo Tellechea, a partner at Souto Correa Cesa Lummertz & Amaral in Porto Alegre, asked the panel how companies without "fixed assets", such as Uber and Airbnb, would change judicial restructurings in the future.
Plaskon replied that the recent spate of software company insolvencies showed the market was evolving. "If the business makes sense, and there's still innovation to be had for that business where it can continue to be successful, I think the banks will find a way to finance it," she said.
Munhoz agreed: "Probably we will have more jobs… because when you have fast changes some companies will have to reorganise".
The market would not find all the solutions, so restructuring professionals would find themselves with more work, he added. "More than ever, having an efficient bankruptcy system will be very important to deal with this new kind of economy."