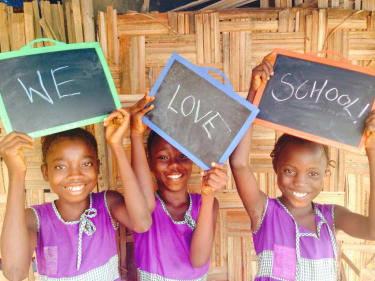 Profits from the GRR Awards go to the Swawou Layout School in Sierra Leone (Credit: Swawou Layout Community Primary School for Girls)
For the first time in 2018 we will be presenting an award for the most significant insolvency-related litigation – and the nominees are listed here.
The winner will be revealed at the GRR Awards 2018 on 26 June in London's beautiful neo-classical Banking Hall.
In addition to the award for "Most significant restructuring or insolvency-related litigation", we'll be giving out trophies in eight further categories. We'll also be revealing the top 30 firms listed in the GRR 100 2018, our annual guide to approved cross-border insolvency and restructuring law firms, which is published online to the wider public the morning after the awards.
We have been releasing the shortlists for the all of the awards categories over the past few days.
Nominees for the most important recognition decision, innovation in cross-border restructuring and insolvency, cross-border cooperation in a specific restructuring or insolvency matter and most improved jurisdiction have already been revealed.
The remaining shortlists – large law firm that impressed; small or regional law firm that impressed; and advisory firm that impressed – will follow in the coming days, when we will also be revealing the recipient of a special lifetime achievement award.
All profits from the black-tie GRR Awards ceremony go to the Swawou Layout Community Primary School for Girls in Sierra Leone. The school is part of a project established in 2008 by GRR's parent company, Law Business Research, aiming to offer free primary education to girls from disadvantaged homes in Kenema, a town in eastern Sierra Leone.
For more details of the GRR Awards 2018 and to book a place on a table, please visit our event website.
Most significant restructuring or insolvency related litigation
In the matter of Olympia Securities – Justice Mark Pelling QC in the English High Court clarified which entities can be considered "financial institutions" in loan facility agreements, noting that the term should be construed broadly. The ruling, which has been welcomed by insolvency lawyers as "very helpful", followed a request for directions by the administrators of insolvent building developer Olympia Securities who needed to resolve a creditors' dispute.
Lehman Brothers Special Financing Inc v National Power Corporation – Described as "the most detailed consideration to date" of close-out provisions in the widely used International Swaps and Derivatives Association's 2002 Master Agreement, Mr Justice Robin Knowles in the English High Court issued a decision interpreting the 2002 agreement as setting a more demanding standard on the determination of close-out payments than its 1992 predecessor.
Merit Management Group v FTI Consulting – The US Supreme Court weighed in on the US Bankruptcy Code's section 546(e) "safe harbour" clawback provision for financial institutions, which had successfully been used in the Second, Third, Sixth, Eighth and Tenth Circuits in the US to avoid clawbacks where a financial institution acted as an intermediary to an allegedly fraudulent transfer. Aligning with the Seventh Circuit Court of Appeals, the Supreme Court has now barred defendants who are not financial institutions or market participants from invoking the safe harbour provision purely on the grounds that a qualifying entity was an intermediary in the transaction.
US Bank National Association v Village at Lakerage – This time the US Supreme Court clarified that US appeals courts should apply a "clear error" standards when reviewing bankruptcy court rulings concerning whether an individual is an "insider". The ruling means that appeals courts should defer to the factual findings of bankruptcy courts rather than conduct their own de novo reviews when hearing challenges over insider relationships.
Nordic Trustee's Liberian mortgage in Brazil – After two failed attempts before lower courts, Nordic Trustee – the trustee of bonds issued by a Dutch OSX entity, OSX3 Leasing, in Norwegian capital markets – managed to get its Liberian mortgage over an OSX3 vessel recognised in Brazil's Superior Court of Justice. Nordic Trustee relied on the Bustamante Code, the 1926 Brussels Convention on Mortgage and Liens and the UN Convention on the Law of the Sea to argue for the validity of the mortgage and preserve it rights as a secured creditor, after a bankruptcy court attached the vessel at the application of another OSX3 Leasing creditor, BTG Bank.
Pars Ram Brothers (in creditors' voluntary liquidation) v Australian & New Zealand Banking Group – The Singapore High Court issued a pair of precedent-setting decisions on how to deal with commingled stock as a security interest, initially finding in March 2017 that wrongly commingled stock did not extinguish the proprietary interests of lenders, and then affirming a year later that the proceeds of the commingled stock should be distributed to secured creditors using a rolling charge method, rather than a "single block" pari passu process – meaning that the stock would be treated as "a cocktail of credits made at different times".
Diablo Fortune v Duncan, Cameron Lindsay and another – Another case before the Singapore Courts: after an expedited appeal to a five-strong bench that included Chief Justice Sundaresh Menon, the Singapore Court of Appeal unanimously upheld a decision that a lien over sub-freights was a registrable charge under section 131 of the Companies Act – the first time an appellate court in a common law jurisdiction has addressed the issue. The court recommended a change in the law to carve out registration of liens over sub freights and sub-hires, which have been described as onerous by some in the shipping industry – and Singapore's Ministry of Law responded almost immediately with a public consultation.
Re Attilan Group – The first case to test new rescue financing provisions in Singapore's amended Companies Act actually refused to grant a creditor of struggling media company Attilan Group super priority status in return for new funding. In the absence of prior case law, Judge Aedit Abdullah relied on US authorities to find that Attilan had failed to meet the burden of proof to show it had made efforts to secure non-super priority financing; that there was no available alternative to preserve its assets; and that the deal was in the best interests of the estate and its creditors.
In the matter of China Solar Energy Holdings – Mr Justice Jonathan Harris affirmed that provisional liquidators in Hong Kong can pursue debt restructurings, provided they are appointed to preserve assets, in a case that clarified a controversial precedent set by the Hong Kong Court of Appeal in 2006 Legend decision. The Court of First Instance dismissed a winding-up application brought against China Solar by shareholder Ankang, finding that Ankang had misread Legend, which merely "reaffirmed the conventional commencement criteria for provisional liquidation": that it would be inappropriate to order it "where matters associated with a winding-up are absent, in particular where the company's assets are not in jeopardy".
Re China Lumena New Materials Corp – Mr Justice Harris clarified that foreign liquidators need a local court order before they can transfer local assets outside the jurisdiction as a balance must be drawn between the interests of the liquidators and creditors. In reasons laid out for the Cayman provisional liquidators of mining company China Lumena, 11 months after the judge recognised them, Mr Justice Harris explained that allowing them to do anything a company director could do in Hong Kong without a court order would go beyond even the standards set by the UNCITRAL Model Law on Cross-Border Insolvency.
In the matter of China Medical Technologies – The Hong Kong Court of Appeal granted the liquidators of Cayman-registered company China Medical Technologies extensive document discovery, revising earlier precedents that had interpreted a provision of the Hong Kong Companies Ordinance narrowly, allowing only limited discovery "related to the company". The appeals court looked at the legislative history of the statute and found that it was never the intention of the drafters to introduce narrower criteria for document discovery than oral examination.
Kaupthing Singer & Friedlander Isle of Man (KFSIOM) – A Manx court rejected a host of precedents under English law to find that creditors of a Manx subsidiary of Icelandic bank Kaupthing who had already been paid in full should receive statutory interests from surplus funds in its estate in line with bankruptcy law. Deemster Andrew Corlett was asked to consider whether KFSIOM was in fact solvent: finding that English law was not applicable, the judge declared KFSIOM still insolvent since it could not meet all of its liabilities in discharging interest arising from its contractual obligation, and awarded statutory interest – rather than interest in line with contractual rights – as the "least unfair" method of distribution.
Macquarie Bank Limited v Shilpi Cable Technologies – In January 2018 the Supreme Court of India ruled that foreign operational creditors do not need a financial certificate confirming they have not been paid to file proceedings before a National Company Law Tribunal (NCLT) under India's Insolvency and Bankruptcy Code, and that lawyers may issue a demand notice on behalf of creditors, in a case that local practitioners described as levelling the playing field between domestic and foreign creditors.
IPIS UK (Battersea London I) Limited – Bailiff Sir Richard Collas in Guernsey's Royal Court agreed to the appointment of a provisional liquidator over a Guernsey company for the first time, so it could receive money from a UK property sale carried out by a fixed-charge receiver, in the absence of having any directors or an investment manager to receive it.
Oi Group – After months of delays to Brazilian telecoms company Oi's judicial reorganisation caused by stand-offs between creditors and shareholders, a steering committee of bondholders commenced litigation to block the rights of shareholders and members of Oi's board who had the power to derail a plan orchestrated by the company and approved by creditors. A Brazilian court authorised the debtors to submit their plan without board and shareholder approval in November, then later suspended certain members' political rights. While that decision is now being appealed by shareholders, it helped Oi get its plan approved by both creditors and the courts in late December 2017 and January 2018 respectively.