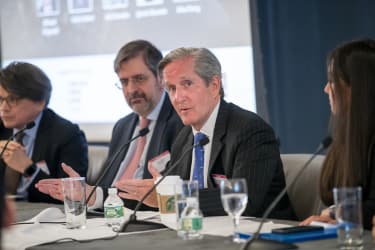 Michael Fitzgerald (centre) discusses Venezuela's crisis with José Gonzales, Fulvio Italiani and Alice Chong.
Christopher Lazzaro
The Venezuelan government's lack of political will to restructure its debts is stopping the country addressing its economic crisis, according to speakers at the GRR Live - Latin Lawyer 3rd annual restructuring conference.
Panellists at the event on Monday said little progress had been made since a meeting of Venezuela's creditors in November last year, when the government announced its planned restructuring.
"A few people showed up, those who were able to under the sanctions, and nothing has really happened since then," said panel chair Michael Fitzgerald, Paul Hastings' Latin America head of practice and co-chair of the event. "You wonder how, with the human suffering that's going on in that country and the blinding poverty and so forth, that there hasn't been some kind of reaction from the government."
Fitzgerald added that the Bolivarian Republic recently paid US$172 million to Citibank under a swap agreement to access gold that had been posted as collateral, which indicated "how confident they are in the value of the actual currency".
José Gonzales, managing partner at financial advisory group GCG Advisors in New York, said the Venezuelan government would delay restructuring as long as it could. With the country's inflation currently at 22,000% a year, he said it could reach 1,000,000% next year. The economy has contracted by 40% in recent years, "which didn't happen during the US Great Depression", Gonzales noted.
He added that Venezuela's oil refineries, which were once among the biggest in Latin America, were producing at 33% of their capacity and 3 million Venezuelans had left the country in the past 10 years. "It's becoming a serious humanitarian crisis," he said.
Alice Chong, director of financial services firm Millstein & Co, is representing a committee of holders of Venezuela's sovereign bonds, and of bonds issued by state-owned oil company PDVSA. She said a restructuring would likely need to be predicated on a plan by Venezuela to revamp its oil industry and economic policies. "But alas, that doesn't seem to be the priority here with this administration," she said.
Fulvio Italiani, partner at Caracas law firm D'Empaire, said new securities would need to be issued before any restructuring could take place in Venezuela. The US Treasury would approve a restructuring only if the opposition-backed National Assembly agreed. "It seems now if there is no agreement with the government and the opposition there can be no restructuring," he said.
Italiani said a key issue was how to increase oil production. Allowing foreign oil companies working in Venezuela to operate independently of PDVSA, and to sell oil directly in international markets, could increase production and help raise money for the country, he noted.
But Ignacio Quesada, managing director of consultancy firm Alvarez & Marsal and a former chief financial officer at Mexico's state-owned oil company Pemex, thought the Venezuelan government would not take such a step, because it would give away control of the revenue source. "This is a power play," he said.
Quesada said President Nicolas Maduro's government could stay in power for years to come despite the crisis. He noted that the Mugabe government had remained in power in Zimbabwe for years longer than predicted, and Venezuela could be similar. "I firmly believe that they can survive 10 years," Quesada said. "Because at the end, countries don't get liquidated… It sounds really harsh, but I think we're talking about a Latin American Zimbabwe."
Chong was sceptical about Venezuela's new cryptocurrency, the Petro, launched in February. "It's not a real cryptocurrency. It's backed by a promise to maybe deliver oil – I don't think anybody is really taking that seriously," she said.
There was also uncertainty about whether Venezuela's creditors would get their money back.
Canadian mining corporation Crystallex won a US$1.2 billion arbitral award against Venezuela in 2016, while US oil company ConocoPhillips was awarded US$2.04 billion by an arbitration tribunal in the International Chamber of Commerce (ICC) in April this year. Another ConocoPhillips action, against the government of Venezuela, is pending before the International Centre for Settlement of Investment Disputes (ICSID).
Chong said a Delaware court would decide on 30 June whether PDVSA was an alter ego of the Venezuelan state. If the court found that it was, it could allow creditors to assert claims against PDVSA's assets.
Italiani said such a judgment could help bring creditors of the Republic and of PDVSA together in a restructuring.
From the audience, Thomas Bastos Waisberg Kurzweil partner Herbert Kugler from Brazil said a "face-saving solution" was often needed when dealing with bad debtors.
Quesada said Venezuela had not only the world's biggest oil reserves, but also the infrastructure to sell its oil. "I think for Venezuela the solutions, on a blank piece of paper, may not be that complicated," he said. The problem, he added, was the credibility of the government as the counterparty.
Gonzales said the International Monetary Fund (IMF) knew how to manage a struggling country's economy from past crises. "You can adjust it in six months, you can stabilise it in two years," he said. "But then to re-energise it, it takes 10 to 20 years."