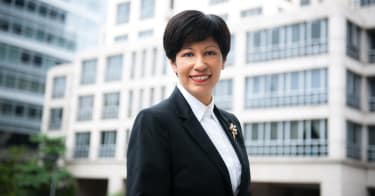 Indranee Rajah
Indranee Rajah SC made the move from law to politics in Singapore while practising as a lawyer at local firm Drew & Napier. She entered Parliament in 2001, and in 2012 joined the government as a senior minister of state for law – a portfolio she combined with simultaneous ministerial posts, first at the education ministry and then at the ministry for finance.
GRR sat down with Indranee in March, shortly before she was named as Minister in the Prime Minister's Office, to discuss why Singapore has pursued ambitions to be an insolvency hub, and how she sees its further development in the area.
Why has Singapore sought to take a lead in this area? What is special about Singapore's national interest that has led to it seeking to become a hub for insolvency and restructuring, and previously in dispute resolution?
Since independence Singapore's mission has always been about relevance – being relevant to the region, relevant to the world. As a small country, if you're not relevant, well, essentially you get sidelined. How do you make a living for your people, make sure that your country has a say at the table when it comes to big issues? When you're a small country like us without any natural resources what is your currency of trade? Ours is trust. Trust and neutrality. We have benefited from a strong legal system, inherited from the post-colonial era. But we have built on that, and taken it forward in ways that I don't think we could have imagined in 1965.
So we start off with a highly educated population, and in the legal sector in particular we've always had very strong legal education. That has turned out very strong legal professionals, which has in turn enabled a strong judiciary and a strong legal system, and we have rule of law. When we have these fundamentals it's a very strong foundation on which to build all the other activities which support commerce and the economy. Dispute resolution obviously falls into that category, because with international commercial transactions inevitably you have disputes, and you're not going to go to a place you don't trust to resolve them. Restructuring too falls nicely into that area.
These are just two pieces of the big picture that we have put together in the Committee for the Future Economy (CFE), which is looking at our plans for Singapore in the medium-to-long term. In this area, how we see Singapore is as a global exchange for international commercial transactions. So dispute resolution, restructuring, are part of that, but not all of it. Recently we announced in our budget an infrastructure office, which will be a platform for putting together all the stakeholders to meet infrastructure demand in the region, or to facilitate the services to meet demand in the region. Basically all the moves we're making on the economy and innovation. Restructuring needs to be seen in that context.
You practised insolvency yourself while at Drew & Napier: Fustar Chemicals in 2009, Kim San Engineers in 1992. How has that experienced informed your approach to insolvency and restructuring law now you're a minister?
It was certainly a very helpful experience. I started off doing a lot of insolvency work. Those two cases were my own files, but when I first started as a junior lawyer I was assisting in quite a lot of files. I graduated in 1986, and the Pan-Electric Industries crisis had just happened – I think that was 1985, but the aftermath was still there – you had all these back-to-back letters of credit, this was the time of the Abalone King and Chop Hoo Thye cases. Later on there were a number of other things that were ongoing: my first six years in practice were a lot to do with insolvency. That gives you the necessary insight and experience of how it actually works in practice, which was helpful when it came to looking at law reform, because you do know what takes place, what is useful and practical for both the practitioners, as well as the clients.
How does the practice today compare with that time?
Eons of difference. When I first started, in the 1980s to the early 1990s, the insolvency work was largely domestic. Some of it obviously would have had international elements. I would describe those as the teenage years, when you're getting out of the pure mortgage bankruptcy type applications, into the bigger insolvencies, but it's not quite international yet. But now it's truly international. When I stopped practice and joined the ministry in 2012 I wasn't doing insolvency and restructuring anymore, I was doing a lot more international arbitration or commercial work. But my partners in the firm were obviously doing insolvency where the restructuring was sometimes done in Singapore, sometimes in New York; sometimes they would be coordinating restructuring for clients that had subsidiaries in the region. It wasn't domestic anymore, it was international.
The Singapore lawyers who now practise in this space have to be not only well versed in Singapore law and familiar with the laws of the other jurisdictions where they may not be qualified to practise, but they have to have strong links with the law firms as well as the insolvency practitioners in those jurisdictions. There's a symbiotic relationship between the legal and accounting sectors, because the accounting side would be the judicial managers, the administrators, they're also the people who do the restructuring.
What could Singapore's legal profession do to further internationalise itself?
Two things. First and best is really exposure. That is how I learned. When you get on a case and see how the senior lawyers in your firm do it. You watch the lawyers on the other side (and increasingly the Singapore law firms are also dealing with international firms because this is international restructuring), and if you are doing a restructuring in New York, you would be sitting in a courtroom in the Southern District of New York, seeing how those judges approach it. That gives you a very wide and deep experience. That's one part of it.
The other part that we're doing is working with the universities to ensure that even after lawyers get into practice, those who want to learn more and acquire far deeper knowledge will be able to do so. This is all part of the move we're making to lifelong learning.
What still needs to be done before Singapore achieves the ambition the minister for law, K Shanmugam, set out last year of making Singapore "the" centre for cross-border insolvency?
Getting people to know about our capability. A global survey by South Square and Grant Thornton rated Singapore very highly as an effective jurisdiction for cross-border insolvency by practitioners with direct experience with the regime here. But practitioners without such direct experience scored Singapore less highly. If you haven't tried, you don't know, so you tend to stick with the tried and tested. The most important challenge for us right now is how to get our name out there and get people to know what we have to offer.
The restructuring reforms are still quite new; it was only last year when I moved the amendments to the Companies Act, which combined the US Chapter 11-type provisions with our traditional provisions based on the UK system with Singaporean features. We've now got a hybrid, flexible system. But it's new, not everybody knows about it, not everybody has a sense of how it works. There's a sense of some curiosity as well: those familiar with the UK system want to know how you graft on the US parts. Those familiar with the US system are likewise curious. Once they actually see how the provisions work and realise there's a lot of flexibility, they get very enthusiastic. It's also the fact you have a wide range of supporting professionals here. Not just the law firms, but foreign law firms, as well as the consultancies. But you do have to get that message out.
The other thing we're trying to strengthen is valuations expertise. If you are going into a company that needs restructuring, and let's say you are a fund that deals with distressed debt, the first thing you are going to ask yourself is, "What's the value?" before you decide what to put in. The Singapore Accountancy Commission has worked with one of our universities to develop a valuation course that's open to anybody, but the large bulk of people who take that course are accountants because it's a natural extension of their work. When you build up a strong cadre of good valuers, who can do the tangible and the intangible valuations, that is a very strong complementary service for restructuring.
Does Singapore have enough of the different types of restructuring professional at the moment, or are you looking to attract more from overseas?
A combination. Obviously we want strong Singapore service providers in this respect. But Singapore's always been a very open jurisdiction; therefore we welcome expertise from overseas, provided it adds value. The key thing clients want is expertise and cost-effectiveness. We see restructuring as a growth area – one of those we highlighted in the CFE legal and accounting work group.
What can we expect the new omnibus Insolvency Bill to include, and what are the public policy objectives you are approaching that with?
The main driver behind it is that the insolvency provisions were in different places and it was a little unwieldy. The provisions that pertained to individuals were in the Bankruptcy Act, then you had the Companies Act which dealt with the corporate part of it, and there were other little pieces here and there. It just seemed much better to put everything into one piece of legislation and have a coherent framework throughout. Also, when you do it that way, it facilitates a proper insolvency practice. You find that typically the ones familiar with bankruptcies are those who do debt collection, bank mortgages, enforcement for banks; the ones who do the insolvency work and restructuring work are simply corporate commercial litigators. Putting them in one piece of legislation helps you to build up an insolvency bar or group of practitioners.
Is that a vision for the future of Singapore's restructuring profession, a fused industry of restructuring practitioners from across accountancy, legal and so on?
Not a fused profession, we have not gone that way as yet. One of the reasons is we've been very mindful of the issue of conflict of interest. You'll remember Enron and Arthur Andersen. We look at that as a cautionary tale. What we do want to build up is an ecosystem of people with the right skill sets and expertise interacting with each other. You can see that happening now. There's a lot more cross-selling I think. One of our strategies is chasing work as a team – encouraging them to go and look for the work together rather than competing in silos, which doesn't make sense.
There's a variety of different creatures in that ecosystem. How will the recent changes in the Companies (Amendment) Act 2017 and the upcoming omnibus Insolvency Bill help those creatures to flourish and grow?
The legislation is an important step to building the ecosystem, but it's not the be-all and end-all. What practitioners need to do is go beyond the legislation and really understand and master the space that they are working in. To put this in concrete terms, if you are a Singapore lawyer the first and most fundamental thing is you have to get a handle on the legislation. You've got to then start building up contacts and networks with all the other players – accountants, valuers, funds, investors. You've got to be at the forefront of what's happening on this, and you've got to have thought leadership. Singapore should be the place where ideas for new breaking ground in insolvency and restructuring should be taking place, we should be the crucible of where all the new stuff is fomented. And they need to be familiar with the systems in the region. Not all of it can be done out of Singapore. You may have a Singapore restructuring order, but it may have to be implemented in other jurisdictions, so familiarity with other jurisdictions, and contacts with lawyers in those jurisdictions, are very important.
It's been observed that Singapore's judiciary has been quite innovative in the way it approaches statutes, often giving a creative interpretation. Do you support that approach and is it encouraging for people coming into Singapore?
Yes, our judiciary takes a very practical and commercial approach. It's very helpful that a good number of our judges have been from practice. The chief justice [Sundaresh Menon] is a very good example. He was not only in private practice, where he did a lot of commercial work in international arbitration, but he was both in a Singapore law firm, as well as a foreign law firm; he was attorney-general and is now Chief Justice. That gives him a unique perspective.
The Singaporean judiciary has been quite hesitant to apply moratoria extra-territorially in the past. Judge Abdullah said recently in Empire Capital Resources that he preferred not to use his common law powers to do so. Do you think there's an issue concerning the clout of Singapore moratoria compared to those issued by a New York court,
for instance?
Empire Capital Resources was a case prior to the commencement of the new reforms. Before the amendments, the judges' approach was the classic common law one that you don't make orders that overreach or that you cannot enforce. That's not just us in Singapore, that's all common law systems. If you want to make this big change, it should really be done by Parliament and enshrined in statute. So we did. We've given the court the powers to do so. The key is enforceability. Because the US is such a large country, a lot of stuff goes through the New York financial system, it's much easier for them to enforce. That's one reason theirs has been very effective. But we think the provisions we have put in place will enable our courts to enforce effectively as well. Moratoria are basically directed against the companies and their directors so we don't become a global policeman and overreach ourselves.
Have the new moratoria rules pushed Singapore too far along the road of being a debtor-friendly jurisdiction? Is that a bad thing?
What we were trying to do was strike a balance. One of the pieces of feedback, pre-reforms, is that you couldn't really get any restructuring off the ground if people were suing left right and centre, and they were having injunctions and actions all over the place. The idea behind the moratoria is just to have breathing space. It's not being pro-debtor, it's having a timeout. Everything stay still, everybody get into the room and let's talk. That's what the moratorium was intended to do. It only lasts for a month after which it can be extended. If it's not extended, then the rugby match starts again!
India has recently had some reforms to its own insolvency laws. Has that tamed down expectations that Indian companies will come to Singapore for restructuring?
No – India's a huge market, and they obviously have a large domestic market as well. I would imagine a lot of their domestic cases will be dealt with there. Singapore's position is really as an international restructuring centre. It's for companies that have assets and businesses in more than one jurisdiction. This is where Singapore's key currency comes into play: that of trust, reliability, efficiency. If you are dealing with several jurisdictions people want to go to a neutral place. That's Singapore's strength.
One thing people have observed consistently about Singapore is how easy it is to get things done here. How have you been working to facilitate the links between government, law firms and the judiciary to break down those silos?
It helps when you're small. The fact is many people in the different sectors know each other for one reason or another. The system as a whole is designed to facilitate efficiency. The Ministry of Law conducts a number of sessions where we engage with practitioners and get feedback from them, we engage with businesses and find out what they need. The Ministry of Finance does the same thing – because it looks after our registry for companies – and we talk to the Monetary Authority of Singapore regularly. At government level we have a whole-of-government approach: the idea that the government has to act as one concerted entity and not in fragmented bits.
The launch of the Judicial Insolvency Network in 2016 was a Singapore-led initiative that caught people's attention around the world. Does Singapore have other innovations up its sleeve?
We hope so. The JIN was something pursued by the chief justice, who's come up with a number of innovative ideas including the Singapore International Commercial Court. The minister of law and myself have been very supportive of this and the ministry has taken quite a few innovative steps. We do hope to keep coming up with new things.
In this year's budget the minister for finance talked about Singapore needing to have a vibrant and innovative economy. We're going through an era now where there is a lot of change: You can see the shift of the global economic weight is coming to Asia, which means a lot of opportunity, and we do have to position ourselves to take advantage of that opportunity. For example we launched the redomiciliation framework last year. That allows companies to redomicile to Singapore, which will enable them to use Singapore as a launch pad for many of their activities. One main reason why companies might do that is simply because if the activity is shifting to Asia, they need a base that's closer to Asia and closer to their clients.
Do you find that you're getting a large number of non-Asian firms redomiciling in Singapore?
There has been interest expressed by at least one major European multinational company, and also a few on the Caribbean side and one in Bermuda. We're not setting ourselves up specifically in competition with other jurisdictions. But if it makes business sense for you to be based in Asia, and it makes good sense for you to redomicile, then please look at Singapore.