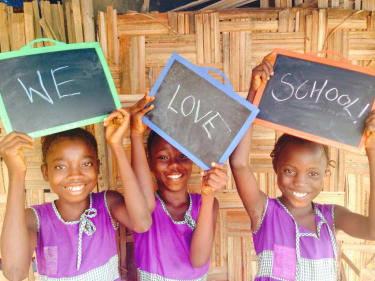 Profits from the GRR Awards go to the Swawou Layout School in Sierra Leone (Credit: Swawou Layout Community Primary School for Girls)
GRR's shortlist of nominees for our second awards category, "Innovation in cross-border insolvency and restructuring", is now available.
The winner will be revealed at the GRR Awards 2018, which take place on 26 June at London's spectacular neo-classical Banking Hall from 7pm.
After a networking drinks and dinner, we will present trophies to worthy recipients in nine categories, as well as revealing the top 30 firms in the GRR 100 2018 – our annual guide to approved cross-border insolvency and restructuring law firms, which we will unveil to the wider public the morning after the awards.
GRR has been collecting nominations for the nine awards categories over the past few weeks, and we've now whittled them down to shortlists of the most prominent matters.
We already revealed the shortlist for the most important recognition decision. The nominees for the remaining categories – cooperation in a specific insolvency or restructuring matter; most improved jurisdiction; most significant insolvency or restructuring-related litigation; large law firm that impressed; small or regional law firm that impressed; and advisory firm that impressed – will follow in the next few days.
Profits from the black-tie ceremony go to the Swawou Layout Community Primary School for Girls in Sierra Leone. The school is part of a project established in 2008 by GRR's parent company, Law Business Research, to offer free primary education to girls from disadvantaged homes in the eastern Sierra Leonean town of Kenema.
For further details of the GRR Awards 2018 and to book a place on a table, please visit the event website.
Innovation in cross-border insolvency and restructuring
GulfMark Offshore's DIP loan – Houston-based GulfMark Offshore's debtor-in-possession loan in its Chapter 11 proceedings was described as "unusual" by Judge Kevin Gross in the Southern District of New York bankruptcy court even as he approved it. Arranged from long-time Norwegian lender DNB Bank, the loan was provided to a non-debtor Norwegian group entity, then passed on to the group's US top company via its English parent, providing added rights and collateral to the bank in the process. The deal slashed the group's US$737 million debt from two secured facilities into a single US$125 million facility with unsecured noteholders taking equity. At the same time, it afforded the Norwegian bank lender protection under the US Bankruptcy Code, gave it the benefits of remoteness provisions in the UK and Norway where the loan collateral was located; and it meant that international group entities could avoid entering Chapter 11 with the US top company.
Cooperative Bank non-resolution restructuring – the UK's sixth-largest bank restructured without a public bailout and no formal bank resolution, by converting into equity £450 million (nearly US$600 million) in tier 2 debt owed to an ad hoc committee of noteholders, and through a further subscription of £250 million (US$330 million) in new equity by noteholders. The transaction took place by way of a combination of shareholder and creditors' schemes of arrangement plus a consent solicitation, with private investors being treated separately on more favourable terms. It also saw the bank's pension scheme being unravelled from that of the wider Cooperative Group – a 20% shareholder in the bank – and their business relationship being reworked.
J Crew IP swap – fashion brand J Crew halved its bond burden by transferring brand intellectual property rights used as term loan collateral to a foreign unrestricted subsidiary, which issued US$250 million in new debt to buy back existing bonds. The deal included amendments to a 2014 credit agreement governing the term loan that prohibited transfer of collateral to any entity that was not a "restricted subsidiary". Minority lenders objected to the IP transaction without their consent before the New York Supreme Court, but the court narrowed their claims in April 2018.
Lehman Brothers Europe's "ingenious scheme" – in August 2017 the joint administrators of Lehman Brothers Europe (LBEL) used the powers of directors and shareholders under the 2006 Companies Act to distribute a substantial surplus to LBEL's sole shareholder, Lehman Brothers Holdings, in what the England and Wales High Court described as an "ingenious scheme", given that distributions can only be made in English law if a company is placed in liquidation or once it continues trading as a going concern. Liquidation would have complicated matters and delayed a related settlement of claims in the Waterfall III strand of Lehman litigation, and the administrators had no intention of resurrecting the company as a going concern, the court said – but they found a way around it by appointing a director to implement the distribution under the 2006 Act, before dissolving the company.
Ocean Rig pre-appointment COMI shift – the Cayman restructuring of offshore drilling company Ocean Rig – a group initially incorporated in the Marshall Islands, but tax resident in Cyprus – marked a number of firsts: the first time a centre of main interests (COMI) shift has taken place before the appointment of joint provisional liquidators in the Cayman Islands; the first time a Cayman Court sanctioned schemes of arrangement promoted by foreign incorporated companies; and the first use of a litigation trust for creditor claims (a Cayman Islands STAR trust funded by Ocean Rig's top company, UDW) in the context of a scheme of arrangement. It also featured a novel court-to-court communication protocol between Cayman and US courts, to try to increase transparency between the proceedings, after dissenting creditors tried (and failed) to file an involuntary Chapter 11 case against Ocean Rig to "try to blow everything up", as Judge Martin Glenn noted.
Nortel post-petition expenses deadline – to move the long-running Nortel case closer to closure, the joint administrators of the telecoms business's European arms obtained orders from a UK court setting a bar date for creditors to submit post-petition administrative expenses claims, even though there's no provision for such a bar date in English law. The order followed the promulgation of 15 company voluntary arrangements for debtors throughout Europe, who are finally seeing distributions from Nortel's US$7.3 billion liquidation lockbox after eight years of disputes over its allocation between estates.