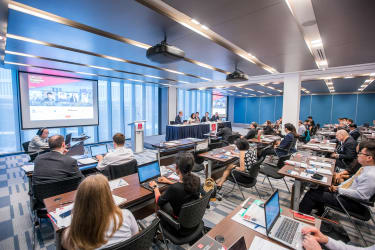 Calvin Wong
With last year's amendments to Singapore's Companies Law now bedding down, the first-ever GRR Live in the city-state heard from practitioners on the front line about who they thought had been the winners – and losers – so far following the adoption of the UNCITRAL Model Law, worldwide moratoria for schemes of arrangement, and other flagship changes.
At the 7 March event in Singapore's Maxwell Chambers, Milbank Tweed Hadley & McCloy partners David Zemans and Jacqueline Chan each hosted sessions looking at how the reforms are shaking out, and whether Singapore is realising its ambition to be an international debt restructuring hub.
"I've been in Singapore 20 years," Zemans said. "I've seen Singapore take on many exciting and exceptional initiatives in that time – Maxwell Chambers, international arbitration, and now its latest initiative to become a major international restructuring centre."
He said that like all new things, Singapore's latest initiative would take time, but noted that the passage of the reforms had been swift. "What started out as a report in 2016 was just over a year later enacted into law. Now here we are in only March 2018. It's unreasonable to expect miracles, but there have been some."
A starting step: the model law
One of the big changes has been Singapore's adoption of the UNCITRAL Model Law on Cross-Border Insolvency – one of the first jurisdictions in Asia to do so. "Not to be too blunt, but the objective of that was to generate more opportunities here," Zemans said. But he said there was also the potential for it to do the opposite. "If everyone can just go to us and have recognition here, might that be self-defeating?"
WongPartnership's Smitha Menon recognised that the model law did open Singapore up to "box ticking" from parties who restructure elsewhere, though she said this was "par for the course" for all countries that have adopted the model law and gone on to be major centres.
But she said the model law was essential for Singapore to make it as the region's restructuring hub. "For us to be an international centre we need the veneer of legitimacy first, before we get the cases. We have the infrastructure but if you're not even party to the model law, we won't even get off the ground as a legitimate centre. In that sense, it's an absolute minimum."
Rajah & Tann's Chua Beng Chye said the model law's adoption was a "starting step", which he likened to Singapore's adoption of the New York Convention as a necessary precondition to its explosion in prominence as an international arbitration centre. "If you are going to internationalise, the very first step is to adopt the international standards."
He said it was too early to tell whether it would be a net positive though. "I haven't yet dealt with any cases under it – I almost did but the winding-up for that case was on the same day it passed, so it went back to the common law. I didn't have a chance that time, but we're going to build up case law and see how it's going to be adopted."
Look Chan Ho of Des Voeux Chambers in Hong Kong said he had found Singapore's move to adopt the model law useful when speaking to decision-makers in China and Hong Kong over their jurisdictions' potentially following suit.
"In China they're looking at improving their cross-border regime, but while some quarters are very much in favour of adopting the model law, others are much more cautious, saying they don't know yet what would happen if they start recognising liquidations from different countries. The first thing I showed them is Singapore's adoption of the law. That dispels many doubts and questions."
He said that Hong Kong's government has recently also come down in favour of the model law, encouraged by Singapore. "It was a model, as it were, for how to proceed. So Singapore's adoption is a real positive for the region as a whole."
Menon said perhaps Singapore might prefer Hong Kong not to act so quickly. "Just as in arbitration we are perfectly happy for Hong Kong to take its time and consider carefully!"
"Singapore's adoption of the model law advances the law globally," said Walkers partner Robert Foote. "With states like Singapore adopting it's only going to encourage states like China and Indonesia to do so as well. Once that happens it's going to put a lot of people in a much better position for cross-border recognition and enforcement."
"I agree that putting the building blocks in place – having the credibility, establishing a framework, updating the insolvency regime to be forward thinking – is important, but how do you actually get parties to come here?", Zemans asked.
Menon said Singapore had other attractions that inadvertently give it traction for restructuring parties. "We host a lot of Indonesian, Chinese and Indian nationals. Their children are in our schools, their money in our bank accounts, their homes on Sentosa," she said, referring to a beach-lined resort island to Singapore's south. "There is more reason for an Indonesian party to want to comply with Singapore court orders and play ball."
From the floor, Allen & Gledhill partner Andrew Chan said Singapore benefits from comparison with the rest of the region. "We have to recognise differences in the various laws and play on our strengths," he said.
Chan gave Indonesia as an example, which after the late-1990s Asian financial crisis introduced in his view certain pro-creditor features. "If you try to do a suspension of payments and you cross a certain number of days and fail, you are automatically into winding up. So the risk is too great for a lot of companies. If you have a scheme of arrangement in Singapore and fail that is not necessarily the end game."
He said there was a flipside to the connections Menon cited. "A lot of the creditors are here too, so this is a prime position to do restructuring. For the few who are not here, what are they going to do – ignore a Singapore court order that has been reached after due process? There is great value in a transparent and strong legal system for which the orders of court are respected."
One audience member queried why Singapore had not followed the lead of jurisdictions like South Africa, which premised its adoption of the model law on a requirement of mutuality: that it would only recognise restructurings on model law grounds from other countries that recognise Singapore orders.
But Menon said this would run contrary to Singapore's objectives. "The region we care about is Asia, and a lot of Asian countries are not party to the model law. It doesn't make sense to isolate all these countries when we want to be the restructuring hub. It doesn't help us if we're not going to recognise anything that emanates from the Indonesian, the Malaysian, Indian and Chinese courts, because that is the market we are concerned with."
She said that, being procedural, the model law actually gives the Singaporean court the opportunity to assist courts in non-model law jurisdictions. "That actually helps the restructuring overall. By implicitly recognising what those courts are doing it helps later down the road when you actually have the outcome of the restructuring, which is really what people are concerned with. That's our approach, as opposed to the US approach of just shutting out those who don't sit at the table – that's not the Asian way."
Ho agreed. "In the long run, reciprocity hurts the country that insists on reciprocity. It doesn't give the protection one might think it does. China has always, in areas outside insolvency, insisted on reciprocity, but even they are finding it inconvenient to have this requirement imposed all the time and now they are in effect relaxing the requirement."
Ho said while Chinese courts used to require parties to demonstrate that a particular country has recognised a previous Chinese order, the understanding now is "reciprocity in principle" that the country's courts will in principle recognise a Chinese court's order. "The reason why all of a sudden they are relaxing this is because sometimes it hurts not to recognise foreign judgments. You have Chinese companies doing business abroad, having borrowed money abroad, and they want to restructure abroad. If China requires reciprocity, and therefore does not recognise those foreign restructurings, it puts Chinese companies in a very difficult position."
The model law provides that a restructuring's principal jurisdiction should be the debtor's centre of main interests, or COMI. But how to define COMI varies from jurisdiction to jurisdiction.
"The model law only deals with so much – it only deals with COMI and place of establishment – but our Companies Act covers the rest," Menon said. "Foreign companies can now undergo a restructuring in Singapore because schemes of arrangement and judicial management are available to them. Really the concept is 'substantial connection' – you have to show there's a reason for Singapore to adopt jurisdiction over this restructuring."
Zemans said this contrasts with the US approach, for example, which allows for "quite tangential" connections including law firm retainers and office leases, and spurred its growth as a bankruptcy centre. "The jurisprudence has marched along with it, whether or not it should in theory have been entitled to jurisdiction over those cases in the first place, and that's a question they don't debate so much now."
Ho emphasised the importance of COMI because countries that have adopted the model law can only recognise a Singapore order under the model law if the company's COMI or establishment is in Singapore. He advised, however, there were ways for "practical lawyers" to work their restructuring to effect a Singapore COMI.
"Start a Singapore scheme convening process here using substantial connection. Once you start the process, if you do everything in Singapore that may well change the COMI, so by the time you get to recognition and apply to foreign courts, the Singapore orders should be recognised. The time you test the COMI's location is the time of the application, so it may well be that by then the COMI is in Singapore," Ho suggested.
Ipso facto
One aspect of restructuring Singapore did not reform last year was the operation of ipso facto clauses – provisions that terminate contracts if one party becomes insolvent – choosing not to restrict their operation where schemes are proposed or moratoria granted. Zemans said this "may be a bit of a gap", and could continue to leave parties undergoing restructuring in precarious situations where contractual partners exercise their rights to terminate contracts in insolvency events.
"Say you are a marine company that has a big contract and that's the one contract generating cash, the counterparty may be very excited that you're going to file because a contract they've been honouring is no longer financially attractive for them," Zemans pointed out. "Once the company files, they may be able to get the same contract for a much lower amount. There are a lot of cases where, if your contractual partner doesn't need you as much as you need them, real vulnerability exists."
DHC Capital's David Chew offered an anecdote from the audience, recalling a company he was involved with that went through a scheme of arrangement and had a major contract with a government entity. The filing of the scheme entitled the government to cancel the contract and the company would have lost all value from the contract: "By the time the other assets of the company had been sold to pay down debt, the contract was the main asset of value that the company had."
Chew said in that particular case, the company retained its contract purely through relationships and discussion with the government, and it was eventually recapitalised through a new investor. "Having ipso facto rules would definitely have helped as it would have provided more certainty," he noted. "If you look at the other side of the equation, in the US bankruptcy courts one of the advantages of going into Chapter 11 is that you can terminate bad contracts. There is a balancing act depending on which side of the equation you're on and how it can work for you."
Another audience member, Herbert Smith Freehills partner Paul Apáthy, said Singapore should heed his home jurisdiction of Australia's experience, which he said showed the danger of "cherry picking certain elements of Chapter 11 without all the surrounding circumstances".
"In Chapter 11 ipso facto protection is part of the automatic stay and a court-supervised process. What we've done in Australia is a standalone ipso facto rule which applies to schemes of arrangement, to receiverships and administrations, and it applies to stay any sort of contractual right triggered by those procedures starting. People have discovered that causes all sorts of problems and inconsistencies that they just haven't really thought about, particularly with financing contracts."
"I personally think the ipso facto protection is overstated," Menon said. "In most bankruptcies I've seen, the insolvency event is one of many events of default, and usually you will have triggered the breach of some kind of covenant before you get to the insolvency event." Where parties haven't terminated, it's because they've chosen to keep the relationship going, she added. "I don't think the ipso facto clause is a silver bullet. What is more important is the context and the relationship."
Ho also doubted the relevance of ipso facto clauses: "Most of the bigger-ticket cases concern financial restructuring at the holding company level, not the trading company level, so if you are talking about financial restructuring of bond debts for example, ipso facto clauses are almost irrelevant."
Can Singapore manage without judicial management?
One of the new reforms that has received a lot of discussion is the availability of worldwide moratoria for schemes of arrangement. For some, this has removed one of the key attractions of the judicial management system. Speaking on the second panel of the day, Sushil Nair of Drew & Napier said that unless there was a need for a company's management to be replaced, he no longer saw the need for the process.
"Scheme of arrangement is going to be the most important and regularly used tool of restructuring. It's a lot cheaper, and it makes sense for management who understand the business to be running it, rather than an accountant who is going to have to try to understand from the outside," Nair said.
Black Oak director Ashok Kumar described the success rate of judicial management as "very disappointing", saying he generally felt a debtor-in-possession approach best. "Unless there's an out and out fraud – that's a different ballgame."
Apáthy pointed to the use of judicial management as a tool through which to effect pre-pack transfers of companies and assets in Singapore, while leaving behind non-consenting junior stakeholders. He noted that the equivalent in the UK is usually done by way of an administration sale, sometimes combined with a scheme of arrangement to bind senior lenders.
Nair said that reforms to the scheme of arrangement regime in Singapore now allow for pre-packs without the onerous process of putting a judicial manager in charge of the company. "That can turn what could be a four to six month process into a one-and-a-half to two-month process. It's going to make a huge difference to restructuring here," he noted.
But Apáthy explained that Singaporean schemes do not include cram down processes affecting equity, making it difficult to leave out non-consenting stakeholders.
Edwin Tong SC of Allen & Gledhill said judicial management was usually just a stalling tactic. "Lawyers, be honest – before the amendments you all filed for JMs because it was a measure of last resort when your client was being wound up. But you study a lot of JMs prior to when the amendments started to work, and a lot of them eventually ended up in liquidation – it was just forestalling the inevitable."
Chew said judicial management can actually make things worse in terms of perception. "The filing of JM is value destructive. The market recognizes you're now in a distressed situation, there's going to be an orderly winding down process where assets are sold and this results in winding-down asset values and low recoveries for creditors." Schemes of arrangement are also seen as company tools for M&A and other transactions, they aren't just seen as pure insolvency, he said: "There's value in that. That's the virtue of the debtor in possession model – the business value can be preserved."
Jacqueline Chan agreed. "If you file for JM it is practically the end of the road, and people treat it as such. It isn't truly a restructuring tool at that stage, it's truly a liquidation tool as a practical matter, if not legal."
But Menon thought the availability of judicial management for foreign companies might make it more useful. "There are other jurisdictions which take insolvent trading much more seriously. The directors do not want to be involved as the business is trading through a restructuring. Whenever we talk to Australian companies, the first thing they ask us is insolvent trading. Singapore directors hardly ever ask us that question."
She added that judicial management's "bad rep" doesn't necessarily have to persist, as it is no longer necessary to wait for a company to be insolvent before requesting it. Kumar acknowledged that, saying that with "a few success stories", judicial management's reputation might change.
The half-day event also saw a lengthy discussion on debtor-in-possession financing, one of the more controversial reforms introduced in Singapore in 2017 as major lenders and secured creditors stated concern over being "leapfrogged" by new financiers. GRR will bring you a full summary of that debate in the weeks to come.