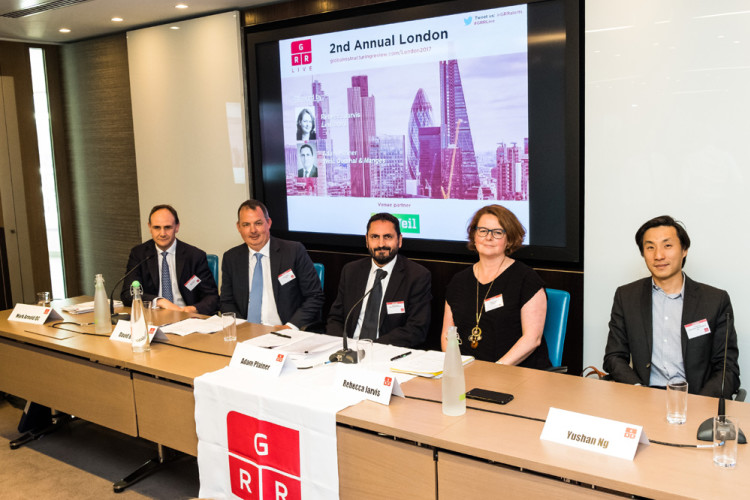 From left to right: Mark Arnold QC, David Burison, Adam Plainer, Rebecca Jarvis and Yushan Ng
Panelists at the recent GRR Live London discussed how to increase leverage in a restructuring, from encouraging directors to take a particular course of action, to making the most of gaps in the debtor's documentation.
The London offices of Weil Gotshal & Manges played host to the event on 25 May, where Weil's London head of restructuring Adam Plainer and Linklaters' co-chair of restructuring Rebecca Jarvis led a panel made up of distinguished restructuring practitioners from different areas of the industry.
Yushan Ng, partner and global co-chair of Cadwalader, Wickersham & Taft's financial restructuring group, Mark Arnold QC of South Square chambers and Lazard managing director David Burlison discussed how practitioners can increase leverage in a restructuring, with Jarvis grouping the session into three specific areas for debate: jurisdiction, structure and people.
Jurisdiction
"I'm going to say something a bit controversial," Ng opened: "I'm not sure there is such a thing as a good jurisdiction or a bad jurisdiction. I think it really depends on what you're trying to achieve."
He said there are two good ways to find out whether a jurisdiction is "fit for purpose": the level of "competence" in its court system, and the "principles that drive the outcomes" in that particular place.
"Everyone thinks of the US as a good jurisdiction," Ng said. "I think it's a terrible jurisdiction if you're trying to actually get something done quickly, and if you are trying to reach an end game when you're well-organised and well-planned".
The US has highly developed legal principles and a highly developed court process, but that means "every man can have his day in court" - which is problematic as it lengthens the court process, he said. It is a system "where creditors can be funded by the estate to dispute issues", which can lead to time delays and increased expense.
Comparing the Chapter 11 process with a UK pre-pack administration where negotiations essentially stop when the party files, Ng noted that the timeframe "makes a massive difference" to how quickly you can get a restructuring completed.
Agreeing, Burlison said that with very substantial and well-known international cases being heard in the US, creditors are "actually getting a bit fed up of" protracted Chapter 11 cases. "[T]here is a lot of creditor-pressure building on the estates to get things done more quickly," he said.
"You have to navigate a system which is ultimately a litigation driven outcome," Ng concurred. While he accepted that the Chapter 11 process "has a very good valuation" process, he said the UK process is centred around "how much you can sell for cash in a day", which is "not always fair, but it's really quick."
Arnold highlighted the use of "jurisdictional tools" by companies who want to frustrate creditors' aims in a restructuring, in particular the use of share splitting, which he referred to as an attempt to "divide and conquer".
Noting that an English scheme must be approved by creditors representing a majority in number and over 75% in value of those present, Arnold described the recent Dee Valley case in which one shareholder transferred shares in the company to 434 people who agreed to vote against the scheme with him, ensuring the majority in number requirement was not met.
Ultimately, the shareholder's attempt to frustrate the process failed, as the court declared a "share manipulation strategy" and the chairman of the company exercised his discretion to reject the votes, explained Arnold. It showed that the court is "very protective" of its own procedure and that "voting manipulation achieved by share splitting" will simply lead to votes being rejected.
"Not really 'divide and conquer'. I think this one is more like 'united we stand, divided we fall'," he closed.
Next, Burlison, who spent five years working in the Middle East and dealing with portfolios with assets in Asia and Africa, said that the question in those jurisdictions is how to get a process implemented that ensures a level of flexibility. To ultimately implement a restructuring, you have to put a whole deal together before you can begin to implement it through a legal process.
You also need to find out who "to get on board", which kind of government departments to lobby, which local partners you need onside, Burlison said. If you can get the framework of a deal in place, the jurisdictional question of how to actually implement the restructuring becomes "quite straightforward", he explained.
The panel discussed situations where countries with less developed legal systems have reactively introduced emergency legislation to provide leverage where a key sector or business faces a systemic threat. These countries need "some form of moratorium to allow discussions to take place" so that creditors can't initiate a freefall insolvency process, said Burlison.
A lot of the legislation introduced in the Middle East has been enacted to prevent creditors from pulling the process into a US jurisdiction, he added, citing the example of the restructuring of investment vehicle Dubai World, which saw the Government of Dubai introduce Decree 57 - a framework for restructuring to avoid the matter going to an overseas jurisdiction.
These types of emergency legislation usually provide a "very debtor-friendly solution that enables discussions to take place" in the short-term, Burlison continued, "but ultimately there's a big stick to beat up the creditors if they don't play ball."
Raising the huge restructuring of Croatian conglomerate Agrokor, which saw the Croatian state introduce emergency legislation in April, Burlison said the problem is that not every eventuality can be included in legislation, and this inevitably leads to "loose ends" that need to be dealt with.
Structure
Next, the panel discussed how to make the most of company structures to gain leverage in a restructuring process. Burlison highlighted the example of New York-headquartered retailer J.Crew, where one of the key issues has been dealing with unsecured bonds and finding ways to "fix the capital structures".
J.Crew's intellectual property - in particular its trademarks - were held by a restricted guarantor entity and were transferred into a non-restricted entity, which enabled a bond exchange to happen. Across the embattled US retail sector, everybody is looking at ways of generating pools of security to allow unsecured to secured bond exchanges, Burlison added.
"I think we're going to see more and more aggressive examples" of this, said Ng. Intellectual property is a really great example, because if you think about the one asset in a retail business that allows its owners to "hold everyone to ransom" IP is "the key thing", he added.
Ng said the "trick" used in J.Crew could be used "on almost every single high yield structure" with a reasonable degree of certainty, because the gaps at high yield documentation that allowed the transfer to happen are systemic. It is not about a documentary error, but about the way the high yield bond market has created these gaps in the market, he noted.
Ng went on to describe the workings of restrictive payment covenants and how gaps have been created in the market to allow permitted investments - like the intellectual property in the case of J.Crew, to be invested outside of the group - even if the investments have been secured in favour of senior secured bonds.
He also explained that, because these types of transactions are very difficult to value, practitioners have been able to use accounting techniques to "compress the value" of the investments being pushed out of the group. Offering an example, Ng said that if there was a restricted investment capacity of £50 million, practitioners could encumber intellectual property with a book value of £500 million with contractual obligations, to drop the IP's value to the prescribed £50 million, allowing it to be pushed out and raising leverage against the asset.
In the end, if the cash is put back into the group, the thing that is really being pushed out of the basket is the cost of the financing, which was secured against the IP, because that's what is really leaving the group, explained Ng. "The only restricted investment is the cost of the financing which - surprise, surprise - is £50 million," he added. Until those drafting the high yield documentation "wake up and fix" the gaps, "there's a lot of fun to be had" Ng concluded.
The question is to whose benefit do such transactions work, cautioned Arnold, "because it would presumably be the shareholders' slice of the company".
Jarvis asked the panel how they are making restructurings work in the context of credit agreements becoming more complex, and value becoming increasingly important.
Burlison said that in certain jurisdictions, including in Germany at the moment, there's a "disconnect" between secondary holders of debt and financial institutions such as banks that held the debt, but that are now subject to more restrictive rules about their ability to hold equity. This is driving a high degree of leverage towards the funds, he said. He recalled a recent German situation that he worked on, where the funds acted as a blocking minority that enabled them to drive down the price in the secondary market.
"Because these lenders are just petrified at the moment of taking ownership, the cost of capital of holding equity and non-traditional instruments through the restructuring has created this disconnect where there is a real leverage opportunity for people buying into it", Burlison added.
People
"One thing we always forget in restructurings are the people," said Plainer: "Individuals or groups of individuals, other than the creditors, who can cause the problems."
"What if there are out-of-control directors," he asked, "do you corral these people?" Can investors, creditors or any stakeholders operate a business without the directors? Can you deliver a transaction, or have they got the actual ultimate leverage in a restructuring? Plainer queried.
You just have to look at the shipping space for directors and owners of businesses that possess huge amounts of leverage, Burlison answered. With management companies "sitting off on the side" and ships registered in various jurisdictions, the directors and owners have "controlling relationships" that make it extremely difficult to push them into a deal, he noted.
They have a huge amount of leverage because the institutions sitting on the other side already have substantial amounts of distressed assets and the last thing they would want to do is take ownership of another fleet of ships. "We opted quite early on, frankly, to work creditor side in the shipping space," Burlison said, because of this very reason - as these are historically family businesses the directors can be unrealistic in their views as to what they want creditors to do.
"You can't lose sight of the fact that, ultimately, it's the directors who are in charge" interjected Arnold. As they are responsible, they need to know what their duties are and when the focus of those duties must change.
When things are going well the directors need to take into account the interests of the shareholders as a whole, Arnold argued - but there are "certain circumstances" in which they have to discharge their duties in the "paramount interest" of creditors. The pertinent question to ask is, "when does that duty arise?"
Noting that there is not much legislative assistance in the UK on that matter, Arnold said lawyers have to seek guidance from the common law. A recent decision of Mrs Justice Rose, which is on its way to the Court of Appeal, may offer some "clarity on that in due course," he added.
In that case - BAT Industries plc v Sequana - Justice Rose held that, where a company has an estimated provision on its balance sheet for a long-term liability, there is no justification for finding that the duty to protect creditors' interests applies for the whole period where there is a risk of insufficient assets to meet that liability.
Linking people to jurisdictional issues, Plainer said that, often, the problem in the multinational cases Weil acts on is "understanding the different tensions on the directors because the leverage then becomes very heightened".
In situations where US-based multinationals with UK operations are entering Chapter 11, the US arms can get a debtor-in-possession facility and it tends to be "all about the US" - but the UK boards are not often separately advised because the entities have always operated as one group, Plainer explained. When you go through a restructuring "it's really important that the whole group understands some of the pressures that the UK directors might be forced to put into play," he added.
Directors seem to have a lot of leverage against creditor groups because they may be advised to do different things in different places, concluded Plainer.
Advising directors is difficult because "it's their necks on the line" added Ng. They should be setting the direction and practitioners can assist by tactically thinking about how to minimise directors' choices - either by making it very difficult or very easy to justify taking a particular course of action, he elaborated.
Bringing the discussion to a close, Jarvis mirthfully suggested that "the key thing" for achieving leverage in a restructuring is to make sure you have the right advice.
Judging from the audience's laughter, they seemed to agree.


Case references
BAT Industries plc v Sequana SA; BTI 2014 LLC v Sequana SA [2017] Bus LR 82