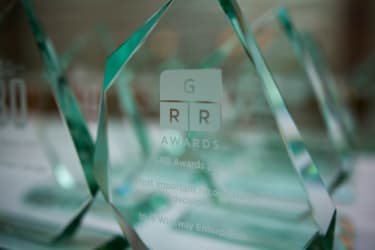 Trophies were presented to the winners of nine individual awards (Credit: Joe Almond)
More than 100 attendees enjoyed a glittering evening at GRR's inaugural Charity Awards on 21 June, where the winners in nine individual categories - from most important recognition decision, to large law firm that impressed - were announced.
Taking place in the glamorous Palm Court of the Waldorf Hilton in London, on what turned out to be one of the hottest June days on record in the UK, the awards were held in aid of the Swawou Layout Community Primary School for Girls near Kenema Town, Sierra Leone.
The publishing company behind GRR, Law Business Research, has sponsored the school, which provides education exclusively to disadvantaged girls of primary school age, since 2009. In that time, proceeds from charity awards ceremonies have helped triple the school's size from 30 to 90 pupils.
Weil Gotshal & Manges, represented by its head of restructuring in London Adam Plainer, walked away with the award for "large law firm that impressed". The firm also landed third position in the GRR 30, a list of the top-ranked firms in our GRR 100 - a guide to approved cross-border restructuring and insolvency law practices that was also released for the first time at the awards.
Offshore firm Appleby, which Weil recently instructed as Cayman Islands counsel for the multi-jurisdictional restructuring of helicopter group CHC, also beat strong competition to win the category for "small or regional law firm that impressed".
Partners from EY, including Stephen Harris and Alan Hudson in London, meanwhile, were in the audience to receive the trophy for "advisory firm of the year".
EY's win in that category was in part down to its partners having acted as Nortel's Canadian monitor, and as joint administrators of Nortel's European, Middle Eastern and African entities for nearly a decade.
The Big Four accounting firm took to the stage for a second time on the night with law firm colleagues to collect the award for "cooperation in a specific cross-border restructuring or insolvency matter", handed to Nortel's global settlement.
Other big winners were Akin Gump, similarly invited to the stage twice to collect the awards for "most important recognition decision" - which went to In re Winsway Enterprises Holdings - and to share in the cooperation award for Nortel's global settlement. Akin Gump was New York and Hong Kong counsel to the ad hoc committee of noteholders in Winsway Enterprises, and counsel to the US unsecured creditors' committee in Nortel.
Allen & Overy also came away with two gongs. Its role as co-counsel with Baker & McKenzie to Ukrainian steel and mining company Metinvest was recognised in the "innovation" category. Later, it also shared in Nortel's cooperation award, in respect of its role as legal counsel to EY as Nortel's Canadian monitor.
Justice Kannan Ramesh from the Singapore Supreme Court barely had time to return to his seat between collecting awards for Singapore as "most improved jurisdiction", and then for the Judicial Insolvency Committee's (JIN) Guidelines for Communication and Cooperation between Courts in Cross-Border Insolvency Matters, which won "most important overall development".
Ramesh J was joined on stage by fellow JIN participant Justice Barry Leon, a commercial judge in the High Court of the Eastern Caribbean Supreme Court, in the British Virgin Islands, to pick up the gong for the guidelines.
The night closed with a very special lifetime achievement award, posthumously given to Bruce Leonard - the founding chair and director of the International Insolvency Institute (III), which had just completed its 17th Annual Conference in London a day earlier.
Dan Glosband, a consultant at CBInsolvency and long-time III member who co-authored Chapter 15 of the US Bankruptcy Code, provided some background on Leonard's major achievements, before the audience watched a poignant commemorative video, specially produced by GRR at the III event in the days previously.
The video and full coverage of the lifetime achievement award to Leonard will be published on GRR in the coming days.
The winners in full
Most important recognition decision
In re Winsway Enterprises Holdings - The decision by Judge Martin Glenn in the US Bankruptcy Court for the Southern District of New York to recognise, then approve, a Hong Kong scheme of arrangement for coking coal supplier Winsway Enterprises in May and June 2016 marked the first time a Hong Kong scheme was recognised under Chapter 15 of the Bankruptcy Code. It was particularly significant because the Hong Kong scheme compromised debt governed by New York law.
Overseen by Justice Jonathan Harris at the Hong Kong High Court, the scheme itself was also the first time a Hong Kong court considered whether providing consent fees to creditors had the effect of fracturing scheme classes. It was complemented by a parallel scheme in the British Virgin Islands (BVI).
Lawyers from Campbells, as BVI counsel to Winsway's ad hoc committee of noteholders, were invited to the stage to collect the award alongside Akin Gump.
Stephenson Harwood's London and Hong Kong offices, which provided lead counsel to Winsway in cooperation with Walkers in the BVI, and Reed Smith, which acted for Winsway in the New York recognition proceedings, were not present on the night - but were mentioned during the ceremony for their major roles in the case.
Innovation in cross-border insolvency and restructuring
Metinvest - The award for innovation went to the US$2.3 billion restructuring of Ukrainian steel and mining company Metinvest. Completed in March, Metinvest used three schemes of arrangement in the UK, and three parallel Chapter 15 filings in the US over two years to restructure its debts. The first two schemes achieved a standstill agreement with creditors: the last scheme implemented the company's restructuring plan.
Metinvest's UK co-counsel Baker McKenzie joined Allen & Overy on stage to collect the award, as did partner John Barry from its Delaware counsel Young Conaway Stargatt & Taylor, and lawyers from Linklaters, which acted for Metinvest's noteholders committee.
Cross-border cooperation in a specific insolvency or restructuring matter
Nortel's global settlement - The settlement reached between international Nortel debtors and their creditors in October 2016 put an end to no less than eight years of disputes over how to allocate US$7.3 billion in liquidation proceeds kept in a lockbox. Its approval by courts in the UK, Canada and the US, in November and January respectively, means that distributions of the funds can finally start this summer.
During its lengthy lifespan, Nortel's liquidation has featured some remarkable feats of cooperation, including a ground-breaking trial by video-link that connected courts in Delaware and Ontario in 2015. While the complementary judgments produced from that trial did not close the matter, mediation and cooperation between counsel all over North America and Europe afterwards, finally brought a resolution.
Herbert Smith Freehills, as counsel to Nortel's EMEA debtors; Cleary Gottlieb Steen & Hamilton who acted for Nortel's US debtors; DLA Piper as counsel to the Canadian creditors' committee; and Skadden Arps Slate Meagher & Flom, which represented Stephen Taylor of Isonomy as the conflicts administrator of French entity Nortel Networks SA, joined EY, Akin Gump and Allen & Overy on the podium to celebrate the settlement's win.
Most improved jurisdiction
Singapore - Through amendments to its Companies Act, Singapore state adopted the UNCITRAL Model Law, outlining how courts should approach foreign-incorporated debtors, and introduced Chapter 11-inspired refinements to its scheme of arrangement mechanism in March 2017.
It has also pledged to increase the availability of rescue financing, and (along with Delaware) was the first country to adopt the JIN Guidelines in February - the JIN itself being an initiative of Singapore's Chief Justice Sundaresh Menon.
Manoj Sandrasegara, joint head of restructuring and insolvency at WongPartnership, was invited to pick up the Singapore award with Ramesh J. WongPartnership also received an award for its inclusion in the GRR 30 - the only Singaporean firm to make the ranked list.
Most important overall development
JIN Guidelines - Justices from Australia, the British Virgin Islands, Canada, the Cayman Islands, England, Hong Kong, Singapore and the US met at the Singapore Supreme Court in October 2016 to launch the JIN. One of the aims of their first meeting was to develop a set of guidelines for communication and cooperation on cross-border insolvency matters.
Those guidelines were finally released in February and have gone on to be adopted by courts in seven jurisdictions so far - the seventh being made known to GRR by Ramesh J and Leon J as they were picking up the award!
Advisory firm that impressed
EY - As mentioned above, EY provided the UK joint administrators and Canadian monitor in Nortel, and was instrumental in the signing of the settlement agreement that ended seven years of litigation over the telecoms company's US$7.3 billion estate in 2016.
However, Nortel isn't the only large matter that the advisory firm worked on in the past year. It also acted as monitor for Canadian mining company Crystallex and US Steel Canada, as well as trustee for the clothing retailer Aeropostale Canada.
Further afield, EY served as independent auditor to Bahamian shipping company Ultrapetrol's Paraguayan subsidiaries after the parent filed for Chapter 11 protection in New York, and has been appointed liquidator of Caledonian Bank in the Bahamas. London-based directors Jo Hewitt, who was present at the awards, and Joe O'Connor were named in GRR's New Insolvency Advisers survey, ranking alongside Singapore's Luke Furler, who has since left the firm.
Small or regional law firm that impressed
Appleby - The Bermuda-founded firm had a phenomenal year during GRR's research period.
Its Cayman team helped EY resist an order from liquidators to produce documents relating to its work as auditor for the Primeo Fund - a Cayman investment vehicle brought down by Bernie Madoff's Ponzi scheme.
Instructed by Weil, the firm also helped the directors of helicopter group CHC get around the Emmadart principle - that directors need shareholder approval to begin insolvency proceedings in the Cayman Islands - by negotiating with a creditor affiliate of the group to make it file winding-up proceedings first.
Furthermore, Appleby helped a Malaysian lender make a successful winding-up application against a Pacific Andes affiliate in the British Virgin Islands, and obtained the first-ever Norwich Pharmacal order in that jurisdiction when it represented an unnamed foreign judgment creditor seeking to compel information from a locally-registered company via its agent.
In its native Bermuda, meanwhile, Appleby is currently representing Texas's C&J Energy and its local subsidiary in the recognition of a Chapter 11 plan and in a voluntary liquidation, respectively.
Large law firm that impressed
Weil Gotshal & Manges - Weil currently has both debtor and creditor-side roles in 10 of the largest US bankruptcies of 2016, worth roughly US$50 billion in debt - including those of SunEdison and Peabody Energy. Very recently, it was instructed by US nuclear group Westinghouse, an affiliate of Japan's Toshiba, to advise it in Chapter 11 proceedings. The firm was also hired as late-coming debtor's counsel by Chinese industrial fishing conglomerate, Pacific Andes Resources Development, to act on its ever-expanding Chapter 11 action.
Weil's UK practice, meanwhile, continues to advise Lehman Brothers Holdings before English courts on the Waterfall I, Waterfall II and Waterfall III matters.
The firm also acted for the ad hoc committee of senior secured noteholders on the US$2.1 billion restructuring of South African retail group Edcon, which closed in February; and worked as co-counsel for helicopter company CHC Group and its subsidiaries in a Texas Chapter 11 action, which saw the approval of a global plan in March.
Lifetime Achievement Award
Bruce Leonard (1944 - 2017), founding chair and director of the International Insolvency Institute (III). A leading light in Canadian and cross-border insolvency, Leonard sadly passed away earlier this year after an extended illness.
He was vital in supporting GRR ahead of its launch in March 2016, both as an early cheerleader and as an energetic and committed member of our editorial board.
GRR's 2017 lifetime achievement award was therefore dedicated to the memory of our late friend and supporter, who inspired and connected many others.