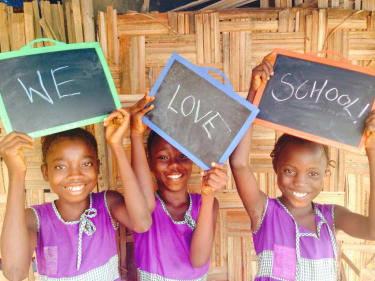 Profits from the GRR Awards go to the Swawou Layout School in Sierra Leone
Swawou Layout Community Primary School for Girls
A limited number of tickets are still available for GRR's inaugural awards ceremony on Wednesday, which will see the launch of the GRR 100 guide to the world's leading cross-border restructuring law practices and the unveiling of the first-ever GRR 30 ranking.
Our first annual celebration of the most important firms, cases and marketplace developments in cross-border restructuring and insolvency will take place on 21 June at the Waldorf Hilton in London – the day after the International Insolvency Institute wraps up its 17th annual conference in the city.
Over 80 attendees from leading law firms and advisory practices, as well as esteemed guests from the bench, are due to attend the black-tie dinner and awards ceremony – however individual, half-table and full-table tickets are still available.
Proceeds from the event will go to the Swawou Layout Community Primary School for Girls in Sierra Leone.
GRR's publisher Law Business Research Ltd has been supporting the school, which offers free, quality education to disadvantaged girls, since 2009. 100% of the profits from the awards ceremony will go directly to the school.
Further details of the GRR Awards 2017 can be found here. To book a ticket or table direct, visit our booking website.
Below are the shortlists of nominees in each category.
Most important recognition decision
In the Matter of 19 Entertainment – In April 2016, the producer of the popular US television series "American Idol" became the first known English-registered company to obtain Model Law recognition in the UK of its Chapter 11 proceeding in the US, as a foreign main proceeding.
In re: Berau Capital Resources – The US Bankruptcy Court for the Southern District of New York opened the door for more companies to seek recognition of cross-border bankruptcies in October 2015, when it found that New York choice of law and forum selection clauses in the Singaporean company's indentures satisfied the Second Circuit's property requirement established in In re Barnet for a Chapter 15 filing.
Lagoon Beach Hotel v Lehane – South Africa's Supreme Court of Appeal upheld the recognition of an assignee appointed by an Irish court to oversee the bankruptcy of an Irish property developer, despite uncertainty over the bankrupt's current domicile, in December 2015.
Re Opti-Medix (in liquidation) – In June 2016, the Singapore Supreme Court broke new ground in recognising a Japanese trustee appointed over a pair of British Virgin Islands-incorporated medical companies, affirming that bankruptcy proceedings in a company's centre of main interests (but outside its place of incorporation) can be recognised in the city-state.
Re Rennie Produce – In response to an application made by the liquidator of an Australian crop planting and protection company, the Hong Kong Court of First Instance in August 2016 identified a standard order for the recognition and assistance of foreign liquidators, pointing to the wording of a judgment made months before (Re Joint Official Liquidators of Centaur Litigation).
In the Matter of Urbancorp Inc – The Ontario Superior Court recognised Tel Aviv bankruptcy proceedings relating to a Canadian property developer as foreign main proceedings, despite that its COMI was not in Israel, in a "very unusual" case from May 2016.
In re Winsway Enterprises Holdings – The British Virgin Islands-incorporated coking coal supplier won recognition, then approval, of its Hong Kong scheme of arrangement from the US Bankruptcy Court for the Southern District of New York, soon after a parallel scheme of arrangement was sanctioned in the BVI. The decision was the first Hong Kong scheme to be recognised in the US under Chapter 15, and saw the Hong Kong court sanction a scheme compromising debt governed entirely by foreign law.
Innovation in cross-border insolvency and restructuring
Belize's sovereign debt restructuring – In March this year, the government of Belize implemented a "record" third restructuring of a tranche of US-denominated bonds by a consent solicitation in a process that took less than five months from start to finish.
In the Matter of CHC Group – The Grand Court of the Cayman Islands allowed helicopter group CHC to appoint provisional liquidators over its parent without shareholder authorisation, after counsel found a creative way to get around the common law Emmadart principle, in a ruling in January. The Emmadart principle says that company directors cannot initiate insolvency proceedings without shareholder approval, in the absence of creditor action.
Codere Finance – Following lengthy consultations with creditors, the Spanish gaming company incorporated an English special purpose vehicle to establish a sufficient connection to the UK so that it could use an English scheme of arrangement to restructure. The scheme was sanctioned by the UK High Court in December 2015, earning Chapter 15 recognition the following month.
Justice Barry Leon's paper Arbitration of Cross-Border Insolvency Disputes – The eminent jurist suggested that international arbitration could be the answer to some of the pressing issues in cross-border insolvencies in a paper prepared for the first Judicial Insolvency Network (JIN) meeting in Singapore in October 2016. Among other things, he advocated the use of a JIN model arbitration clause and arbitration rules.
Metinvest – The Ukrainian steel and mining company completed its US$2.3 billion restructuring in March, bringing to a close a two-year process involving three schemes of arrangement in the UK, and three parallel Chapter 15 filings in the US. The first two schemes were used to achieve a standstill agreement with creditors: the last one implemented the company's restructuring plan.
Petroceltic – Hedge-fund Worldview Capital Management completed a distressed acquisition and restructuring of the troubled Irish oil group, in what was Ireland's first ever activist shareholder-led examinership scheme of arrangement.
Winsway Enterprises – The parent of one of China's biggest coking coal groups restructured via a Hong Kong scheme of arrangement that saw a local court consider, for the first time, whether providing consent fees to creditors has the effect of fracturing scheme classes. It was also noteworthy for compromising debt entirely governed by foreign law – and became the subject of the first Hong Kong scheme of arrangement to be recognised in the US under Chapter 15 in June 2016.
Cross-border cooperation in a specific insolvency or restructuring matter
Banners Broker International (in liquidation) – The Isle of Man High Court stayed the liquidation of an alleged pyramid scheme in December 2016, granting Manx liquidators' calls to transfer charge of the case to a Canadian court-appointed receiver for the sake of convenience and to avoid "a lot of duplication of cost and effort".
Re Gulf Pacific Shipping Ltd (in creditors' voluntary liquidation) – In December 2016, the Singapore High Court recognised the appointment of liquidators over a Hong Kong shipping company and allowed them to access the statements of a Singapore bank account, despite the fact the debtor was in voluntary liquidation and outside of the common law powers of assistance laid out in Singularis. The court, ruling months before Singapore's adoption of the UNCITRAL Model Law, concluded that the "traditional territorial focus on the interests of local creditors no longer has primacy over more internationalist concerns."
In re: Hanjin Shipping Co – Judge Sherwood of the US Bankruptcy Court for the District of New Jersey concluded with his counterpart in Korea that common benefit claims brought by US creditors against the troubled shipping company – which can be paid at any time under Korea's Debtor Rehabilitation and Bankruptcy Act since they are deemed to be in the public interest – belonged in Seoul, not the US, for the sake of convenience. The US and Korean judges had a telephone conversation during a two-day trial to decide on the matter in January.
In re Hellas telecommunications (Luxembourg) II SCA – The US Bankruptcy Court for the Southern District of New York stayed a case filed by the liquidators of the Greek telecoms company in August 2016, finding that their UK law avoidance claims against a group of US defendants should be heard in England.
Kaupthing HF (acting by its Winding-Up Committee) – The Isle of Man High Court indefinitely adjourned proceedings for the recognition of the winding-up of the failed Icelandic bank in March 2016 for the practical reason that an "aura of uncertainty" exists in Manx law over the recognition of foreign insolvency proceedings. The court decided not to withdraw the proceedings entirely in case a creditor made a claim in future, in which case, it said it might be relevant to "preserve the issue date" of the debtor's recognition claim form to show proceedings were ongoing before the bank exited the winding-up process.
Nortel's global settlement – After eight years in dispute over how to allocate US$7.3 billion in liquidation proceeds kept in a lockbox, international Nortel debtors and their creditors reached a settlement in October 2016. It followed lengthy litigations in which courts in Delaware and Ontario held a ground-breaking trial by video-link in 2015. Both courts approved the settlement in January 2017, following in the steps of their English counterpart in November.
In re Roust Corporation et al – The US Bankruptcy court for the Southern District of New York confirmed the pre-packaged Chapter 11 plan of the Eastern European spirits producer, just 11 days after it simultaneously filed for Chapter 11 protection and submitted a full restructuring plan – the fastest approval in the New York court's history. The court acted with speed after hearing that the stigma associated with bankruptcy in Eastern Europe could spook creditors.
Winsway Enterprises – The coking coal supplier's scheme of arrangement required coordination between counsel and judges in Hong Kong, the British Virgin Islands and New York (where the Hong Kong proceedings were recognised in June 2016) with court hearings taking place in each jurisdiction.
In re Z-Obee Holdings – In February, courts in Hong Kong and Bermuda sanctioned the transfer of the electronics group's insolvency proceeding from one jurisdiction to the other, in recognition of the fact that Bermuda's provisional liquidation mechanism can be used for restructuring purposes, whereas Hong Kong's is used only for liquidation.
Most improved jurisdiction
Bahamas – The island chain's Liquidation Rules Committee published a list of foreign jurisdictions whose insolvency proceedings the Bahamian courts will now be able to recognise, closing a lacuna in the local law that left foreign creditors unable to access local assets.
Germany – Germany amended its insolvency code in December 2016 to provide clarity on the status of "netting" arrangements in financial transactions, while the country's Federal Fiscal Court tore up the rule book on tax relief for distressed companies in February. Further reforms, to clawback provisions, were also enacted in February, reducing the period for clawback actions for wilful disadvantage from 10 years to four.
India – After a lengthy consultation process, the new Indian Insolvency and Bankruptcy Code was approved by the country's Parliament and came into force in December 2016 – a month ahead of schedule – bringing with it greater empowerment for creditors, dedicated insolvency regulators, registered professionals and company law tribunals, and a more streamlined insolvency process.
Singapore – Via amendments to its Companies Act, the city state adopted the UNCITRAL Model Law, outlining how courts should approach foreign-incorporated debtors, and introduced Chapter 11-inspired refinements to its scheme of arrangement mechanism in March 2017. It has also pledged to increase the availability of rescue financing, and (along with Delaware) was the first country to adopt the Judicial Insolvency Network Guidelines for Communication and Cooperation between Courts in Cross-Border Insolvency Matters in February.
UAE – The United Arab Emirates' reformed bankruptcy legislation was published in September 2016, introducing English-style rules on directors' liability, a debtor-led composition process based on the French sauvegarde model, and formal rescue and liquidation proceedings.
Most important overall development
Argentina settles sovereign debt dispute with holdouts – Following 15 years of court battles arising from its public debt default in 2001, Argentina agreed to more than US$10 billion in settlements with a number of US hedge funds, freeing the country to re-enter capital markets in April 2016.
EU harmonisation directive – In November 2016, the European Commission issued first-time proposals for a business insolvency directive aimed at improving and harmonising restructuring laws across the single market. The draft directive (whose full name is the Directive on preventive restructuring frameworks, second chance and measures to increase the efficiency of restructuring, insolvency and discharge procedures) includes provisions on pre-emptive restructuring measures, debtor-in-possession financing, protection of new money and limiting the powers of holdout creditors.
JIN Guidelines – Justices from Australia, the British Virgin Islands, Canada, the Cayman Islands, England, Hong Kong, Singapore and the US met in the Singapore Supreme Court in October 2016 to launch the Judicial Insolvency Network, developing a set of guidelines for cooperation on cross-border insolvency matters that have gone on to be adopted by courts in six jurisdictions around the world so far.
Nortel's global settlement – After more than seven years of unsuccessful mediations and multi-jurisdictional litigations, bankrupt telecoms company Nortel reached a global settlement with creditors on how to distribute US$7.3 billion in liquidation proceeds in October 2016.
PROMESA – The US Senate passed a controversial restructuring bill to address Puerto Rico's debt crisis in June 2016, the Puerto Rico Oversight Management and Economic Stability Act (PROMESA), after the US Supreme Court nixed home grown legislation on grounds that it was pre-empted by the Bankruptcy Code. Prohibited from accessing Chapter 9 of the Code, the territory relied on Title III of PROMESA when it filed for bankruptcy protection citing debts of US$74 billion in May this year.
Singapore's Companies Act – The city state has made huge improvements in its laws in its bid to become a restructuring hub, most recently via amendments to its Companies Act in March 2017. The latest measures include the adoption of the UNCITRAL Model Law and the introduction of Chapter 11-inspired refinements to its scheme of arrangement mechanism. The implications of Singapore's new regime extend well beyond its shores, since lawyers as far afield as India and Australia have already predicted a flight of work to Singapore in future.
Large law firm that impressed
Akin Gump Strauss Hauer & Feld – Akin Gump worked for a steering committee of bondholders of coking coal supplier Winsway Enterprises – a British Virgin Islands-incorporated company listed in Hong Kong and operating in China – to restructure more than US$300 million in debt governed by New York law via concurrent schemes in Hong Kong and the BVI, the first of which was recognised in New York under Chapter 15. The firm also provided English and Bermudan law advice to an ad hoc committee of noteholders of London listed, BVI-incorporated, Kurdistan-focused oil company Gulf Keystone, leading to an arrangement to restructure US$575 million worth of debt via an English scheme. Further, Akin Gump acted in the restructuring of more than US$33 billion in bonds issued by Icelandic banks Glitnir, Kaupthing and Landsbanki, effected through Icelandic law composition agreements with Chapter 15 recognition in the US.
Cleary Gottlieb Steen & Hamilton – Nortel's US entities hired Cleary to help them conduct a series of extremely successful assets sales between 2009 and 2011, and kept the firm on as the debtors navigated a seven-year battle over the allocation of the resulting funds kept in a lockbox. Following a historic settlement in 2016, they will receive US$1.7 billion, or 24% of the overall funds raised. Another headline-grabbing settlement in 2016 occurred between Argentina and its lead holdouts, who ended 15 years of litigation over the country's 2001 bond default – Cleary acted for Argentina all through the litigations, later working on out-of-court matters and law suits against individual bondholders after the country's change of administration from the Kirchners to new President Mauricio Macri. Other territories and sovereigns the firm has assisted of late include Puerto Rico, Belize and Greece, while important commercial clients have been Hyundai Merchant Marine and Automotores Gildermeister.
DLA Piper – DLA Piper is acting for Spanish renewables company Abengoa in connection with its Chapter 15 filing in Delaware, and in the Chapter 11 filings of its indirect subsidiaries Abengoa Bioenergy US Holding LLC and Abeinsa Holding in St Louis and Delaware, as part of the global US$9 billion restructuring. The firm has also been working on the insolvencies of companies belonging to ship fuel broker OW Bunker and its subsidiary Dynamic Oil Trading in the Middle East, which has seen it advise on the group's operations in Brazil, China, Colombia, India, Japan, South Korea and Russia. In the UK, key clients have included Aviva and the directors of steel company Caparo Industries Group, while in the US it has been retained by chemical company Vertellus Specialties and brand development and licensing group Authentic Brands.
Linklaters – Linklaters' Madrid team are acting for Spanish energy group Abengoa in its US$9 billion restructuring, which has been a landmark case under Spain's homologacion procedure and has been recognised under Chapter 15 by a Delaware court (see DLA Piper's entry above). The firm has also been acting for the bondholder committee in the US$2.3 billion restructuring of Ukrainian mining group Metinvest, which was completed through three schemes of arrangement in the UK, all of which were granted Chapter 15 recognition in the US.
Weil Gotshal & Manges – Weil currently has both debtor and creditor-side roles in 10 of the largest US bankruptcies of 2016, worth roughly US$50 billion in debt – including those of SunEdison and Peabody Energy. Just before the GRR 100 went to press, Weil was instructed by US nuclear group Westinghouse, an affiliate of Japan's Toshiba, to advise it in Chapter 11 proceedings. It was also hired as late-coming debtor's counsel by Chinese industrial fishing conglomerate, Pacific Andes Resources Development, to act on its ever-expanding Chapter 11 action. The UK practice continues to advise Lehman Brothers Holdings before English courts on the Waterfall I, Waterfall II and Waterfall III matters. Added to this, it acted for the ad hoc committee of senior secured noteholders on the restructuring of South African retail group Edcon; for helicopter company CHC Group and its subsidiaries in a Texas bankruptcy action; and for a number of international subsidiaries of Cayman-Islands based oil services provider Vantage Drilling, among many others.
Small or regional law firm that impressed
Appleby – In the past year, the Bermuda-registered firm's Cayman team represented EY as auditor of Primeo Fund, a Cayman investment vehicle brought down by the Madoff Ponzi scheme, in helping it resist an order from liquidators to obtain documents. Instructed by Weil, the Cayman team also acted for directors of helicopter company CHC Group, getting around the local Emmadart principle by asking a group affiliate and creditor to file a winding-up petition first. In the BVI, Appleby represented Malayan Banking Bernhad in a successful application for the winding-up of Pacific Andes debtor Europaco. Meanwhile, in its native Bermuda, it is representing Texas' C&J Energy and local subsidiary CJ Corporate services in the recognition of a US Chapter 11 plan and voluntary liquidation respectively. The firm also successfully obtained the first ever Norwich Pharmacal order in the BVI when it represented an unnamed foreign judgment creditor seeking to compel information from a locally-registered company via its agent.
WongPartnership – As counsel to the Hong Kong branches of two major financiers, WongPartnerhip successfully argued against the imposition of a worldwide moratorium by Singapore courts in the context of a scheme of arrangement being pursued by affiliates of Pacific Andes. With the moratorium blocked, the debtors dropped their Singaporean scheme and moved to join other affiliates in a Chapter 11 action in the US. WongPartnership was also counsel to a Japanese trustee in the landmark Re Opti-Medix case that saw the Singapore Supreme Court recognise the Japanese insolvency proceedings of two BVI incorporated medical companies – the first time a Singapore court has recognised bankruptcy proceeding in a company's centre of main interests (COMI), but outside of its place of incorporation.
Harney Westwood & Riegels – The BVI firm acted for Shenzhen-based property developer Kaisa in an offshore restructuring effected by paralleled schemes in Hong Kong and the Cayman Islands, then recognised by a New York court under Chapter 15. It has also been acting for noteholders to Chinese renewables group LDK Solar in liquidation in Cayman, after a Chinese onshore restructuring scuppered an earlier landmark offshore deal completed in 2015. In Hong Kong, it hired Joanne Verbiesen from Walkers.
Felsberg – Brazil's Felsberg is currently helping to draft an alternative restructuring plan for distressed telecoms company Oi. In recent months it also advised clothes retailer Colombo in what is thought to be the biggest-ever extrajudicial restructuring in Brazil, and acted as counsel to oil logistics company Lupatech Group in Brazilian reorganisation proceedings as well as a Chapter 15 case in New York. The firm also worked on a pre-pack deal for Canada's MBAC fertiliser company; filed Brazilian and US insolvency proceedings for sugar and ethanol producer Tonon Bioenergia; and represented Brazilian tyre manufacturer Borrachas Vipal in a US$312 million debt deal with seven international lenders.
Young Conaway Stargatt & Taylor – The Delaware firm represented Ukrainian steelmaker Metinvest in US recognition proceedings for three English schemes as part of the same restructuring process: the first two "moratorium schemes" bought time for the debtor while it finalised a restructuring deal embodied in the third. Young Conaway Stargatt & Taylor also advised New Zealand's UCI Holdings in Chapter 11 proceedings later recognised in New Zealand; worked for US miner Molycorp in a Chapter 11 case that saw it emerge as a Canada-headquartered entity; and represented the agent of a lending syndicate led by Royal Bank of Canada in the Chapter 11 case of Cayman islands-registered Vantage Drilling and its subsidiaries. It was also counsel to Yahoo! in a Chapter 15 action brought by representatives of the Irish Bank Resolution Corporation, which it successfully stopped from accessing to emails allegedly linked to the concealment of assets by the family of Seán Quinn – formerly Ireland's richest man. For a long time, the firm has also been US counsel to the joint administrators of Nortel Networks UK.
Advisory firm that impressed
AlixPartners – AlixPartners appointed restructuring specialist Simon Freakley as its CEO and added a new office in Houston complete with a restructuring team led by David Hindman in 2016, while London's Dan Imison and Boston's Thomas Studebaker were listed in GRR's survey of outstanding young advisers. AlixPartners has also been retained by US nuclear group Westinghouse Electric and US oil drilling group C&J Energy for their restructurings, assisted Cypriot shipping company Primorsk International during its liquidation, and advised Bahamian shipping group Ultapetrol and US-Canadian consumer debt investor SquareTwo on their pre-packs. New York-based managing director Lisa Donahue, meanwhile, has been appointed chief restructuring officer of the Puerto Rico Electric Power Authority.
Alvarez & Marsal – Alvarez & Marsal has been acting as adviser to Spanish renewables company Abengoa during its US$9 billion restructuring – the biggest in Spanish history. The firm has also been retained by oil rig leaser Sete Brasil, New Zealand-based auto parts group UCI Holdings, and US-Canadian sports chain Golfsmith of late. The past year has seen the firm hire one of GRR's top New Insolvency Advisers, Neil Hayward, to head its Middle East turnaround and restructuring team. It poached three further restructuring specialists from KPMG in London and added David Miller, managing director of restructuring at investment bank Macquarie Capital, in its Atlanta office.
EY – EY acted as the UK administrator and Canadian monitor of telecoms company Nortel, signing the settlement agreement that ended seven years of litigation over the telecoms company's US$7.3 billion estate in 2016. The past year has also seen the firm working as monitor for Canadian mining company Crystallex and US Steel Canada, as well as trustee for clothing retailer Aeropostale Canada. Further afield, EY has served as independent auditor to Bahamian shipping company Ultrapetrol's Paraguayan subsidiaries after the parent filed for Chapter 11 protection in New York, and has been appointed liquidator of Caledonian Bank in the Bahamas. London-based directors Jo Hewitt and Joe O'Connor were named in our New Insolvency Advisers survey ranking alongside Singapore's Luke Furler, who has since left the firm.
FTI Consulting – FTI named Carlyn Taylor and Michael Eisenband as the new global co-leaders of its corporate finance and restructuring practice in 2016, and Taylor went on to be honoured as the International Women's Insolvency & Restructuring Confederation's (IWIRC) woman of the year in 2017. The firm's British Virgin Islands and Singapore teams have been working as liquidators to a number of Pacific Andes subsidiaries over the course of the industrial fishing group's collapse. FTI's Hong Kong and Cayman teams have also been administering the winding up of solar panel manufacturer LDK Solar, and the firm has played a key role in the restructuring of US-Canadian retailers Golfsmith and Aeropostale, as well as US coal producer Peabody Energy. Singapore's Joshua Taylor and Denver's Alan Boyko were listed in our New Insolvency Advisers survey in 2016, while other young restructuring specialists dominated the firm's January 2017 promotions round.
KPMG – KPMG responded to the loss of several senior London names over the course 2016 by splitting its restructuring practice into three separate sections, appointing London partner Richard Heis as global head of its insolvency practice, Madrid's Angel Martin as global head of financial restructuring, and Mark Raddan in London as global head of turnaround at the beginning of November. Over the past year, the Big Four firm has served as liquidator of three Hong Kong Lehman Brothers entities, the Irish Bank Resolution Corporation, BVI luxury hotel owner Peak Hotels and Canadian-German lender Maple Bank. Its Singapore team was appointed to administer the restructuring of global oil and gas group Swiber, while in Korea it was named as the investigator in the corporate rehabilitation of Toshiba Samsung. China and Hong Kong partner Rosalie Lui was listed in The New Insolvency Advisers survey.