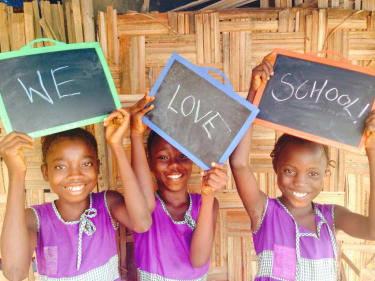 Profits from the GRR Awards go to the Swawou Layout School in Sierra Leone (Credit: Swawou Layout Community Primary School for Girls)
Following the release of shortlists in five different categories for GRR's forthcoming awards ceremony in London in June, below we present the nominees for individual firm honours.
Our first annual celebration of the most important firms, cases and marketplace developments in cross-border restructuring and insolvency will take place on 21 June at the Waldorf Hilton in London – the day after the International Insolvency Institute wraps up its 17th annual conference in the city.
Proceeds from the black-tie awards ceremony – which will see the launch of the GRR 100 guide to the world's leading cross-border restructuring law practices and the unveiling of the first ever GRR 30 ranking – will go to the Swawou Layout Community Primary School for Girls in Sierra Leone.
Details of the event can be found here.
We have already published the shortlists for most important recognition decision, innovation in cross-border insolvency and restructuring, cross-border cooperation in a specific insolvency or restructuring matter, most improved jurisdiction, and finally most important overall development.
Below, we present the nominees for the large law firm, small or regional law firm, and advisory firm that impressed.
Nominees for large law firm that impressed
Akin Gump Strauss Hauer & Feld
Akin Gump worked for a steering committee of bondholders of coking coal supplier Winsway – a British Virgin Islands-incorporated company listed in Hong Kong and operating in China – to restructure more than US$300 million in debt governed by New York law via concurrent schemes in Hong Kong and the BVI, the first of which was recognised in New York under Chapter 15. The firm also provided English and Bermudan law advice to an ad hoc committee of noteholders of London listed, BVI-incorporated, Kurdistan-focused oil company Gulf Keystone, leading to an arrangement to restructure US$575 million worth of debt via an English scheme. Further, Akin Gump acted in the restructuring of more than US$33 billion in bonds issued by Icelandic banks Glitnir, Kaupthing and Landsbanki, effected through Icelandic law composition agreements with Chapter 15 recognition in the US
Cleary Gottlieb Steen & Hamilton
Nortel's US entities hired Cleary to help them conduct a series of extremely successful assets sales between 2009 and 2011, and kept the firm on as the debtors navigated a seven-year battle over the allocation of the resulting funds kept in a lockbox. Following a historic settlement in 2016, they will receive US$1.7 billion, or 24% of the overall funds raised. Another headline-grabbing settlement in 2016 occurred between Argentina and its lead holdouts, who ended 15 years of litigation over the country's 2001 bond default – Cleary acted for Argentina all through the litigations, later working on out-of-court matters and law suits against individual bondholders after the country's change of administration from the Kirchners to new President Mauricio Macri. Other territories and sovereigns the firm has assisted of late include Puerto Rico, Belize and Greece, while important commercial clients have been Hyundai Merchant Marine and Automotores Gildermeister.
DLA Piper
DLA Piper is acting for Spanish renewables company Abengoa in connection with its Chapter 15 filing in Delaware, and in the Chapter 11 filings of its indirect subsidiaries Abengoa Bioenergy US Holding LLC and Abeinsa Holding in St Louis and Delaware, as part of the global US$9 billion restructuring. The firm has also been working on the insolvencies of companies belonging to ship fuel broker OW Bunker and its subsidiary Dynamic Oil Trading in the Middle East, which has seen it advise on the group's operations in Brazil, China, Colombia, India, Japan, South Korea and Russia. In the UK, key clients have included Aviva and the directors of steel company Caparo Industries Group, while in the US it has been retained by chemical company Vertellus Specialties and brand development and licensing group Authentic Brands.
Linklaters
Linklaters' Madrid team are acting for Spanish energy group Abengoa in its US$9 billion restructuring, which has been a landmark case under Spain's homologacion procedure and has been recognised under Chapter 15 by a Delaware court (see DLA Piper's entry above). The firm has also been acting for the bondholder committee in the US$2.3 billion restructuring of Ukrainian mining group Metinvest, which was completed through three schemes of arrangement in the UK, all of which were granted Chapter 15 recognition in the US.
Weil Gotshal & Manges
Weil currently has both debtor and creditor-side roles in 10 of the largest US bankruptcies of 2016, worth roughly US$50 billion in debt – including those of SunEdison and Peabody Energy. Just before the GRR 100 went to press, Weil was instructed by US nuclear group Westinghouse, an affiliate of Japan's Toshiba, to advise it in Chapter 11 proceedings. It was also hired as late-coming debtor's counsel by Chinese industrial fishing conglomerate, Pacific Andes Resources Development, to act on its ever-expanding Chapter 11 action. The UK practice continues to advise Lehman Brothers Holdings before English courts on the Waterfall I, Waterfall II and Waterfall III matters. Added to this, it acted for the ad hoc committee of senior secured noteholders on the restructuring of South African retail group Edcon; for helicopter company CHC Group and its subsidiaries in a Texas bankruptcy action; and for a number of international subsidiaries of Cayman-Islands based oil services provider Vantage Drilling, among many others.
Small/regional law firm that impressed
Appleby
In the past year, the Bermuda-registered firm's Cayman team represented EY as auditor of Primeo Fund, a Cayman investment vehicle brought down by the Madoff Ponzi scheme, in helping it resist an order from liquidators to obtain documents. Instructed by Weil, the firm's Cayman team also acted for directors of helicopter company CHC Group, getting around the local Emmadart principle – that directors can only appoint provisional liquidators with shareholder authorisation – by asking a group affiliate and creditor to file a winding-up petition first. In the British Virgin Islands (BVI), Appleby represented Malayan Banking Bernhad in a successful application for the winding-up of Pacific Andes debtor Europaco. Meanwhile, in its native Bermuda, it is representing Texas' C&J Energy and local subsidiary CJ Corporate services in the recognition of a US Chapter 11 plan and voluntary liquidation respectively. The firm also successfully obtained the first ever Norwich Pharmacal order in the BVI when it represented an unnamed foreign judgment creditor seeking to compel information from a locally-registered company via its agent.
WongPartnership
As counsel to the Hong Kong branches of two major financiers, WongPartnerhip successfully argued against the imposition of a worldwide moratorium by Singapore courts in the context of a scheme of arrangement being pursued by affiliates of Pacific Andes. With the moratorium blocked, the debtors dropped their Singaporean scheme and moved to join other affiliates in a Chapter 11 action in the US. WongPartnership was also counsel to a Japanese trustee in the landmark Re Opti-Medix case that saw the Singapore Supreme Court recognise the Japanese insolvency proceedings of two BVI incorporated medical companies – the first time a Singapore court has recognised bankruptcy proceeding in a company's centre of main interests (COMI), but outside of its place of incorporation
Harney Westwood & Riegels
The BVI firm acted for Shenzhen-based property developer Kaisa in an offshore restructuring effected by paralleled schemes in Hong Kong and the Cayman Islands, then recognised by a New York court under Chapter 15. It has also been acting for noteholders to Chinese renewables group LDK Solar in liquidation in Cayman, after a Chinese onshore restructuring scuppered an earlier landmark offshore deal completed in 2015. In Hong Kong, it hired Joanne Verbiesen from Walkers.
Felsberg Advogados
Brazil's Felsberg is currently helping to draft an alternative restructuring plan for distressed telecoms company Oi. In recent months it also advised clothes retailer Colombo in what is thought to be the biggest-ever extrajudicial restructuring in Brazil, and acted as counsel to oil logistics company Lupatech Group in Brazilian reorganisation proceedings as well as a Chapter 15 case in New York. The firm also worked on a pre-pack deal for Canada's MBAC fertiliser company; filed Brazilian and US insolvency proceedings for sugar and ethanol producer Tonon Bioenergia; and represented Brazilian tyre manufacturer Borrachas Vipal in a US$312 million debt deal with seven international lenders.
Young Conaway Stargatt & Taylor
The Delaware firm represented Ukrainian steelmaker MetInvest in US recognition proceedings for three English schemes as part of the same restructuring process: the first two "moratorium schemes" bought time for the debtor while it finalised a restructuring deal embodied in the third. Young Conaway Stargatt & Taylor also advised New Zealand's UCI Holdings in Chapter 11 proceedings later recognised in New Zealand; worked for US miner Molycorp in a Chapter 11 case that saw it emerge as a Canada-headquartered entity; and represented the agent of a lending syndicate led by Royal Bank of Canada in the Chapter 11 case of Cayman islands-registered Vantage Drilling and its subsidiaries. It was also counsel to Yahoo! in a Chapter 15 action brought by representatives of the Irish Bank Resolution Corporation, which it successfully stopped from accessing to emails allegedly linked to the concealment of assets by the family of Seán Quinn – formerly Ireland's richest man. For a long time, the firm has also been US counsel to the joint administrators of Nortel Networks UK.
Nominees for advisory firm that impressed
AlixPartners
AlixPartners appointed restructuring specialist Simon Freakley as its CEO and added a new office in Houston complete with a restructuring team led by David Hindman in 2016, while London's Dan Imison and Boston's Thomas Studebaker were listed in GRR's survey of outstanding young advisers. AlixPartners has also been retained by US nuclear group Westinghouse Electric and US oil drilling group C&J Energy for their restructurings, assisted Cypriot shipping company Primorsk International during its liquidation, and advised Bahamian shipping group Ultapetrol and US-Canadian consumer debt investor SquareTwo on their pre-packs. New York-based managing director Lisa Donahue,meanwhile, has been appointed chief restructuring officer of the Puerto Rico Electric Power Authority.
Alvarez & Marsal
Alvarez & Marsal has been acting as adviser to Spanish renewables company Abengoa during its US$9 billion restructuring – the biggest in Spanish history. The firm has also been retained by oil rig leaser Sete Brasil, New Zealand-based auto parts group UCI Holdings, and US-Canadian sports chain Golfsmith of late. The past year has seen the firm hire one of GRR's top New Insolvency Advisers, Neil Hayward, to head its Middle East turnaround and restructuring team. It poached three further restructuring specialists from KPMG in London and added David Miller, managing director of restructuring at investment bank Macquarie Capital, in its Atlanta office.
EY
EY acted as the UK administrator and Canadian monitor of telecoms company Nortel, signing the settlement agreement that ended seven years of litigation over the telecoms company's US$7.3 billion estate in 2016. The past year has also seen the firm working as monitor for Canadian mining company Crystallex and US Steel Canada, as well as trustee for clothing retailer Aeropostale Canada. Further afield, EY has served as independent auditor to Bahamian shipping company Ultrapetrol's Paraguayan subsidiaries after the parent filed for Chapter 11 protection in New York, and has been appointed liquidator of Caledonian Bank in the Bahamas. London-based directors Jo Hewitt and Joe O'Connor were named in our New Insolvency Advisers survey ranking alongside Singapore's Luke Furler, who has since left the firm.
FTI Consulting
FTI named Carlyn Taylor and Michael Eisenband as the new global co-leaders of its corporate finance and restructuring practice in 2016, and Taylor went on to be honoured as the International Women's Insolvency & Restructuring Confederation's (IWIRC) woman of the year in 2017. The firm's British Virgin Islands and Singapore teams have been working as liquidators to a number of Pacific Andes subsidiaries over the course of the industrial fishing group's collapse. FTI's Hong Kong and Cayman teams have also been administering the winding up of solar panel manufacturer LDK Solar, and the firm has played a key role in the restructuring of US-Canadian retailers Golfsmith and Aeropostale, as well as US coal producer Peabody Energy. Singapore's Joshua Taylor and Denver's Alan Boyko were listed in our New Insolvency Advisers survey in 2016, while other young restructuring specialists dominated the firm's January 2017 promotions round.
KPMG
KPMG responded to the loss of several senior London names over the course 2016 by splitting its restructuring practice into three separate sections, appointing London partner Richard Heis as global head of its insolvency practice, Madrid's Angel Martin as global head of financial restructuring, and Mark Raddan in London as global head of turnaround at the beginning of November. Over the past year, the Big Four firm has served as liquidator of three Hong Kong Lehman Brothers entities, the Irish Bank Resolution Corporation, BVI luxury hotel owner Peak Hotels and Canadian-German lender Maple Bank. Its Singapore team was appointed to administer the restructuring of global oil and gas group Swiber, while in Korea it was named as the investigator in the corporate rehabilitation of Toshiba Samsung. China and Hong Kong partner Rosalie Lui was listed in The New Insolvency Advisers survey.