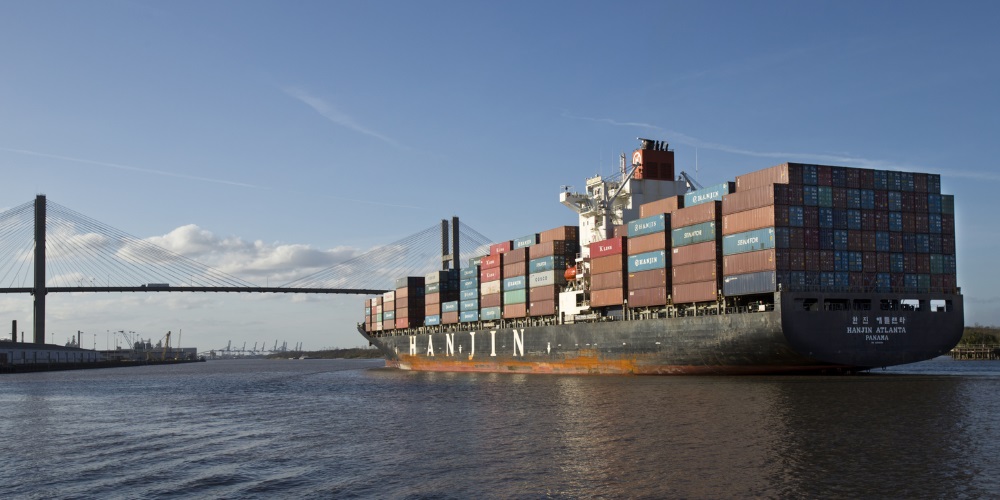 Hanjin Cargo ship in Savannah, Georgia
iStock.com/dmatheis
Hanjin Shipping Co, once the largest container transport company in Korea and a major player in the global supply chain, was officially declared bankrupt on 17 February, closing a difficult court-managed rehabilitation process that saw ships seized in international ports, while other vessels, crew and cargo were stranded offshore. GRR looks back on the six-month proceedings, and talks to maritime and insolvency lawyers on why speed and preparation are of the essence in getting courts to cooperate across borders, control disputes and protect a company's assets.
Hanjin filed for in-court restructuring under Korea's Debtor Rehabilitation and Bankruptcy Act (DRBA) in late August 2016 after its major financier, the state-backed Korean Development Bank, walked away from voluntary negotiations, refusing to extend another round of funding.
In the days after the rehabilitation filing, the fallout grew exponentially. The threat of unpaid bills and ship arrests led port operators to deny entry to Hanjin's ships, leaving them stranded in some cases just a few miles out at sea from their destinations. As the company failed to meet its commitments to customers, its liabilities exploded.
Hanjin quickly secured recognition of its Korean rehabilitation proceedings in at least five jurisdictions, namely in Japan, the UK and US days after its rehabilitation filing; in Singapore in mid-September; and in Australia in November – but it was too late for a number of ships already seized off the coast of major ports. Though Hanjin announced it would apply for recognition in 43 jurisdictions in total, in countries like China and some in the Middle East that have not adopted the UNCITRAL Model Law, where cross-border recognition is less readily available, the company remained at risk of creditor action.
Hyundai stays afloat
Those with an eye on the industry would find it difficult not to compare Hanjin's financial woes with those of fellow Korean shipper Hyundai Merchant Marine (HMM), once the world's 15th largest shipping firm and Korea's number two after Hanjin.
Both were based in South Korea; both were primarily funded by the same bank. Both could, potentially, draw funding from parent or sister companies under Korea's chaebol system. In 2016, both firms folded under the weight of an industry struck hard by the global financial crisis, and both used Korea's voluntary workout programme to negotiate a way out with creditors.
If anything, says Chul Man Kim of Yulchon in Seoul, lead counsel in HMM's reorganisation, Hanjin had the stronger figures out of the two. Its debt-to-equity ratio was around 850% for 2015, compared to HMM's 1,565%. But only HMM was able to avoid the plunge into insolvency and court-managed rehabilitation. Why?
Commentators suggest the answer lies in the companies' approaches to negotiations with creditors. Squire Patton Boggs associate Jon Chesman in Leeds explains to GRR that, where HMM managed to appease financial backers by drawing a US$1 billion cash injection from its parent companies, Hanjin failed to procure the minimum level of cash injection demanded by financiers.
HMM also entered into a memorandum of understanding with world shipping alliance 2M – one of the conditions outlined by the banks before they would provide continuing support for the firm, says Chesman. It further negotiated with charterparty providers to reduce the costs of charterparty services by around 25%.
Kim notes that HMM sold Hyundai Securities, arguably its most valuable subsidiary, while Hyundai's parent group agreed to hand over management of HMM to creditors.
Combined, all of these measures soothed creditor qualms and encouraged financial backers into a debt-for-equity swap, leaving HMM viable and significantly less leveraged.
According to Kim, Hanjin's "lukewarm cooperation" with financiers before its filing, and the fact it was not able to secure new capital and offer discounts like Hyundai, bred scepticism among creditors who began to speculate whether Hanjin was committed to the workout process at all.
Fighting out of the box
The international nature of Hanjin's business made its in-court DRBA proceedings unusual from the outset, Kim explains. The Seoul court "generously" approved Hanjin's rehabilitation filing just 24 hours after it approached the court: normally, he says, there's a wait of three to four weeks for judges to process such an application.
The Korean courts responded quickly to allow Hanjin to file for protection in other jurisdictions, with a view to mitigating the risk of vessel seizures and keep the company protected and ticking over while it restructured.
But Kim says that Hanjin made a "critical mistake" in failing to capitalise on the court's generosity and make use of the headstart it was given. The company was belated in filing for recognition in some countries, and vessels were seized in ports across the globe – including in Australia, Canada, China and Singapore.
Lawyers from Lee & Ko, the Korean firm acting as lead counsel to Hanjin before the Seoul court, did not respond when GRR offered them an opportunity to comment.
Whether Hanjin could have managed the first days of its insolvency better is a matter up for discussion anyway. In the US, Ben Mann, partner with Husch Blackwell in Kansas City, says that the decision by Korean financiers to deny Hanjin new funding was so unexpected that the company had little time to prepare.
"The decision […] came as a surprise to both Hanjin and the rest of the industry," he tells GRR. The court filing came as creditors around the world were spurred into action by news of the sheer extent of Hanjin's much-publicised debt, leaving little time to act, he adds. "Hanjin's filing was done in crisis-mode without the opportunity for planning and buy-in by other constituents, which help make for smoother sailing in the early days of a bankruptcy proceeding."
"The severity of Hanjin's financial condition made most customers and creditors believe that there would be no significant recovery for them in the proceeding, so they took early aggressive actions to protect their positions," says Mann. "As a result, there was a lot of fighting right out of the box."
Bill Schrag, partner at Thompson Hine in New York, adds that Hanjin's vast, global structure carried inherent complexities with regards to restructuring proceedings. "It's been challenging to coordinate the dozens of insolvency proceedings around the globe and to do so with the same sort of speed, coordination and transparency that US creditors have come to expect," he explains.
Former Hong Kong judge Anselmo Reyes SC, now an independent mediator and arbitrator, points out that Hanjin's insolvency has challenged lawyers to handle both common and civil law matters, depending on the jurisdictions they are working in. Part of this challenge is working out how the admiralty or arrest jurisdiction of courts should be applied when principal insolvency proceedings are underway in a different jurisdiction, he adds.
US: maritime law and foreign law
In the US, where Hanjin's Korean rehabilitation proceedings were subject to Chapter 15 protection, numerous disputes have sprung up about the treatment of creditor claims.
Asa Markel, a litigation and maritime law partner at Masuda Funai Eifert & Mitchell in Los Angeles, tells GRR that Hanjin's US proceedings highlighted disparities between US maritime law and bankruptcy law, particularly with regards to the treatment of moving cargo.
"In the US, the laws governing bankruptcy and those governing maritime trade and operations are not really harmonised," he explains. "Under maritime law, creditors' rights are often seen as paramount, in order to allow vessels to undertake transactions on the high seas with the assurance that services will be paid for. Bankruptcy law in the US does the exact opposite – it erases most of the creditors' rights."
In the context of Hanjin, the US court granted creditors some limited access to stranded containers when it recognised the company's rehabilitation under Chapter 15, but Markel argues that the bankruptcy court's order did not fully address the fact that cargo, by its very nature, is constantly moving. He says the order was vague with regards to the relationship between cargo transportation companies and other handlers, with no provision being made to address cargo that had already landed on US soil, or empty containers, or even rates for services provided in US ports.
"These are all concerns that are familiar to maritime and transportation lawyers, but bankruptcy courts appear to still have some trouble with the very fluid nature of cargo in transit," he notes.
The confusion around the treatment of cargo, says Markel, was "enough to push certain creditors over the brink". A large coalition of shippers and importers asked the US Federal Maritime Commission (FMC) to address the late charges handlers could face as a result of the US moratorium.
"Since major ocean shipping lines are still under economic pressure and the US is heavily reliant on imports, it would not be surprising to see this issue surface again this year," he concludes.
The intersection of Korean and US bankruptcy law also raised questions in US courts regarding the treatment of "common benefit" claims asserted by creditors over several of Hanjin's assets located in the US.
Under the DRBA, common benefit claims are those deemed by a Korean court to be in the public interest, and can be reimbursed at any time without having to go through the rehabilitation process. Certain US creditors had argued that US judges, having recognised the Korean proceedings via Chapter 15, could administer the common benefit claims under Korean law.
After conferring with his judicial counterpart in Seoul, Judge John Sherwood ultimately decided in mid-January that common benefit claims should appear before the Seoul court.
Jurisdictions without recognition
There are some jurisdictions where Hanjin was not able to seek recognition of its Korean proceedings, despite the presence of creditors in the region. In South Africa, one such locale, Edmund Greiner of Shepstone & Wylie in Cape Town tells GRR that local law could still be used to facilitate international claims against the Korean shipper.
South African law, he explained, permits the arrest of property not only for proceedings commenced or to be commenced in South Africa, but also to obtain security for proceedings in other jurisdictions.
"Parties who have claims against Hanjin could, in theory, seek to avail themselves of our broad arrest jurisdiction to obtain security for their claims," he explained. "This would depend on creditors locating property in South Africa susceptible to arrest."
Recognition of foreign proceedings in South African has typically been granted on the basis of comity – the understanding that relief issued in another regime should be recognised on the principle that similar protection would be available under domestic law. But Greiner questions whether South African courts would have recognised Hanjin's Korean rehabilitation proceedings on comity grounds, given that certain aspects of Korea's insolvency regime differ from South African law.
Referring to a release he wrote for Shepstone & Wylie back in September, Greiner points out that the Korean court in the DRBA proceedings had not appointed independent judicial managers over Hanjin's affairs, leaving the business still in the hands of its directors. South Africa's insolvency provisions, overhauled in 2011, necessitate judicial oversight through a "business rescue practitioner".
The Korean rehabilitation proceedings also provided no opportunity for interested parties to file a notice or have any input in the debtor's initial filing, Greiner notes – a staple of the newly overhauled South African regime.
In the meantime, creditors responded to the lack of recognition by applying to South African courts for protective writs to safeguard their interests in vessels and cargo. The writs look to preserve creditor claims, even if the vessel or cargo changes hands in the course of Hanjin's insolvency, unless the transaction is approved by a court. The enforceability of such provisions, however, has yet to be tested.
"It may well be that an arrest of an erstwhile Hanjin vessel will be the first time these writs are tested," Greiner says. "It is clear that prospective purchasers are concerned about possible enforcement in South Africa as we have seen a number of them conducting protective writ searches in [the jurisdiction] to assess the risk."
Hanjin's ships are also still subject to arrest in China by those holding maritime claims recognised under Chinese law against the vessels.
Leslie Shen and Ik Wei Chong, partners at Clyde & Co in Shanghai, published an update on the status of Hanjin vessels in China last October, exploring the options available to different creditor groups. They note in the update that Chinese maritime courts are not obliged to recognise or enforce foreign courts' orders, including the orders of the Korean court. Container leasing companies and ship fuel suppliers may therefore be able to request orders from Chinese maritime courts for Hanjin to return leased containers and fuel. Meanwhile, the Chinese maritime courts have "considerable latitude" on the amount and form of counter-security they can order.
"When the vessels under arrest are subject to a judicial sale as ordered by the Chinese Maritime Courts […] creditors may be able to register their claims against the sale proceeds of the vessel, although creditors holding lower-priority claims may not achieve any actual recovery if the sale proceeds are insufficient to cover all the claims," the authors add.
Not too big to fail
Hanjin's collapse is expected to have a lasting effect on the global shipping industry broadly and on Korean insolvency law locally. According to Kim, one of the most profound changes that may arise from Hanjin's bankruptcy is an adaptation of Korean law to provide for a new type of restructuring – one that strikes a balance between the freedom of a voluntary workout and the security of court-supervised proceedings.
The idea behind this new method, which Kim refers to as "pre-packaged insolvency", would be to allow creditors to inject new money into a debtor as in a typical Korean workout, but with the added bonus of binding all creditors to the terms of the restructuring, as in a Korean court-supervised rehabilitation. Korea's Financial Services Commission is currently at work on the new provision but has yet to reveal any further details, says Kim.
Chesman explains that shipping rates spiked after Hanjin's collapse, owing to a surge in demand for space on ships after the company's services stopped running. However, whether those rates return to the levels of a few years ago remains to be seen, he cautions.
Chesman also notes that companies who charter vessels to carriers may also face problems given the loss of one of the world's largest shipping firms. Charter rates, he explains, are already very low because of an oversupply in the market.
"Many suppliers will have been hit by the lost revenue on charterparties with Hanjin, or with Hyundai given the rate haircut that Hyundai negotiated with them. Some had thought the risk of entering into long-term charters with large liners such as Hanjin would be minimal, but recent events show that these entities are not too big to fail," he says.
Speaking to all of the contributors, it is clear that, as the Korean court ultimately liquidates Hanjin, the shockwaves will be felt not only by charterers and dockyards, but also retailers importing goods around the world, small and large. Further into the future, it will be interesting to watch how the lessons learned from Hanjin could inform the way other shipping collapses are handled, in Korea and elsewhere.