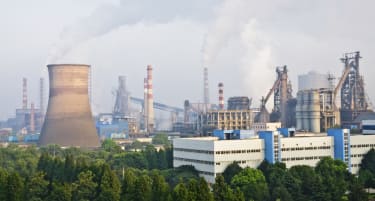 Steelworks in China: coking coal is used to make steel (Credit: iStock.com/zhaojiankang)
Winsway Enterprises Holdings, a British Virgin Islands-incorporated coking coal supplier that predominantly operates in China, has obtained approval of its Hong Kong scheme of arrangement from a New York court soon after a parallel scheme of arrangement was sanctioned in the BVI.
On 16 June, Judge Martin Glenn in the US Bankruptcy Court for the Southern District of New York granted comity and full force and effect to the Hong Kong court-sanctioned scheme, which restructures US$350 million in debt governed by New York law.
The court had already recognised Winsway's Hong Kong scheme proceedings as foreign non-main proceedings, and the company's chief executive officer Cao Xinyi as foreign representative in early May, on the basis that Winsway has an establishment in Hong Kong.
Although incorporated in the BVI, Winsway is predominantly active in China and is listed on the Hong Kong stock exchange. The group filed its petition for Chapter 15 recognition before the New York court on 6 April, a day before the New York notes were due to mature.
The Hong Kong scheme was later sanctioned by Judge Jonathan Harris in the Hong Kong High Court on 17 May, and registered in the Hong Kong Companies Registry soon after.
On 2 June, Winsway also obtained approval of a BVI scheme of arrangement "in substantially the same terms" as the one in Hong Kong, from the Commercial Division of the Eastern Caribbean Supreme Court. The coking coal supplier has not filed a recognition action in New York in respect of the BVI scheme.
Susan Moore, a partner at Stephenson Harwood whose London and Hong Kong offices are advising Winsway on the schemes, says this is one of the first restructurings of a group operating mainly in China to progress to this stage.
In sanctioning a scheme for New York law-governed debt, Moore says the Hong Kong court was "content" to follow the approach of the England & Wales High Court in the 2013 case Magyar Telecom, where the circumstances in which a scheme could be used by a foreign company were expanded to allow a Dutch holding company to compromise notes governed by New York law and to release third-party guarantee rights.
Moore also notes that Winsway's scheme of arrangement in the BVI is only the third ever to be sanctioned by the BVI court – which was equally content to sanction a scheme dealing with New York law-governed debt.
Stephenson Harwood's Singapore office and its Chinese associated firm Wei Tu in Guangzhou are understood to be advising Winsway on certain Singaporean and Chinese legal issues related to the restructuring, while counsel from Reed Smith's Beijing office are advising on the rights issue. The company has hired Walkers in the BVI.
Partner Michael Venditto and associate Sarah Kam from Reed Smith in New York are also acting for Winsway in the Chapter 15 action. Winsway's financial advisers are UBS and Alix Partners.
The ad hoc committee of noteholders has hired lawyers from Akin Gump Strauss Hauer & Feld's Hong Kong and New York offices, and Campbells in the BVI.
Ropes & Gray is acting as adviser to the notes' indenture trustee.
The parallel BVI and Hong Kong schemes will see bondholders swap their debt for just under US$42 million in cash and an 18.75 per cent stake in Winsway. Underpinning the debt restructuring is an inter-conditional rights issue. According to disclosures on Winsway's website, the rights issue is expected to make US$50 million in gross proceeds, which will fund the cash consideration for bondholders, as well as a success fee for Houlihan Lokey, which is financial advisor to the ad hoc committee of bondholders.
Company press releases state that approximately 96.5 per cent of Winsway's bondholders by number (and 98.3 per cent by value) voted to approve the Hong Kong and BVI schemes at a scheme meeting on 3 May. The group's restructuring is expected to be complete by the end of this month.
The coking coal supplier's success in New York come just weeks after the Chapter 15 recognition of Chinese property developer Kaisa Group Holdings' Hong Kong scheme proceedings on 3 June. The Hong Kong High Court subsequently sanctioned Kaisa's scheme a week later.
Like Winsway, Kaisa is also pursuing a parallel scheme of arrangement in the Cayman Islands, where it is registered. A Cayman court order of 7 April stipulated that the court would support any restructuring plan implemented in Hong Kong on Kaisa's behalf.
US Bankruptcy Court for the Southern District of New York
In re Winsway Enterprises Holdings Limited
Counsel to Winsway Enterprises Holdings Limited and its foreign representative Cao Xinyi
Partner Michael Venditto and associate Sarah Kam in New York
Stay at the forefront of the international marketplace. Subscribe now for more high-quality information on cross-border insolvency and restructuring news and analysis.