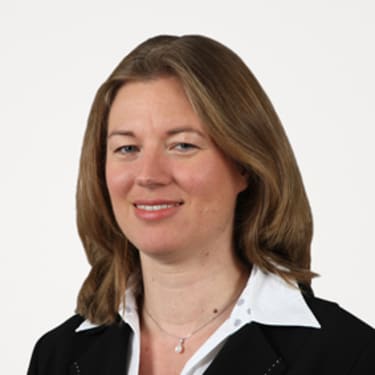 Catherine Balmond
What led you to focus on cross-border restructuring and insolvency?
The first deal I worked on as a trainee was a cross-border restructuring. Right from the start I knew that it was an area of law which I was well-suited to and would enjoy. It was a chance to use the legal toolkit available to come up with an innovative solution. You didn't just use a precedent!
What is the most satisfying aspect of the practice?
When you know that you have contributed to saving a business and you watch it become successful again after the restructuring.
What has been the highlight of your career to date?
The restructuring of McCarthy & Stone, which is the leading developer of private retirement accommodation in UK. This was the first deal I took the lead on. We also developed the creative solution of combining two schemes of arrangement of the operating companies with two pre-packaged administration sales. As far as I am aware, this was the first time this had been done and facilitated the ultimate quick and clean restructuring which preserved the business and jobs.
The restructured company is now going from strength to strength.
What was the most memorable case or project you've ever worked on and why?
The restructuring of the Monarch group. Monarch is one of the UK's leading independent leisure travel groups with its key businesses comprising of an airline, a holiday group and an aircraft engineering division. Restructurings of UK airlines and travel businesses are particularly challenging given their high public profile and the regulated nature of such businesses. This restructuring was implemented within a tight timetable during the peak travel season. Unusually, given the number of different stakeholders involved, it was done without the use of any formal legal process.
Where is the most interesting place your work has taken you?
Over the years I have been to a number of interesting (but fortunately not dangerous) places. However, what I think is more interesting is that despite the cross-border nature of my work I don't travel that much. Face to face meetings are crucial at key moments in a restructuring although I think that they happen less than they used to.
What has been the greatest challenge you've faced in your career so far?
Finding the best way to manage my practice and a young family – I have four year old twin boys. The biggest challenge was after my return from maternity leave when what was supposed to be a simple financial covenant reset turned into anything but. Since then I have got much better at juggling both. I wouldn't say I have found the perfect solution but working with a great team of people definitely helps.
If you could go back in time and give one piece of advice to yourself when you were starting out, what would it be?
Don't plan ahead too much and make the most of opportunities.
What do you predict will be the hottest topics in cross-border insolvency and restructuring in the next five years?
From a sector perspective I think the focus for a while to come will be the impact of the sharp drop in oil and commodities prices. From a legal perspective I think it will be further competition between European jurisdictions to be the venue of choice for restructurings. It has been building up for a while with significant legislative changes in a number of jurisdictions and plenty more in the pipeline.
How are things different in cross-border restructuring and insolvency now to when you started practising?
There is a lot more law! As well as domestic law there is also an expectation that a cross-border lawyer will be knowledgeable across a wider range of jurisdictions. At the same time there are more options in the restructuring toolkit and practitioners are creative in using them.
The stakeholders are also different. On many deals you will see a mix of different creditors, including distressed debt funds, CLOs and banks. There is lot more liquidity in distressed debt so the stakeholders are likely to change during the course of the restructuring. This means that there are additional difficulties in reaching a consensus and a higher risk that a restructuring will be challenged. The "London approach" is now in the dim and distant past.
Can you identify some "crisis" points in the history of cross-border insolvency and restructuring that have had a significant impact on how things are done? How have they changed things?
The 2007 to 2008 financial crisis prompted the bail in/rescue rules on almost a global basis in the EU, the US and coming elsewhere. There is a recognition that jurisdictions face common problems and therefore should look to others for ideas on the best solution.
If you could introduce one piece of international legislation, soft law or a certain process to help facilitate cross-border restructurings and insolvencies, what would it be and why?
Automatic international recognition of schemes of arrangement! I may be slightly biased on this as an English qualified lawyer.
Are there any parts of the insolvency and restructuring law in your jurisdiction that tend to catch cross-border practitioners out? (Or, are there any little-known parts that could be helpful to them?)
Changes in tax legislation on debt restructurings can definitely catch cross-border practitioners out.
More helpfully, for insolvency officeholders in those jurisdictions that can use it, section 426 of the Insolvency Act 1986, which allows courts in certain designated countries to apply to the UK courts for assistance in insolvency proceedings, is not as well known or as well used as it might be.
If you had not been a lawyer, what career would you have liked to pursue?
I decided I wanted to be a lawyer when I was 10 and still think I made the right career choice. The only career I considered before that was acting, although as I didn't even get picked for a lead role in a school play making a career of it wasn't really an option!
Tell us something about yourself that most people wouldn't know.
I climbed Everest (although only the last 200m to base camp).
If you could have dinner and conversation with anybody – in history, or alive today – who would it be and why?
Italian novelist Elena Ferrante, or more precisely the novelist whose pseudonym is Elena Ferrante. I have just finished her Neopolitan novels and couldn't put them down. I would be fascinated to know how much of the stories are autobiographical. She is also a great storyteller and I suspect that would make her a very interesting dinner companion.